How much are you willing to pay for sentiment?
What do you do for Mother's Day? As the day approaches, I receive junk mail (for flowers, jewelry, figurines(?)) and see the commercials, which strongly encourage me to do my share of giving and gifting for yet another celebratory opportunity that involves nice, sweet and sometimes fancy gifts. But see here… I'm actually the target of this special day as I am also a mom, but the truth is, this advertising ploy is not going to work on me. I'm simply not going to buy into sentiment.

I'm not very big on receiving gifts on quasi-special occasions; I guess it was just never in my nature to be that outwardly or effusively sentimental. Perhaps I'm just the practical sort. But simple sentiment that isn't bought are found in presents of my choice — stuff much like the hand-written letters from my grandmother who has passed away, the cards my preschool child has drawn out for me, or the volcanic rocks I picked up from a trip to Hawaii with my soon to be husband over 15 years ago. You get the picture.
If there are heirlooms to be had, I do hold them dear (which I thank my own mother and grandmother for). But I am not ready to start my own traditions by wishing I had any of this stuff:
Don't Buy This For Me, Please
#1 A Lifelike Baby
Yes, this item was actually placed under the category "Gifts For Mom". I fail to see how anyone older than 8 years old would want a baby doll, but this is probably because I just don't "get" the collectibles market. As an investor though, I would probably enjoy educating myself about this type of market.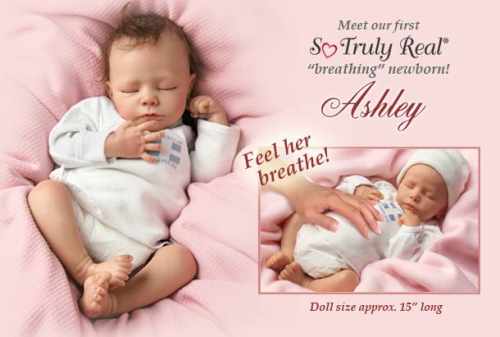 The Retail Site Description:
Can you imagine how sweet this little miracle is! The doll is quite lifelike and it's an original! It's made of vinyl, and is an authentic collectible that seems so real that she even looks like she is breathing. The creator of this doll is Andrea Arcello — a top notch master artist. Cradling this baby in your arms is pure joy.
This lifelike baby can be yours, all for the astounding price of: $129.99 US.
#2 Lovely Heart-Shaped Jewelry
This just doesn't excite me as I don't wear jewelry at all. And that is because I'm somewhat rebelling against the provisions of my culture, where women are steeped in jewelry from head to toe. And I have never worn anything that had a heart on it, even as a kid.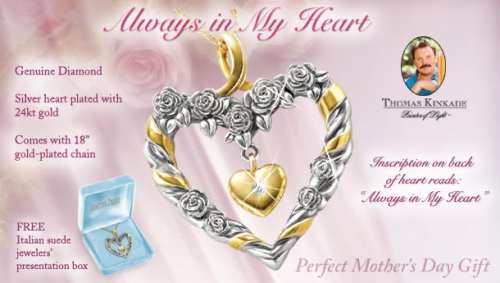 The Retail Site Description:
Looking for that perfect gift for Mom on Mother's Day? Give Mom this Thomas Kinkade heart-shaped jewelry pendant, inspired by Thomas Kinkade's beloved painting, "A Perfect Red Rose"! A symbol of perfect love, this beautiful Mother's Day diamond pendant makes a great Mother's Day gift idea; it's elegant heart-shaped design is expertly crafted of sterling silver roses with gleaming 24K gold-plated ribbon accents. A second 24K gold-plated sterling silver heart is suspended within, showcasing a single shimmering diamond – what a way to thrill Mom on Mother's Day!
For The Special Price Of: $99.00 US
Okay, not strange enough for you? Then what about this kind of jewelry?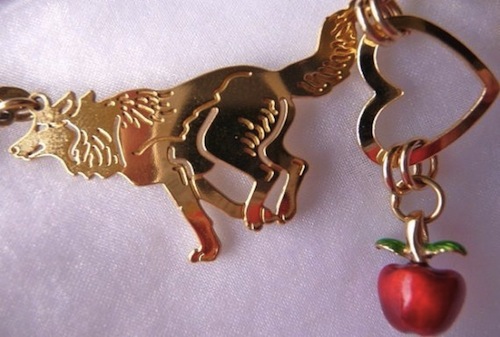 If you check Etsy.com, there are some great ideas here for gifts you can give any mom. For those Twilight moms out there (e.g. a mother who is obsessed or addicted to the "Twilight" saga), sometimes money is no object! After all, anyone who's addicted to a trend can rack up the bills this way.
Twilight Custom Jewelry, For the Price Of: $210 US
#3 A Garden Bench With Inscriptions
I love my garden quite a bit, but I'm not quite sure about benches with words on them.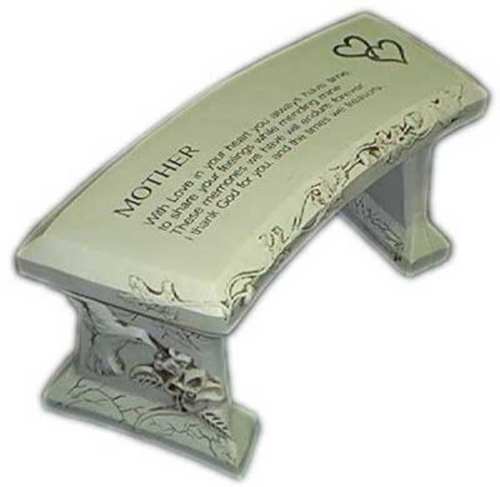 The Retail Site Description:
"With love in your heart you always have time, to share your feelings while mending mine. These memories we have will endure forever. I thank God for you, and the times we treasure."

Mom will know just how special she is every time she reads this heartfelt poem!
For the Handsome Price Of: $145.95 US
On yet another day of wanton appreciation, we're out there in full force buying up these charms. Are those warm and fuzzy feelings really worth the hundred or so bucks you spend on it? For many, the answer is: Yes, appreciation knows no bounds. And this is what the merchandisers want to hear: for instance, if you have a mother in your life who insists on a token reminder of your love and care, there are many places and catalogs where you can shop for gifts for any mommy type you can think of: from "gardening mom" to "pet-loving mom", "stylish mom" and even "gadget mom". The marketing tsunami out there refuses to leave any mother's gift unturned.
If you ask me though, I'll say: save your money. There are more basic, simpler options I'd consider. Time spent, special moments instead of special stuff, a present carved out of resourcefulness and a shot of creativity (that everyone can muster somehow, if they tried). Or if you insist…I'll take a free e-card.
So here's my message to my loved ones on these days of tribute now and every year forward: I'll take good behavior, time and affection over anything material. Did I say I wasn't terribly sentimental?
So how do you "celebrate" Mother's Day?
Created May 8, 2007. Updated May 9, 2012. Copyright © 2012 The Digerati Life. All Rights Reserved.