Big toys for rich, spoiled kids: when a $10,000 kid's birthday party isn't enough.
There are few things that are more delightful to parents than to see their kids happy: such as the moment right after the kids receive their toy of choice — a doll house, firetruck or new novelty gadget of the season. And few things are more baffling to parents than to see that same toy discarded after a few hours of play, barely to be picked up again.
Can't blame the kids really — these days, attention spans are shorter than ever and there's just too much stimuli going around to keep one's focus for too long. We grownups may not be helping either, when we're so indulgent.
Yet the market out there for parents who love to splurge is bigger than ever, fueled by those of us who have a lot of disposable income to throw around. Imagine that you have all the money in the world, or maybe you can just plain afford a few more extras in your life — would you be buying some of these things for your child anyway?
Big Toys For The Kid Who Has Everything
Ferrari Go-Cart, Price: $50,000 at FAO Schwarz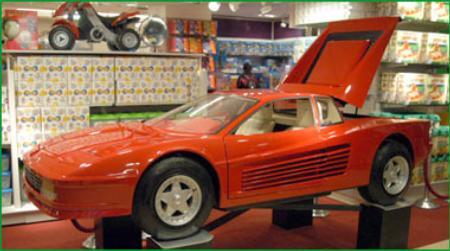 This toy car may be a drop in the bucket if you're a mega-millionaire, but in my estimation, this could very well represent the car budget for a two income family over a span of a decade.
~ooOoo~
Special Handmade Leather Monopoly Board Game, Price: $5,840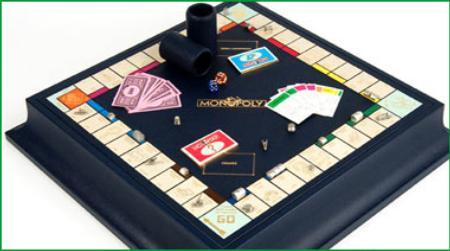 You want to teach your kid about real estate? I'd go for these alternative real estate gifts 😉 , many of which are conversation starters. Or save $5,810 by picking up a regular Monopoly board game.
~ooOoo~
Life Size Figures, Price: $5,000 – $50,000
Life-sized replicas? Why would you buy life-sized toy statues? Maybe to fill up a lot of the empty space you've got when you live in a mansion. Sure, it may be interesting to have a large batman figure looming over you and keeping you company at home, but wouldn't it be more fun for a kid to make believe that he's the super hero instead?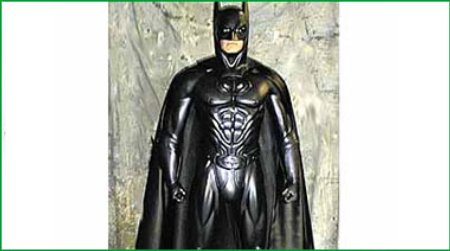 This Batman statue retailed at Sharper Image for $5,000. For more outrageous models, check out Robbie the Robot for $49,999 and Lego Batman for $27,000 on CNN Money's list.
~ooOoo~
Custom Play Houses, Price: $20,000 and Above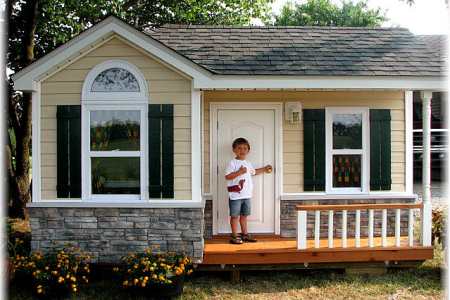 Whatever happened to the humble tree house? Well, it got replaced by the $20,000 – $100,000 luxury custom play house. This may in fact go very well with your custom luxury shed if you want a two for one deal 😉 .
~ooOoo~
High-End Baby Stroller, Price: $2,000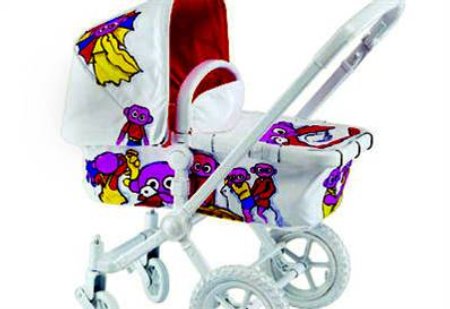 While this custom Bugaboo stroller looks awesome, I was more than happy with my own basic Graeco model, which withstood the test of time and two kids. Plus it only cost me $200. But some others may not think this is good enough for their precious.
New mom Paola Canahuati didn't bat an eyelash when forking over nearly $1,000 for her Bugaboo stroller. That's because she believes certain high-end baby gear is worth the price, particularly when the baby is her own precious, albeit oblivious, 13-day-old Aristotles.

"For baby clothes, I've tried to be more economical," says Canahuati, 23, who is currently on maternity leave from her position as a proofreader at the United Nations in New York City. "But when it comes to strollers, changing stations and cribs, I'm willing to spend more. I'm going to be using this stuff for two or three years, and I want the best for my baby boy."
~ooOoo~
Fantasy Crib, Price: $15,000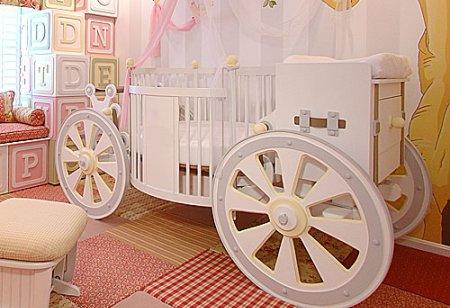 Check out this fantasy crib for the most discerning customer; unfortunately, your baby will never remember having stayed in it after they've outgrown it. But I have to admit that it looks incredible. Save $14,660 on a basic, $330 alternative. Wait, scratch that. Just get one off Craigslist and get it for half price ($150)!
~ooOoo~
Hand Made Metal Piggy Bank, Price: $6,000 at FAO Schwarz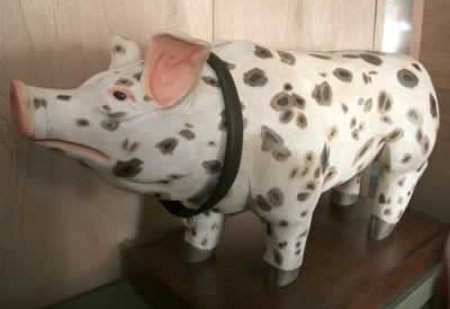 Welcome to the world of "hogzilla" piggy banks! Now you can really stress the importance of personal finance to your child by making a huge impression with this piggy bank, as featured in CNN Money. 😉 Well, this remains to be seen, actually: instead of spending that dough on this art piece, why not stuff your savings down these more affordable ones?
~ooOoo~
If you had the money, would you buy any of these items, or anything along these lines? The truth is, many people certainly would! And here's why:
Why We Spoil Our Kids
1. We feel guilty.
Some of us may feel like we're not doing a good enough job as parents and thus end up wanting to "make up for it" somehow through other means. Unfortunately, a lot of folks don't (can't?) spend enough time with their families and they fill that void by supplying their kids with stuff. It's a way of assuaging their guilt. But this just adds to the problem in the long run, when kids end up spoiled, lonely and craving attention.
2. To return to our childhood.
How many times do we buy stuff for our kids so that we can relive our childhood? We don't want to admit this to ourselves but I bet some of us are in this position. Those video game systems and entertainment centers aren't really entirely for your toddlers are they?
3. We want the "best" for our child.
That's every parent's motto — we all want the best for our kid. New parents especially seem to fall into that spell that compels them to over-prepare and go over-budget for their first child. When more children come into the picture, the fuss often dies down. I admit that I was this way a bit with my first-born and when the second one came along, it was all about hand-me-downs. But there are still families that don't get over the "anything for my child" syndrome.
4. Because we can.
When you're sitting on a lot of money, you have that problem that the rest of us would like to have: not knowing what to do with it all. And it's human nature for your appetite to grow in line with your pockets. But it's one thing to indulge yourself as an adult, and another to project and shower your children with extreme generosity. It's just too easy to fall into this routine just because we can, being that it's the path to least resistance.
In my opinion, kids are naturally "unspoiled": it's often the case that I see children prefer to play with low cost toys vs their more expensive counterparts. Wouldn't it have been great if we could have all grown up preserving these views? But life isn't that simple.
5. It's become a negotiating tactic.
How do you shape your child's behavior? For most of us, it's through some combination of discussion, reward and punishment. But our methods are as diverse as we all are, and rewards can span the range of expensive to excessive, for those of us who can afford it.
~ooOoo~
If you're like most parents, then you've occasionally splurged on stuff for your kids (and you'll keep on doing so for a while). We all do it because we love our kids and enjoy seeing them thrilled. It only becomes an issue when we go overboard with addressing our children's every desire, as the actions we show them through their formative years end up shaping, influencing and affecting their behaviors as adults. Whatever we buy them as kids will surely haunt them (for better or for worse) when they're older. It's also quite likely that whatever attitude we have over money and spending will transfer over to our kids as well.
I'm not one to say how you should or should not parent your child as we all have different parenting philosophies and styles that govern the way we raise our kids. Ultimately though, despite all the parenting theories that abound, I personally always fall back on common sense. And common sense tells me that most everything should be in moderation: including spending, splurging and spoiling. As for saving? Well that's another story 🙂 .
Copyright © 2008 The Digerati Life. All Rights Reserved.