In the heels of our post about how to save on groceries with printable online grocery coupons where we listed some useful sites for coupons, I thought to bring up more online resources that I've found particularly helpful.
If you know where to look, you can pick up a lot of free stuff and save money, from the latest cosmetics to new food and product samples. With money tight for so many of us these days, freebies are a tempting proposition that can certainly help our bottom line. Sure, every little bit can help, but watch out for some tradeoffs when you go hunting around for free stuff online. Technically speaking, there may not be such a thing as a "totally free lunch".
Be careful of scammers. There are many online scams around that target consumers on the lookout for good deals and free stuff. Keep your eyes peeled for these schemes by getting as much information as you can about a web site you'd like to use or work with.
Be aware of the information you provide these sites. Many sites want you to register with them and obtain your profile. Just be careful that you don't give away your sensitive information (data that can be used to commit identity theft) without cause.
Free isn't really free, especially if you end up having to do some work and spend some time to get the stuff you want. So you're really trading your time and energy for the money you'd otherwise spend for some of these items. Do you really want the extra free stuff that's being offered? Lots of people say "yes", to the extra effort and hassle to earn and receive these goodies.
In my case, I've actually spent a lot of time sampling what the web has to offer and have personally found some freebie sites worth visiting. Here are some of my favorite online resources for this sort of thing.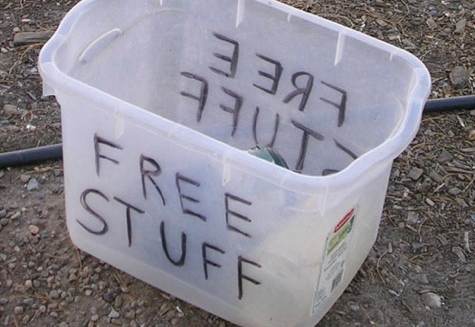 Image by
PSFK
Get Free Stuff Online! Sites That Offer Freebies, Product Samples, Coupons
1. Volition.com
Volition is the original freebie website started by Ray Sola over a decade ago. I've been religiously visiting this website for 8 years. Besides listing the best freebies on the web, Volition also tells you about point earning opportunities, survey links and various business enterprises. Check out the "Stuff I Found" forum to get the latest and greatest free offers around. Volition is the most comprehensive freebie and work-at-home website on the Internet today.
2. MomsView.com
MomsView offers a variety of links to free merchandise, online coupons and printable coupons. Yes, it's another big coupon site. Before you shop or take the family out to eat, check out this site to find the most recent coupons. There are also forums for moms to connect with each other about a variety of family-related topics.
3. Fatwallet
FatWallet offers cash back for registered users who purchase goods and services through their website. They also have cool forums where you can gather coupon codes and links without having to become a member of the site. Before I shop at my favorite merchants, I make it a habit to check out the discussions and threads on Fat Wallet that pertain to coupons.
4. StartSampling
This site sends you free samples of new products to try out and critique. You'll need to register with them and as a member, you're required to fill out some profile information. Each day, you can request to receive new samples that are recommended for you to use and try out based on the profile you've entered. I'm actually a long-time member of this site, having signed up with them around seven years ago, so you can imagine the countless products I've already received from them.
5. BzzAgent
BzzAgent is a word-of-mouth promotional website. When you sign up as a Bzz Agent, you'll receive free products and coupons. The point is for you to spread the word about new goods and services that you're able to try out for free. Hence, you're encouraged to "share the Bzz" with others, or report about the products and items that you sample.
Once your Bzz (i.e. your opinions and views about what you've sampled) at the site gets reviewed and approved for others to see, you'll then earn points at another site called MyPoints. It's quite the perfect combination where you can "double your rewards" and "kill two birds with one stone", so to speak, because you're able to get free stuff at BzzAgent to sample, plus you're also able to "earn" free gift certificates at MyPoints by simply sharing and talking about the free goodies you've tried out at BzzAgent.
6. FreeCycle
When you're house cleaning and come across things you no longer need, there are places for your stuff to go besides the recycling bin. We've written about how to cash in on clutter and how to sell used items; we've also covered some great places to earn and save money on used items.
But here's another alternative: FreeCycle is a grassroots website where you can offer your own stuff for free to other members of the site, while you shop around for free items that you need. It functions like a bartering system and works by having you list your items on the site while allowing you access to things being offered by other people. It's a great place to unload some of the possessions you no longer need. It's reassuring to know that items that are still in decent shape will be put to good use by someone else who needs them. It also saves me money on disposal costs!
7. JustFreeStuff.com
JustFreeStuff is exactly what the name implies. Organized into categories, the site lists a variety of freebies for all your needs and requirements. Their site is a directory that contains links to other sites that offer the freebies — from magazines, coupons, contests you join to win something, and so forth. But something about the site bugs me: I don't really like how they present their information, particularly the hard-to-read fonts they use for their content. I wish they'd quit trying to make their directory information blend in too much with their Adsense ads.
8. HouseParty
HouseParty is a fun website where you can apply to host actual promotional house parties featuring certain products, goods or services (similar to Tupperware parties). I've already hosted several house parties and have happily received awesome merchandise including Barbie toys, DVDs, glassware, electronics and household appliances. Besides scoring incredible freebies, HouseParty sends decorations, napkins and other essential items for your gathering so you can have a great excuse to party. More details in this post on how to earn money online.
9. TeenFreeway
This site is designed for teens and students in mind, but many of the freebies are useful for everyone. From magazine subscriptions to samples of the latest cosmetics, there are a wealth of items to choose from at this site.
Which Freebie Offers Should You Avoid?
Warning: there are lots of questionable sites out there that are out to do a number on you. There are a lot of freebie sites out there, but their quality can be pretty much hit or miss. The downside to many of the sites in this realm is that they're often created just to gather information about you, subjecting you to spam and other possible online security problems. Unfortunately, many of these sites and schemes are scams that are intended to take advantage of the folks who sign up.
I'd watch out for freebie sites that offer those long surveys in exchange for a chance to earn a gift certificate; I've found that some of these offers and surveys usually involve revealing your credit card information. By dealing with these domains, you may inadvertently be giving away your sensitive information to scammers; needless to say, you won't be receiving a gift certificate from them. So before you do sign up, read up on these sites as much as you can: learn about their reputation on the web, review what others say in boards and forums, and be careful about the data you do share. As for me, I've decided to stick to tried and true freebie websites such as the ones mentioned above.
Copyright © 2009 The Digerati Life. All Rights Reserved.