All of us know someone who is crazy about shopping. If you are an avid shopper, take heed: before you embark on your shopping sprees, take note that the thieves and ne'er do wells may be out and about to prey on the unsuspecting. It's quite obvious why this would happen — crowds attract opportunists of all sorts and the end result isn't pretty: shoplifting, ID theft, returns fraud, gift card scams and organized retail theft, etc. are just some of the things that can plague the unfortunate consumer.
Whether you're shopping at your favorite local retailer or at home on your computer, you can never be too secure. When stores are busy, everyone is distracted and less vigilant — store personnel are busy attending to crowds while customers are busy checking out the merchandise and are less aware of their surroundings. And when you're online, you're not always quite sure whom you are dealing with.

So what can we do to protect ourselves? I'd like to share some helpful shopping tips that can hopefully minimize our risks of being ripped off as we go about making our purchases online and off. They're a great reminder for any customer, and in fact, I've been using some of these ideas already.
Here are the tips to consider: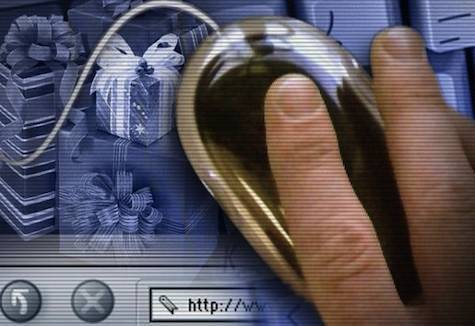 Image from wral.com
How To Shop Safely Online
#1 When shopping online, try to use credit cards over debit cards if you can. Supposedly, credit card companies are a step ahead when it comes to catching and detecting fraud.
#2 Turn off your computer when it's not in use. Log out of your accounts after you use your machine. Reboot often!
#3 Recognize a phishing site immediately by installing and utilizing browsers with strong security features.
#4 Make sure your computer environment is secure. If you've got an internet connection, then you'll need to ensure that you've got computer security software installed. Protect your computer from any kind of hack attack by equipping your computers with the right security products.
#5 Update the software patches for your computer applications (especially your browser), operating system and other software utilities. Scan your computer for weak points and viruses through software and tools you can get from security vendors. Don't use a computer that isn't equipped with anti-virus, anti-spyware and firewall programs.
#6 Be wary about using open public networks such as those in coffee shops, hospitals and airports. Conduct sensitive transactions only in private and secure environments.
#7 Think before you click. Be suspicious of email sent to you and check internet addresses before clicking on them.
#8 Review internet sites and services before you use them. If you're thinking of making a purchase at an online outfit (or location) you are unfamiliar with, first check out and screen them via the BBBOnline, Inc. (a Better Business Bureau program), and through forums and online communities. Take the extra step to scrutinize websites that you are planning to do business with since it's harder to gauge what you're buying when you're limited to a virtual shopping experience.
#9 Shop at familiar, reputable web sites and sites from well-known retailers. For new sites you have not visited before, read their privacy policies to find out how they use your information once they've collected it. I typically shop at only a few places, including Ebates, Amazon and a few stores which I favor for their catalogs. You'll vastly limit your risks by sticking to sites you know and trust well. For those interested in receiving cash back rewards when you shop, check out my Ebates review.
#10 Do regular file back ups.
#11 Use one special email address for all your shopping correspondence. So why didn't I think of this before going off and giving away my personal email address to a whole bunch of online retailers? Now I'm paying for this oversight with massive doses of spam that I've had to filter out of my inbox. Well, you can save yourself this trouble by creating a unique email address that you use specifically for online shopping. You'll get your orders recorded in one place and you won't mind the offers that are sent to you to this special address since it's not mixed with all your other important mail.
#12 Designate one credit card for all the shopping you do. Again, the less information you expose online, the better. Sticking to one credit card for your e-shopping pursuits will allow you to limit any issues to that one credit card. While most ecommerce and online shopping sites are safe and secure to use, there is still that slight chance of being victimized by unscrupulous scammers, hackers or phishers. So limit your vulnerability to that one card.
#13 Be familiar with online schemes. The more you know about the scams that abound and the more wary you are, the safer you'll be. Be highly aware of online scams that can part you from your money.
#14 More useful tips can be found at OnGuard Online from the Federal Trade Commission, Stay Safe Online from the National Cyber Security Alliance and Safe Shopping from the American Bar Association.
How To Shop Safely In Your Friendly, Neighborhood Stores
#1 Check gift cards carefully before purchasing them. Only buy those cards with the bar code on the card itself and not on the packaging!
#2 Be vigilant while using the ATM.
#3 Don't carry around valuable information such as your Social Security card. If you can, memorize your personal information such as social security numbers and passwords.
#4 Make sure you have copies of important materials that you keep in a safe place. If your information ever gets lost or stolen, it'll be easier to inform the necessary institutions about the details to help expedite your case.
#5 Hold on to your packages, bags, purses carefully while shopping. I know this may not deter a determined thief, but criminals usually find the easiest marks. If you look like a tough cookie, they'll avoid you.
#6 Shop during the day as much as possible.
#7 Shop with a companion as much as possible. But if you're shopping with children, be extra watchful as they cause more distractions when they're in tow.
#8 Park in areas with good lighting.
#9 Don't carry large sums of cash. Okay, so this is one advantage credit cards may have over cash. Other than convenience, credit cards also have the advantage of minimizing your losses against theft especially when fraud is caught early.
#10 Keep your receipts in a safe place.

#11 Dress casually and inconspicuously. I'm surprised about how some people love to shop while dressed to the nines! They'll certainly attract attention — quite possibly from unwanted sources as well.
Watch Out For These Scams and High Risk Scenarios
What do you think of this photo of Katie Holmes shopping with her child? Easy targets perhaps?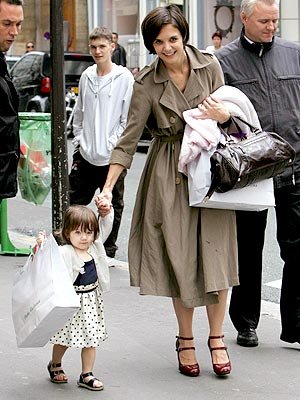 Celebrities probably have bodyguards at bay, but regular shoppers will need to be a bit more vigilant during their shopping trips.
With increased shoppers, stores hire more temporary workers who may not be carefully screened.
Stores get a false sense of security by implementing technological programs and checks while cutting back on security staff and other personnel. Big companies attempt to cut down on costs and increase profits with a smaller security department which thieves can further exploit.
Have you heard of gift card scams? There's a small risk that thieves can simply lift the account numbers from the backs of gift cards because they are ubiquitous, available and convenient. To fight this problem, manufacturers have installed scratch-off security codes, protective packaging, special confirmation or id numbers on these cards. Still, they're a target for criminals.
In cyberspace, even the best of us aren't immune to fraud trends. Even the most computer savvy person I know — my spouse — fell victim to phishing last year. He received an email from Paypal asking him to verify his financial information, which he completely fell for. It's something I tease him about to this day. Be careful whose email you click on — check the legitimacy of urls and internet addresses on the messages you receive.
There are sites that carry viruses. Your anti-spyware utilities will flash warning bells when you accidentally find yourself on malware carrying sites. These sites contain software (called Trojans) that attempt to download themselves onto your computer, ready to capture your sensitive financial information through your own key strokes which they track surreptitiously. Cleverly, these sites can be a step ahead by exploiting software loopholes that may not have patches yet.
How To Report Fraud
#1 Contact your State Attorney General.
#2 Contact the Federal Trade Commission, (877) 382-4357 (general helpline) or (877) 438-4338 (identity theft helpline).
In summary, we just need to be vigilant, aware and be able to practice common sense while out and about.
Created December 26, 2007. Updated May 17, 2012. Copyright © 2012 The Digerati Life. All Rights Reserved.