The virtual ink was barely dry on my earlier post on preparing for an emergency plan when this huge calamity strikes Port-au-Prince, Haiti. I've mentioned the sobering fact before that in many parts of the world, it's just not possible to prepare for the effects of a serious disaster. The unfortunate thing is that in many developing nations and third world communities, there's just no infrastructure to support emergency planning and preparation.
It's been tough to see what's been going on in Haiti. When a massive disaster strikes and the call for humanitarian aid is extended to the entire world, we do what we can to address that call. Hopefully what we have to offer can come into play in time, to save a life and avert the growing crisis in the affected land.
I can only imagine what it is like to face the aftermath of an earthquake that sowed this kind of destruction. I know what it's like to face an earthquake this powerful as I was one of those around to experience a similar magnitude earthquake. Remember the one which struck the SF Bay Area in October of 1989 (the Loma Prieta earthquake)? I remember exactly where I was and what I was doing then. I was in an office building when I remember the jolt that would not end, and how the plaster started cracking around me. When the sprinklers turned on and started flooding our floor, I honestly felt my number was up.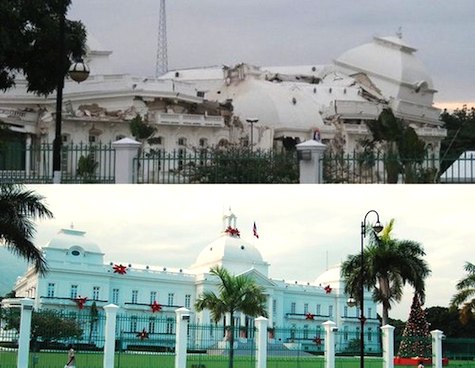 Image of Haiti Presidential Palace, after and before the quake (from thaindian.com)

So when it happens and the consequences are not as fortunate, I can only sympathize with those who are suffering. I was therefore heartened to see that there have been efforts around the blogosphere that have been encouraging us to take a closer look at this catastrophe and to offer more than prayers.
Haiti Relief Efforts and How To Help
Mr. Credit Card, a blogging colleague, has written this post on how he will be matching donations that those of us make for the earthquake victims. You can help out (and get Mr. CC to add to his cause) by commenting on his post, donating with a credit card, and blogging about this matter. Mr. CC has explained how he got the idea to match donations from reading a post by Money Saving Mom, who has outlined some specific ideas on how you can be of help to Haiti. Every little bit helps.
I've donated to the Red Cross, but other organizations will benefit from your generosity as well (I gathered this list from various sites and blogs):
1. Usaid.gov
2. American Red Cross
3. International Red Cross
4. Compassion International
5. Numana, Inc.
6. Doctors Without Borders
If you are donating, it's also a good idea to check out the organization that's accepting your funds. In this article, the FBI warns us about scams that may materialize after tragedies occur. Be careful of outfits that are only too happy to thwart your good intentions and take advantage of your generosity during times of disaster and loss.
And finally, here's something interesting. I found this chart on how the world is responding to this event. It shows who's been involved with supporting the Haiti relief efforts.
If you're a blogger, it would be great if you could share this information with your readers. Many thanks!
Copyright © 2010 The Digerati Life. All Rights Reserved.