Want to sell stuff online? Then check out our eBay selling tips and the following tips for selling safely.

Another day, another scam.
There's one that's been identified as making the rounds of Silicon Valley at a rate of at least 10 incidents reported per month! This new rip-off involves online resources such as eBay, Craigslist and MoneyGram, which I'm dubbing "The Second Chance Scam" and it works this way:
Somebody on Craigslist or eBay will have a fairly expensive item for sale, say a mountain bike for $1,600 or a car for $6,000. The seller then claims that the original transaction with the buyer or winning auction bidder has fallen through and you are next in line for the item. If you are still interested, it's yours for the disclosed price!
The person then can give you a local address but will insist on using the MoneyGram service instead of Paypal, eBay's standard method of payment. They may even enter into phone discussions with you by using an Internet based phone line which may actually be initiated overseas. Of course, ultimately, the con artist will run away with your money and you won't be seeing any promised items you've technically bought.

Here are the clues for discovering suspicious activity with online transactions:
Stated physical location or address is found to be in a non-residential area or seems questionable.
The seller insists on using MoneyGram, a more flexible and convenient way to do money transactions, especially for international customers. Through this service, you can pick up money from virtually anywhere. Sure, it's easier to use but is also more prone to abuse.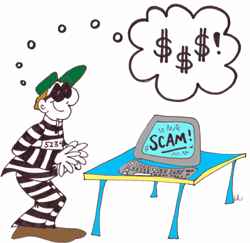 It's a good thing now that MoneyGram is thinking of modifying its policy so that cash transmissions and pick ups are limited to a particular country. Pursuing fraud across countries has always been difficult for the authorities, so this new policy will help with crime resolution as well as discourage the fraud activity.
Bottom line is that when dealing with such large sums, it's definitely wise not to send money to someone you don't know or haven't met unless you take extra precautions. My colleagues and I have sold a few cars through Craigslist with no problems (check out our piece on how to sell on Craigslist), which were the largest ticket items we've unloaded this way, but we took some steps to ensure our safety and the success of our transactions. Not all the following tips will necessarily apply to eBay (though these eBay selling tips may be worth a read), but will provide insight into how we conduct face-to-face sales or in-person transactions with people we don't know.
Tips For Safe Selling Through The Classifieds
Get a "feel" for the people you'd like to transact with prior to meeting them.
Try to get to know your customer a bit better. But secure your own personal information.
Ask questions via email, get some background and discuss their interest in the items you are selling.
Check customers' addresses, if they are supplied. We'll only meet people we're comfortable with. It's the biggest factor behind determining who we're willing to work with. To us, getting the best price or dealing with the highest bidder isn't the most important thing.
Ask for references.
We'd make this request when high priced items are at stake. It may seem rather forward to spring something like this on a potential customer, but I figure if I were the one doing the purchase, I wouldn't mind complying with such a request.
Attempt to get paper or electronic trails of your activities and keep track of your correspondence.
If possible get what you can in writing: negotiations, discussions, agreement. I document all our correspondence and preserve them for some length of time until I'm certain that a sale has gone through without hitches.
Remain vigilant.
If something doesn't feel right, we drop the deal and wait for another customer.
Receive the payment in cash or as a cashier's check from a local bank.
If the item needs to be shipped, do not send it until the payment has cleared your bank. If necessary, you should also use a secured site like PayPal for the transaction.
Ensure that you have backup.
Here's when you may want to have some additional company. Meet your customer during the day, at a public location, or else conduct your transactions outside of your home or business while having other people on hand to keep an eye on things.
I'd like to say I'm a fairly good judge of character, but in the end, you never really know whom you'll be facing. Ultimately, I can only rely on my gut and intuition, which I hope have been sufficiently sharpened and suitably refined through years of training.
Copyright © 2007 The Digerati Life. All Rights Reserved.