Do you really know how much it costs to own your car? Is your car loan upside down or underwater? Here are some thoughts on the subject.
I often wonder what it's like to drive those fancy new cars. You know, the ones with the flashy paint and the equally flashy price tag. But, I stick with my paid for 1994 BMW 3 series that I bought with cash. It has 177,896 miles on it, some scratches on the paint and a sunroof that needs some TLC. Why? Because I don't want to be broke.

One reason why you could be broke is because of the amount of spending done on expensive high ticket items without a careful analysis about the true costs involved, especially when it comes to a seemingly innocuous asset parked right outside your front door. If you look at those who are hopelessly overextended, there's more to their plight than just troubled mortgages or maxed-out credit cards.
How Much Do You Spend On Your Car?
When it comes to spending on an automobile, of course, some do it in the name of fuel efficiency and being green, while others do it because they need bigger, faster, or simply newer cars. The notion is that we are what we drive. What a load of BS. According to the US Census Bureau and the Bureau of Labor Statistics, the average American family is spending $8,600 a year on cars.
These surveys let us know that the average middle class American family is spending up to 20% of their take home pay on car payments alone. This doesn't count what they have to spend on insurance, maintenance, gas, and whatever else tickles their fancy. That's almost as much as the current guideline on what you should spend on your house!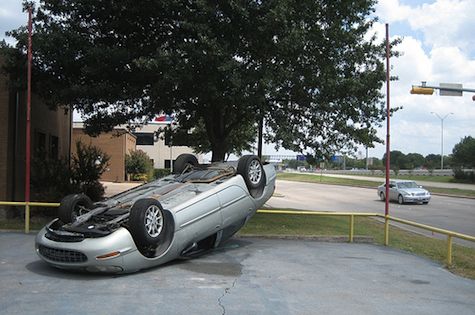 Upside down on your car loan? From Aparatoc.
Car Loans Are A Drag
So is it the price of the vehicles that's driving this trend, the average length of the financing contract, interest rates or all of the above? Looks like "D-all of the above" is the answer. According to Edmunds.com, over 90% of new car loans and 81% of used car loans are longer than 4 years. I thought that 5 years was the norm, but apparently somewhere in between 5 and 6 years is the average length of a car note. Of course, these longer loans make financing an attractive proposition since the payments are so low, but what many buyers fail to realize is that the amount of interest paid on the loan coupled with the amount of time the buyer spends being upside down in their loans (owing more than the car is worth) makes these loans a costly option.
The second driver in the high cost of vehicle ownership is the number of loans that begin with negative equity. This is what happens when an unpaid car loan is rolled into a new car loan when the old vehicle is traded in. It's what really happens when the dealership offers to pay off your car no matter how much you owe. This part of the loan is not secured by the new vehicle and can cost as much as double as the rest of the loan. This portion of your loan is also not covered by insurance if your car is stolen or totaled, which can be even more devastating to your bottom line if you have to pay out of pocket.
Check out some other discussions we've had on personal loans and debt:
How To Escape An Upside Down Car Loan
Maybe you're tired of making car payments. So, what can you do to get yourself out of car loan hell? Believe it or not, you do have options. Let's take a look at what you can do (some methods are more radical than others):
1. Sell your car? If the car you own is a big money pit, then you may have to consider unloading it for something that's much more manageable, financially. If you can actually pay off your car with the proceeds from selling it, plus pay cash for something more affordable, then DO IT. This is the single most effective way to reduce your vehicle costs. Granted, this solution may not be the easiest one to swing.
2. Refinance your car. So, you're still upside down on your loan. See if you can refinance the loan. If you have decent credit, this shouldn't be a big deal. If not, you may not qualify.
3. Repossession. This is the worst case scenario. Your credit will take a huge hit, plus you're usually still on the hook for the difference between what you owe and what your car sells for at auction.
4. Drive your car until you can sell it. This is usually the best option for individuals who are upside down in their loans. Continue making your payments until the loan has reached the point to where the balance can be paid through selling the car.
Getting out of your current payment situation is only half the battle. Buying a car can be tricky, but doing it smartly is even more vital to your future financial well-being. Stay tuned for more information on how to purchase your next vehicle without breaking the bank.
Created June 7, 2010. Updated October 22, 2012. Copyright © 2012 The Digerati Life. All Rights Reserved.