Want to pay off credit card debt quickly? First, stop incurring new debt. I suggest ways to make that happen!
When you start to become worried about your debt, it's harder to keep calm and relaxed. But here's an idea: how about taking the suggestion of keeping cool much more literally? Here's how you can stay cool and fight your debt at the same time: handle some ice! It may be a good time to try this experiment, which one blogging colleague tried out a few days ago. He thought he'd literally freeze his credit card, and see why it's such a popular suggestion among debt fighters everywhere!
Stop Using Credit Cards By Putting Your Cards On Ice!
Okay, so do the our credit cards really deserve this treatment? Kevin from Credit Shout came up with this video demonstrating his card freezing exercise. Is it effective? I'm not sure. You're going to have to keep your credit card in the freezer to have it remain encased in ice indefinitely. I would tend to do something easier: like shred my cards, for instance.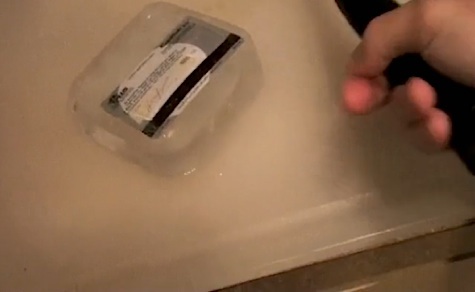 I guess if you're not really intending to throw out your credit card, and just want to temporarily render it unusable while you talk yourself out of the most recent impulse purchase that's got you preoccupied, then the icing / freezing process may be worth the effort. Or else, have someone you trust hide your credit card somewhere. But be careful! If you're looking to get your card back later, convincing your spouse to hand it back may prove harder than just waiting for ice to melt away!
Crazy Ways To Destroy A Card You No Longer Want
If you want to make a strong statement about your debt and your card, there are certainly other memorable and symbolic methods you can do, beyond the ice. For example, you can take this guy's lead and opt for one of six insane ways to do it: via blowtorch, sulfuric acid, angle grinder, fireworks, a shotgun, and my favorite — liquid nitrogen! Check out his crazy demonstrations below:
Now lest you think these are rather silly exercises, let me remind you that not long ago, a couple of companies in the lending field sponsored a card shredding contest. It may seem ironic that these companies (Lending Club and PerkStreet Financial) were involved, given that they belong to the lending industry, but the truth is, they offer products that could be better alternatives to higher interest rate cards. I quite liked this entry they had, which won second place.
You don't need to go this far though — all you need is a pair of scissors or a paper shredder to do the job; albeit you won't have the satisfaction of dispatching your card in such a symbolic or grand manner. Still, for practicality's (and safety's!) sake, as well as the convenience, I'll be sticking to my trusty shredder in lieu of stunts like these!
Created July 29, 2009. Updated June 7, 2011. Copyright © 2011 The Digerati Life. All Rights Reserved.