It's important that we track our credit on a regular basis. Well, you can do it for free, of course, but you'd have to be on top of this task by ordering your credit reports from AnnualCreditReport.com, then reviewing your information regularly. But perhaps you'd prefer the convenience of a more proactive monitoring service; so if you're looking for something that's more efficient, automatic and serves as a notification service for you in case there are changes to your credit history, then there are credit monitoring services around that can help.
One such product that does a great job of this is myFICO Score Watch. It's a product from the firm that is responsible for the creation and use of FICO scores, and it allows you to monitor your Equifax credit information.
myFICO Score Watch Features: Monitor Your Equifax Credit Score
Here's what will be available to you if you become a subscriber:
You'll receive two FICO credit scores and reports per year from Equifax.
You'll receive two different types of alerts as and when certain events happen: when there is a change in the information on your credit report and when there is a change in your credit score. The alerts are sent to you via email and phone (depending on how you apply your settings), which is highly convenient, while the details of the changes on your credit will be available online via the Score Watch dashboard.
You'll get notifications if you're able to qualify for better home and auto loan rates.
The regular price is $9.95 for a monthly subscription, or $8.33 per month if you sign up for a year (that's $99.95 per year).
The myFICO Score Watch Interface
If you're in the market to buy something big in the near future, this service makes it easy for you to find out how much it will probably cost you if you decide to finance your purchase. What's nice about the myFICO service is that the interface is pretty well put together and easy to digest. Here are a few of its pages (these are available from the myFICO site):
1. Score Watch Home Page
This page displays your credit score, score percentile and score history with nicely colored graphs and meters.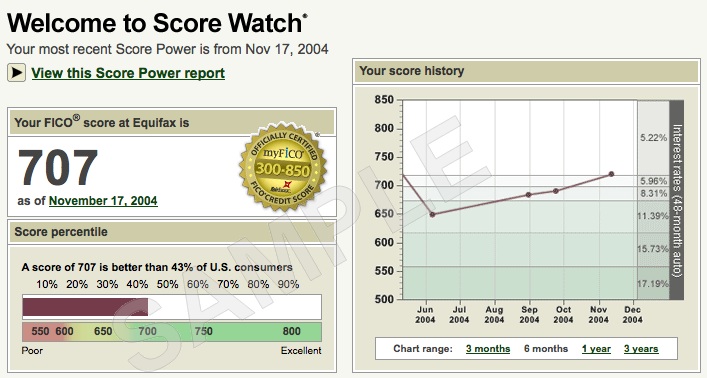 You're also given the ability to pull your credit information at anytime. If you choose to view and pull your credit report, Score Watch will keep all snapshots of your information in your reports history section. Remember that you get two free reports and scores per year so if you decide to retrieve more than this, you may do so for an extra charge.
2. What Your Score Means To You
The section called "What Your Score Means To You" presents interest rate tables for various loans (mortgage, home equity loan, auto loan, etc.) and where you stand in the whole scheme of things. You'll be able to find out what kind of interest rates you can expect for your given credit score.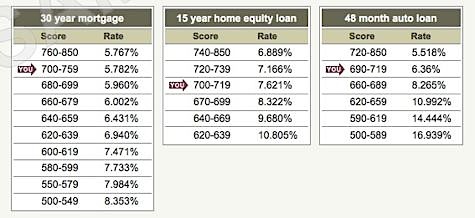 3. FICO Score History
Your credit report is checked daily for changes while your FICO credit score is checked weekly. All changes to your score are displayed here.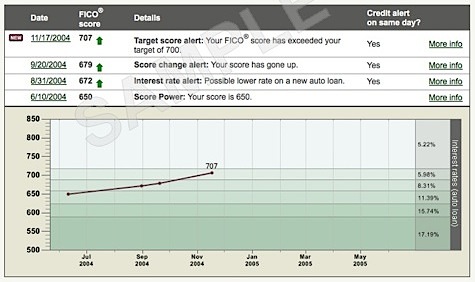 4. Credit Alerts and Settings
Events that cause changes to your credit information are captured through alerts that show up in the Alerts page. You can change your delivery and alert settings pretty easily.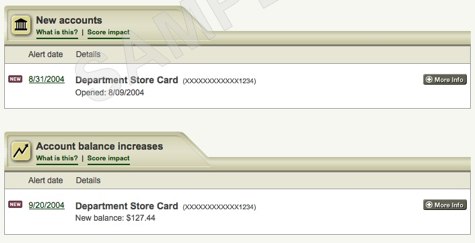 The actual myFICO credit report you'll receive contains a ton of details, as it walks you through your score summary, explanations of how your lenders see you, and your full credit picture at a glance (accounts, inquiries, collections and public record data are included). You'll also get specific suggestions on how to improve your credit standing or deal with errors if necessary.
Why Watch Your Credit Score?
For many people, credit monitoring is an afterthought as they don't bother checking how their credit is doing until something unpleasant happens. I've also discovered that a lot of people I know don't realize that they can save money by doing a better job with managing their credit and tracking their credit history. But the fact is, your credit scores have a direct effect on how much interest you pay for loans — you'll pay more in financing charges if you don't have good credit. Not all spending is equal when it comes to the spending you do when you're using borrowed money.
Want more information? Check out our article on credit report monitoring services.
Copyright © 2009 The Digerati Life. All Rights Reserved.