I'm featuring a post today by Plonkee, who is the author of Plonkee Money, a personal finance blog with an English twist. 😀 Plonkee's focus on finance is pretty similar to mine as she focuses on behaviorial finance: "thinking about why I and others do things in a certain way – including those times when it's not exactly the best way." Her blog is uniquely pink ;), with lots of lively discussion and attitude, and definitely fun. So head on over there and subscribe to her feed if you haven't already!
My preferred strategy for dealing with an emergency is to whip out a credit card. There are a few reasons for this. Firstly, although I do have a cash reserve in a savings account that I can use for an emergency, it's in a postal access account. The sort of complete emergencies that I might have (like for example, being flooded out of the house) probably couldn't wait a week or ten days for the cheque to come from my savings account, until I paid it into my main account and it cleared.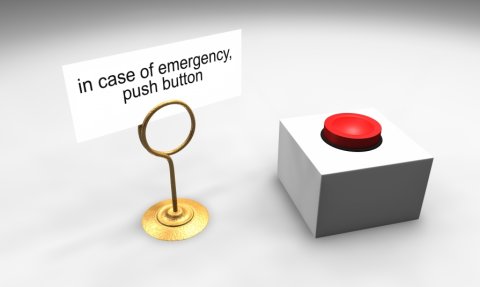 Using credit cards in an emergency means that you'll have instant access to money which you'll only spend exactly as needed. You won't have to estimate how much an emergency is likely to cost at the time when you are least likely to do so rationally. If you tend to underestimate, then you could run out of money, and if you tend to overestimate then you would lose money in interest.
Finally, I have access to a much higher credit limit than I do savings. Through a combination of 4 credit cards and two overdraft facilities, I can access credit equivalent to more than half my gross annual salary. I think this is a good thing. In a genuine emergency, you're going to have to pay whatever it takes, even if it puts you into debt. For this reason, I prefer to be well covered, especially as some of my most likely emergency situations involve having to buy expensive flights home from whatever exotic country I've decided to travel to. As long as you are spending less than you earn, you will pay the debt off if the emergency ends up costing more than you have in your emergency fund.
In most emergencies, money isn't the focus of the situation, "something else" is. You want to be able to put all your efforts into dealing with that "something else," rather than making sure that your finances are in place. Easy access to credit that you don't normally use means that you can use your money as a tool and concentrate your mental resources on the problem at hand.

Image Credit: piperreport.com
Copyright © 2007 The Digerati Life. All Rights Reserved.