A Ferrari Enzo is one of the most expensive cars around, and every time one of these gets totaled, it ends up in the news. There was a particular one that was wrecked by comedian and actor Eddie Griffin. There are not very many of them around, so trashing one will get you some publicity. Such cars are priced at $1.5 million, so the sight of this total loss almost made me wince as hard as when I found out how much my 93,000 mile service was going to cost me last week. Somehow, I felt the same pain that the loss of such an exotic car must've cost its owner, even though I was simply $2,000 lighter. The amount was such that I wondered if I were being fleeced for what I believe is a straightforward car check up. Still, I patronize a reputable dealership and my vehicle is an 8 seater van that was bogged down with what the dealer claimed were busted brakes, cracked engine mount, and old sparkplugs.
Take a look at my charges.
Maintenance Fees for One Family Van
| | | | |
| --- | --- | --- | --- |
| Description | Labor | Parts | Total |
| 90,000 Mile Service | $295.40 | $104.55 | $399.95 |
| Replaced timing belt, water pump and accessory drive belts | $687.50 | $319.06 | $1006.56 |
| During service, found side engine mount cracked. Replaced side engine mount. | $67.50 | $63.95 | $131.45 |
| Recommended replacement of spark plugs. | $0.00 | $125.70 | $125.70 |
| Replaced front brake pads and resurfaced front brake rotors. | $188.38 | $61.57 | $249.95 |
| Performed powersteering fluid service. | $83.41 | $6.54 | $89.95 |
| Hazardous waste | N/A | N/A | $5.00 |
| Parts discount of 10%. What's this, goodwill? | N/A | N/A | ($45.28) |
| Tax | N/A | N/A | $56.21 |
| TOTAL | 1322.19 | 681.37 | $2019.49 |
This is some serious outlay for us! So before you purchase a vehicle, be aware of its true costs of ownership. Depending on the kind of car you get, it may end up actually costing you more than you think it will. Here is a chart showing what a family van can really run you, taking all its costs into consideration. Incredibly, I'm seeing that the total cost of owning my van appears to be actually twice the retail price I paid for it!

OUCH.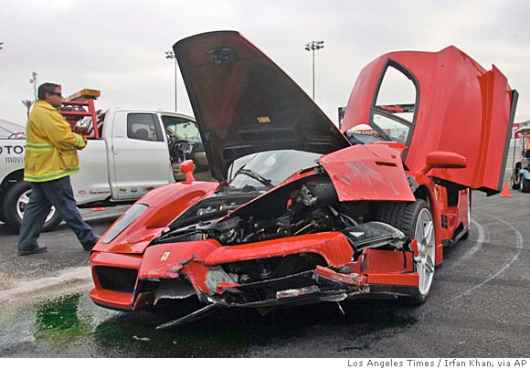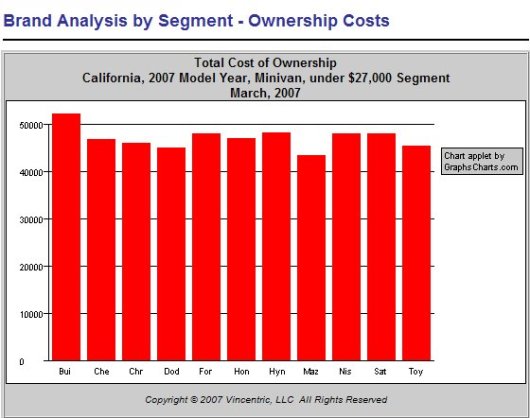 Chart is from Vincentric.com
Here's a review of what affects a car's true cost:
Factors Affecting A Car's Costs
Brand: Your car will cost you a bundle if it's been built by a manufacturer with a sterling reputation.

Design and Assembly: A well-designed car will be able to withstand accidents and crashes for less damage and consequently, less cost. For the same type of vehicle, the differences in repair costs can range in the thousands.

Features and Technology: With time, cars have gotten more sophisticated and advanced with the features they offer. I can't imagine how I'd survive without the GPS systems that are today, part and parcel of many automobiles. And I still remember how I was persuaded by a car salesman to purchase a special warranty to cover the electronics of a vehicle I had purchased. Goes to show that special training may be necessary for dealing with the more specialized parts of cars today.

Where Your Car Was Built: Do you have a foreign car? An imported car will most likely require imported parts and hard-to-find replacement parts may cost you more to track down.

Luxury Status: By virtue of owing a luxury model, you will probably be subject to higher costs for service and materials. You will end up paying a premium for the special status of owning such an enviable vehicle.
And to get the real picture, let's list all the costs and fees that come with buying the transport of your dreams. Information was compiled from Vincentric and MSN Money.
Actual Car Ownership Costs
MSRP: This is the manufacturer's suggested retail price. This information can be taken from sites such as Kelley Blue Book or Chrome Systems. This is more commonly known as the list price or "sticker price", for the large sticker on the windshield as a way to advertise to potential customers. It doesn't include taxes, registration, transportation to the dealership and other miscellaneous fees. While most people expect to get a discount off the MSRP, when all of the extraneous charges are added in, the final price might be approximately that of the MSRP, or actually higher.

Maintenance Costs (scheduled and unscheduled): There are three elements that comprise the maintenance cost: Frequency, Labor Rates, and Parts prices. In addition, there are both scheduled and unscheduled maintenance.

Repairs: Repair costs are those paid by consumers to keep their vehicles in operating condition, excluding the cost for scheduled maintenance.

Depreciation Costs: Depreciation is the reduction in value a vehicle incurs during a given period of time.

Gas Mileage or Fuel cost: How well is your car burning its fuel? You can estimate your fuel costs by increasing gas prices by 3% each year to keep up with inflation. Though gas prices fluctuate, it is still a good idea to budget conservatively.

Insurance cost: Your actual insurance cost will depend on where you live, your driving record and your age. It can vary by type of vehicle, driver, and coverage amounts.

Financing: This is the amount it costs to borrow money for a vehicle purchase. Every deal will vary depending on the amount of your down payment and your credit rating. Check the latest auto loan rates to estimate your monthly car payment.

Fees and Taxes: These administrative fees also add to the cost of owning a vehicle. Taxes and registration fees vary greatly by state, especially for high priced vehicles.

Opportunity Costs: This cost takes into account the loss of interest earnings that could be earned with the funds spent on a new vehicle. The lost "opportunity" to earn interest income is an often overlooked cost of buying a vehicle, but nevertheless is critical to understanding overall costs and a key component when comparing one vehicle to another.
We have two cars: a small sedan and a van for the family. It's no surprise then that we want to keep our vehicle maintenance obligations few and limited to what is necessary to run our affairs. I still wonder why some folks we know bother with more than a couple of cars, but I guess there are just some people who can't help but be attached to their automobiles. Well then, they'll just have to pay up.
Copyright © 2007 The Digerati Life. All Rights Reserved.