How to become a millionaire by saving money to the extreme.
While there are people who love to flaunt whatever they have and give the impression that they are wealthier than they truly are, there's this subset of individuals who work in completely the opposite way: these people are the ones who are wealthier than anyone ever suspects, and are only discovered as millionaires right after they have passed away and have bequeathed their millions to others.
I've always been quite inspired by such people, but also wondered about what would possess them to hoard money in this manner. More often than not, it's an issue of control, with "pack rat like" behavior extending to money as being the object of choice to squirrel away in this extreme fashion.
Saving Money Goes Extreme: Stories Of The Unexpectedly Rich
These people have been called many things — from rich paupers, to millionaire eccentrics, to the "surprisingly rich". Here are some accounts of people who've lived under the radar while secretly stashing away their money. They're living a double life. I don't know about you, but I find this somewhat cool and intriguing.
Joseph Leek left nearly $1.8 million to an organization that provides guide dogs for the blind, and nobody, not even his own family, had any idea that he had that kind of money. The 90-year-old Britisher lived like a pauper. He watched television at a neighbor's house to save on electricity, put off home repairs, and bought secondhand clothes.
Rev. Vertrue Sharp raised hay and cattle, preached and taught, while saving every penny he made. When he died in 1999, he left an estate of $2 million to the East Tennessee Children's Hospital, the University of Tennessee Medical Center, and other charities.
English spinster, Mary Guthrie Essame was a retired nurse who lived in an old Victorian house and who clad herself in such worn clothes and old shoes that no one knew how well off she was. Neighbors were shocked to learn that her estate amounted to a whopping $10 million when she died in January 2002. (The money was left to a host of charities.)
Have you heard about the elementary school teacher who built up almost $4 million dollars by the age of 89? There was also the 55 year old transient who lived in a trash-filled hotel room who had $1.4 million in Wachovia stocks and funds because he was afraid "his health would go bad" and that he needed to ensure he'd get medical attention when the need arose.

And here's my favorite story of all: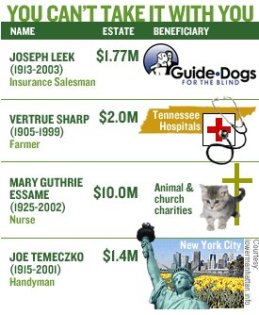 Joe Temeczko was a Polish immigrant and former prisoner of war who did odd jobs and handyman repair work. He had no family and lived in a modest house which he filled with stuff he scavenged from the streets. He roamed the neighborhood to find junk to fix up and sell or give away, and would get free food from local charities and read newspapers in the store so he wouldn't have to buy them. When he passed away at the age of 86, he left behind a $1.4 million bank account which he gifted to the City of New York. In fact, he'd rewritten his will right after 9/11.
Interesting Notes About The Secretly Wealthy
There are more people of this profile than you think. Don't look now but the shabby clothed guy standing in the corner can be worth millions.
A lot of these folks become philanthropists and leave the bulk of their money to charity. They are ordinary people who want to make a difference in society, and who've done it in a special way — by allowing their money to grow throughout the years, enabling them to bequeath a large gift to their causes and helping them make an impact upon death.
On the other hand, family members of the secretly wealthy have also voiced their disappointment in finding out that they're actually richer than they thought they were. Many have lived lives of sacrifice and deprivation affected by the lack of knowledge about their true financial status. This true status is a closely guarded secret by the patron (or matron) of the family throughout their lifetime. Not surprisingly, this can trigger a backlash among the heirs, who may then proceed to spend their inheritance willy nilly.
Many of the secretly wealth are actually quite happy and content just living the way they do (as reported by those close to them), although I'm rather baffled that anyone would like to live in flea-bitten hotels, seemingly poverty-stricken, when they could afford a decent apartment.
Keeping one's riches secret has been looked upon as a control issue, although these extreme frugalists appear to have the common desire to surprise their heirs when they die. For those who pretend to be poorer than they are, it could be due to having the baglady anxiety syndrome, where they feel that no matter how much they have, it can all be gone in a split second if an emergency arises. Or they may just feel more comfortable hiding their wealth so that it could grow uninterrupted, away from prying eyes and others' involvement.
They may also enjoy and derive pleasure from the idea that they can become the "hero" once they die and leave a legacy to others.
Odd behaviors aside, these stories should prove one thing: that ordinary people CAN indeed find themselves sitting on millions by simply living frugally. Though I can hear you all making the argument that a lot of these folks are found to be millionaires only after many, many years of scrimping and only upon reaching the twilight of their lives, you really can't argue with the hard results: they still have a million dollars more than most of us have.
Copyright © 2008 The Digerati Life. All Rights Reserved.