Create multiple income streams to diversify your cash flow. It's a great way to supplement and cushion your job income or to earn a living as an entrepreneur. This guest post is written by Kevin of 20smoney.com.
Financial security is something that most of us pursue, but many are failing to find these days. While financial security is achieved through a combination of sound financial practices such as budgeting, managing debt, investing and other personal finance activities discussed in this blog, there is one area that I'd like to talk to about today that frequently goes unmentioned. Today, I want to talk about how a second income stream can be a major catalyst in achieving financial security.

First, let's quickly look at the economic environment. For quite sometime, unemployment was stubbornly high, which means that many folks were left without an income (and may very well still be in this situation). When times are uncertain, future income growth may be far from guaranteed as fewer opportunities are available in a shrinking economy. And this is the case when we're fortunate enough to still be employed. We can weather a bad economy if we're prepared, so it may be wise to try to be creative and to look elsewhere for ways to grow our income.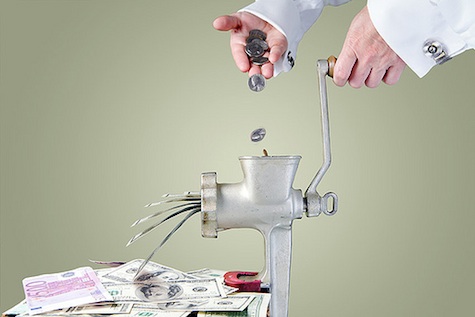 How Income Streams Can Give You Some Financial Security
A second income stream can be extremely beneficial for you and your finances. Consider the possibilities of having a second income stream. You can pay off your debt quickly, you can significantly increase your investing and saving, or you can do something that hardly anyone seems to do these days: pay off your mortgage. Financial freedom can be a reality in your life as a result of building a sustainable second income stream.
Now, building another income stream isn't easy. It means that you have to essentially work outside of work. Your free time is precious and an important way to balance your work schedule, so working during this time on a second job/income stream can be a sacrifice. With some improved time management, however, it's definitely possible to do this without killing your lifestyle. If we focus on the end goals (some of the financial benefits discussed above), we can find the motivation to be productive outside of work in order to build a second income stream.
Interestingly, many of us have the goal to be self employed or to become entrepreneurs, yet most of us view that as jumping off the cliff — going from employment to being our own boss. While many view this leap as an attractive option down the road, most fail to even consider the idea of building a second income while maintaining regular employment. I'm proposing building a second income stream over time while you're employed. This significantly reduces the risk of having no income when you first start your own business.
Developing Multiple Streams of Income
When searching for income opportunities in your life, start with an analysis or inventory of your skills, desires and contacts. Let's walk through each briefly.
#1 Your skill set is important because it will allow you to work on things that you'll find easier to do –- if your skills or talents aren't a fit for self employment, consider expanding your skills by picking up new ones.
#2 With regards to desires, building a second income stream in line with your interests or passions can largely dictate your degree of success. The reason I say this is because you need to remember that much of your work in this area will be outside of the regular job that you're holding. By working in an area of interest (or an area that is already a hobby in your life), it makes it easier for you to spend time working. Pursue a second income stream in conjunction with your current hobbies or interests.
#3 Lastly, your contacts or your network can be a big component in finding ways for you to make money on your own. Consider your current co-workers, your clients, your neighbors, family members and friends. Do any of these folks represent potential customers, partners or someone who might help you launch your own income stream?
My Story: The Story of 20sMoney.com
For me, my background is in technology and programming and my biggest hobby involves dealing with the stock market. I have a good job that I enjoy so I wasn't necessarily looking for complete self employment; instead, I was looking for a way to develop my hobby into something that could make money. The result is that I started my blog 20smoney.com. Over time, I've managed to figure out how to turn this small side project into a lucrative online income stream. Each month, I detail the revenue that I make from this income stream in an effort to encourage others to take action in their own lives.
Moving forward, building income streams might just become a reality for me, as a full-time income replacement. This would be a dream, but it's not something I stress over. Again, I still hold my regular job, but currently, by bringing in $1,500-$2,000 per month from my website(s), I'm able to significantly improve my personal financial situation while keeping my eye on the possibility of being self employed down the road.
As you examine your own personal finances, it's important to keep pushing forward in areas such as paying off your debt and sticking to a budget. As you make progress in these areas and you begin to master them, I would encourage you to start considering ways to increase your income in your life. If the opportunity just isn't there with your job, consider a second income stream. The opportunity is real and the benefits are many. Good luck!

From the Silicon Valley Blogger: If you're curious about just how successful you can get with an online hobby or business, check out my article on how several people are able to make a lot of money blogging. And if you're planning anything that entails forking out money (e.g. multi-level marketing or franchising), just make sure you do your due diligence before you get started.
Created August 27, 2010. Updated June 14, 2012. Copyright © 2012 The Digerati Life. All Rights Reserved.