Right now, I'm pretty much out of sorts with a bad cold and with iffy weather upon us in the West Coast, I'm not going to take the risk of going outside. I was much more adventurous many years ago and exposed myself to the elements while recovering from the flu and instead caught pneuomonia.
So while sick in bed today, I debated whether I should go in to work anyway then decided against it. I decided that I didn't want to be one of those employees still insisting on going in to work to make a good impression on their bosses, to the detriment of my co-workers.
But such a judgment call is something lots of employees have decided to make differently as they drag themselves in to work regardless of their condition. This, by the way, is a phenomenon with its own name: "presenteeism" (as opposed to absenteeism). There have been studies showing that presenteeism, or showing up to work when you're sick, is the cause of more productivity loss than absenteeism. From the New York Times:
"Presenteeism is twice as big as absenteeism in America and accounts for two-thirds of the productivity losses that occur at work," said Ronald Kessler, a professor of health care policy at Harvard Medical School. Productivity losses stemming from presenteeism could be as high as 60 percent of the total cost to the company of worker illness, eclipsing the costs of absenteeism and medical and disability benefits.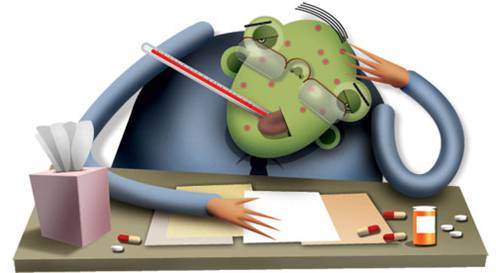 For some informal statistics, here's a look at the results of a casual MSNBC poll that asked the question:
How Often Do You Call In Sick?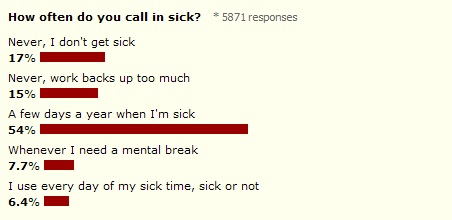 It's a live vote so you can participate. Now even from this informal survey you can see that only 6% of people are willing to use up all their sick days while 32% NEVER take sick days off. Talk about a dedicated work force!
I'm glad to hear that many companies are now insisting that their employees should be staying home when they're sick so as not to cause the spread of germs although some companies still don't get it. Besides, when we're sick, we won't be nearly as productive as we'd be otherwise.
By unexpectedly missing out on work, a lot of folks use up their paid vacation time or miss out on their hourly wages. But companies can do something to help by allowing telecommuting privileges for those jobs that can lend themselves to such an arrangement. What's great is that some companies are really making strides in addressing their employees' health concerns more. Here were some such policies I read about:

Telecommuting
Opening clinics around the work campus
Providing health education
Administering flu vaccinations on the work site
Combining sick and vacation days into PTO (paid time off) for more flexibililty
Unlimited sick time policy
I am particularly intrigued by the last perk on that list: unlimited sick time. I've actually never heard of any company that has established this sort of benefit, but it sure sounds sweet!
I recall that earlier in my career, I tended to play "the hero" by going in to work while sick when deadlines loomed. I did this much more often when I was younger. These days, I say "to heck with it" and climb into bed while I nurse my symptoms. I suppose this attitude reflects how one weighs their priorities — in my case, my career and job used to be my number one priority in years past while these days, my health and my family come first. Plus, acting the hero at work by showing up while sick is usually a sign of job insecurity (to some degree) so as the job market improves, the level of presenteeism usually drops.
I really wish employees would just stay home when they weren't feeling well, because if they did, then I wouldn't be as sick as a dog today.
Image Credit: MSNBC
Copyright © 2008 The Digerati Life. All Rights Reserved.