Some people have become pretty creative about their job hunt. We've compiled their stories, which demonstrate some new ways to find employment. Time to think outside the box?
Newspapers are rife with layoff stories, and so this was timely: Fortune has just released their list of best companies to work for! For those of you who've gotten laid off, don't despair. A lot of my own friends and family members have been on the hunt, and while some have found jobs (albeit temporarily), others are still going through job interviews and the application process.
They're remaining positive and cheerful throughout the experience — I've seen no serious concern nor panic in their demeanor just yet, and for this I'm glad. Because by keeping the faith, they stay focused on their goals and become more highly likely to resolve their situation faster.
When it comes to job hunting, it pays to be somewhat creative — that is, so you can stand out above other job candidates and applicants. And this is precisely what some enterprising people are doing in order to secure new jobs and survive this recession. Their stories are testimonies of people's resilience during tough times.
How are these job seekers doing it? They've decided to think outside the box and pull out all stops to try to get hired:
How Creative Is Your Job Hunt? New Ways To Find Employment
1. Hit the pavement, literally.
Paul Nawrocki, a 59 year old former operational manager in the toy industry, lost his job when his company closed down, and when he found himself down to his last unemployment check with a sick wife to support, he decided to take his job search to the next level.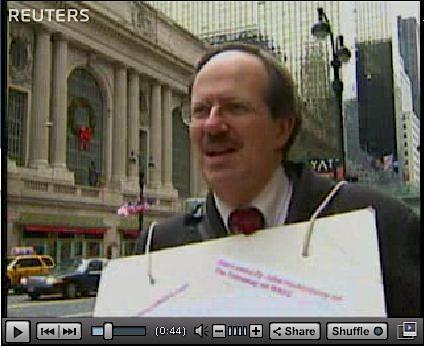 He touts a sandwich board on his person that states "Almost Homeless". His methods have been described as "depression-era", and it's gotten him attention. An interview with him states that he's gone through the traditional job hunting routes, and that he's still waiting for results. Hope we get an update soon! Here's his website where we can track his progress.
2. Wear your resume.
Kelly Kinney is serious about wanting to get a job. She's getting her message across by emblazoning her resume on her t-shirts, as well as on her car window and postcards for potential employers. The good news is that she's been getting some leads, and has been carefully evaluating them.
Here's what her shirt looks like: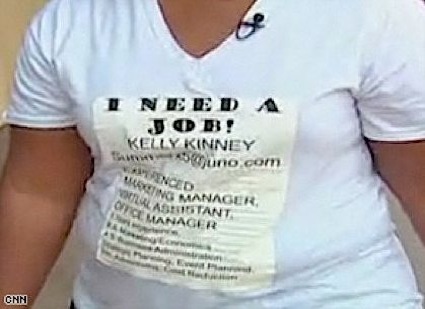 And here's how you can do the same: you can pick up this ready-made shirt from Zazzle.com: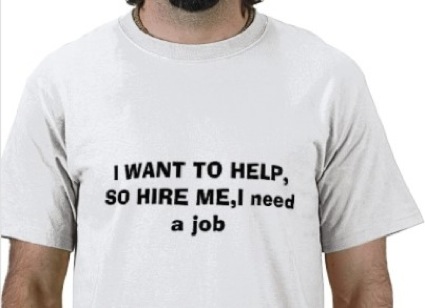 or go for something a bit more ornate, like this classic resume shirt here.
3. Set up a web site and go Web 2.0.
How about launching a web site that is aimed to market your skills and work experiences?
I did a quick search and stumbled on this web site, and this one, both professional sites showcasing the profiles of a couple of fellows.
If you've got skills that you'd like to present via the non-traditional route — especially if you're in a creative industry (e.g. music, the arts, design etc) — why not set up a web site (or Squidoo lens, MySpace or Facebook pages depending on your orientation) that provides prospective employers a look at your professional background and profile? With such a site, you can maintain a one stop shop for all your work information, and refer to it through other Web 2.0 channels such as Linked In, job boards and social networking avenues.
4. Offer a finder's fee!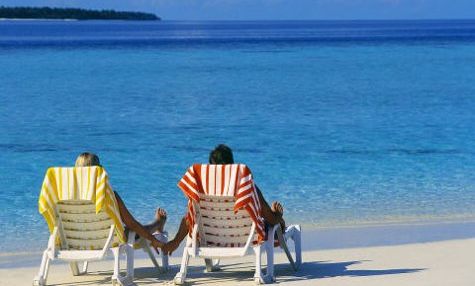 There's this guy named Michael Checkoway whose background is in public relations and event management, who's on the job hunt. And he's using his expertise to try to get employment by offering a free travel package or cash as a finder's fee for anyone who can hook him up with a job — and his giveaways are calibrated according to the size of the salary he gets. Great gimmick! He's launched a personal web site that gives all the details.
5. If all else fails, go to Plan B: try changing careers.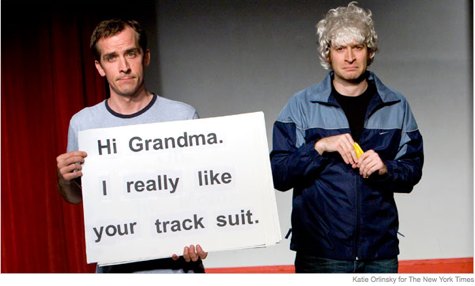 Now if your job search isn't going so well, you can think about other alternatives. Would you consider a whole different career path instead? It pays to have some other interests and skills in areas that may not be related to your current work as it may be a potential backup plan in case your job hunt is stalling. In this particular story, some bankers found their calling as stand up comics! The lesson here is that we don't have to pigeonhole ourselves into one kind of job or career. By being flexible and giving other opportunities a look, we may actually surprise ourselves and find equal or even greater success at new things.
Your Job Loss Can Have A Silver Lining
I wholeheartedly believe in the saying: necessity is the mother of invention. In fact, this very catchphrase applies to my own plight — since it was out of necessity that I left my job as a software engineer in order to stay home with my family and maintain a flexible schedule. Some health issues and family responsibilities "forced" me into a whole different life, enabling me to carve out a new "career" path as a full time blogger and accidental entrepreneur. I've definitely made the right decision. If you've left your old job (or if your job has left you), who knows where life could lead you?
Copyright © 2009 The Digerati Life. All Rights Reserved.