During my life, I've hit a few speed bumps along the way, as I'm sure, most of us who are middle-aged (or older) will testify to. Facing pink slips, repossessions, foreclosures, and a sinking economy may force some of us to take on any job available. More than once, as a college graduate in my 30s, a prospective employer told me that I was overqualified — the euphemistic way of saying that he didn't think that I would last long on the job, and that investing in my training would be a waste of time for the company.
Who Wants To Hire Me? Ask Job Seekers Everywhere
Unfortunately these days, employers will have to face an increasing number of applicants who will be trying out for jobs they are highly overqualified for. With the unemployment rate rising, more and more people no longer have a choice about the kinds of jobs they're pursuing. Sadly, these tough economic times have been forcing many highly skilled individuals to shift careers and downsize their jobs involuntarily, and to apply for jobs that they claim they would never have dreamed of doing in a previous life. Take the story of the hedge fund manager who earned $750,000 a year just a few short years ago. He's now a pizza delivery guy.
Will You Work For Minimum Wage?
He's not the only pizza man in town. What about the fellow who was dismissed as a restaurant manager making $55,000 a year? He now packs pizza boxes in his family car and spends the night delivering pizzas for $10 an hour. Is he ashamed of his new position? Yes, his wife grudgingly admits. And yet, honest work should always be a source of pride, no matter what the conditions are.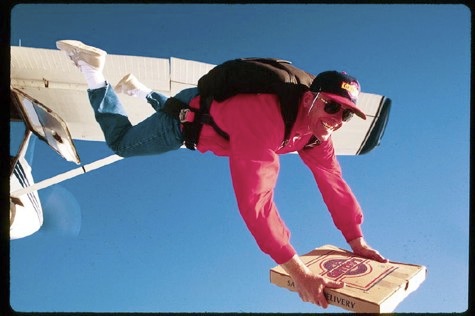 Image By WA Chronicles
5 Radical Tips To Get Employed
Earlier, we published some tips on how to launch a creative job hunt. This time, here are some ideas for those open and willing to consider out of the box job opportunities:
1. Consider other career paths.
As mentioned, times have made it harder for people to stick to the familiar jobs and careers that they've long been cultivating. So would you be willing to take any job that's out there? Or maybe it's just a matter of shifting expectations and casting a wider net as far as what type of job it is you should consider.
2. Retrain yourself and build new skills.
You may not have to put everything you own on eBay, as a family from Georgia recently did to help defray heavy medical bills. A better choice would be to retrain (e.g. go back to school). For job hunters out there, you may be interested in a book by Ben Kaplan, called How To Go To College Almost For Free, which offers some options for the laid-off worker who wants to retrain. For those in a tough bind, you may be able to receive special help at no or very low cost.
Also, with the new stimulus package details in place, look for Obama to include retraining as part of the job stimulus programs in the works. Many jobless people only need to learn a new trade to find employment easily. One of the areas that has seen growth in spite of the crisis is the medical field. There are all kinds of jobs that do not require you to study medicine or nursing.
3. Advertise your skills through unconventional methods.
If you are not familiar with Craigslist, now is the time to find out what it is. Many skilled artisans have placed ads on Craigslist detailing their various abilities, and have subsequently found jobs quickly. You may have to pay a small fee to post your request, depending on the city.
4. Join networks.
If you are a professional, I recommend that you join social networks which are much more a fit to your skills and interests than your career or past job history. For example, although I'm a teacher, I also belong to ELanceTalk.com, a community of freelance writers who exchange information about our trade. You'll be surprised by the opportunities you can uncover through these avenues.
5. Stay honest!
What's so radical about being honest? Well, when times are rough, it's much more tempting to bluff our way into a job we so desperately hope for. But avoid embellishing your resume with exaggerated facts or untruths. As a former HR manager, I've had the chance to detect lying candidates who were desperate to find a job. I strongly recommend that you don't lie about your education. If the new employer finds out, he will lose confidence in you. Tell them the truth, but make sure you emphasize your commitment to the new job and what you can bring to the bottom line.
An unemployed architect friend found a job as a daycare supervisor after explaining her plight to the owner. She was hired because of her honesty and because the proprietor needed a reliable employee. She is making half of what she used to earn, but she is happy to be working. Would you be willing to do the same?
Whether you decide to retrain or take a lower level job, remember that excessive pride may get in the way of making an honest living. As the Mexican saying goes: "Hunger is the best counselor."
Copyright © 2009 The Digerati Life. All Rights Reserved.