Some job interview techniques may prove helpful before you walk into the lair of a hiring company. Here are some general tips on preparing for your interview.
For many people, the interview is the most stressful part of getting a job; something like asking the girl you love to marry you — or if you're a lady, it would be like lending your guy an ear. It's a serious commitment, although few candidates take it as such, and even fewer prepare adequately for the big moment. Getting a job interview means that the company is interested in pursuing a relationship with you, after culling your resume out of hundreds of applicants (especially in today's market).
Preparing For Your Interview? Apply These Job Interview Techniques
Did you just find your dream job? If you haven't gone through an interview process before, or feel that you're rusty, then here are a few things to do to get ready. Some points to keep in mind while you rehearse for that big day:
1. Remember that the interview is not really about you.
The interview process is about what the company will gain by employing you. So the main arguments at your disposal are related to what you bring that will benefit the business. Yes, they have your resume in front of them, but they are interested in hearing from the proverbial horse's mouth what special skills you have that will make a difference for them.
2. Prepare to fill in the blanks.
Those resume writing tips may have paid off, helping you secure your job interview. But your resume may not be able to provide the full picture. It may fail to explain why you didn't work for 2 years or what the real reasons are for your dismissal from X company. Be prepared to be honest — brutally, if necessary.
Try "I couldn't find work because I wasn't willing to move to another state" or "I decided to take a sabbatical to forge my character by exploring the Amazon". Or "I've had philosophical differences with my company" can really mean that "my boss and I didn't get along because he wouldn't accept my suggestions".
You can be as euphemistic as possible about the gaps you leave in your resume, but if they do come up in the interview, it's strongly recommended that you come clean. Falsifying information will eventually bite you in the end.
3. Check the mirror.
Common sense says to dress for the occasion, and an interview certainly qualifies as a formal affair. There are however, some exceptions: I once interviewed a young man who showed up wearing a gaudy t-shirt; he was hired immediately because his talent as a software programmer was top of the line.
Most employers in the corporate universe frown on beards, Pancho Villa type moustaches, long hair (for guys), short dresses, and low-cut blouses (unless it's an audition, not an interview). So dress appropriately for the job and act naturally. What's that cliche again? Dress for success. Even if it's just to snag the job. You can ruminate over your company's dress code after you get the job!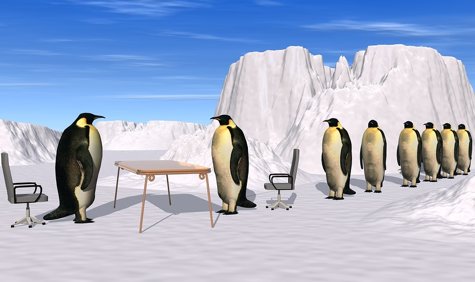 Image from BetterMondays
4. Sell yourself!
One of the most important techniques to get that coveted position is to sell yourself well, in my opinion. You must suddenly become somewhat of a salesperson, which isn't easy for a lot of job seekers to do.
But here are some basic tips: assume a good posture when facing the interviewer and remember that he/she is waiting to be convinced that you are the best candidate. Beyond marching down your resume, job history and past work experience, make sure you're prepared for the "softer" questions which can be some variant of:
Why did you leave your last job?
Where do you see yourself 10 years from now?
What do you bring to the table that other candidates don't?
Why should we hire you?
If you work in a technical field, you'll have more questions to wrestle with that are pertinent to your specific career. You'll sell yourself well by acing those questions!
5. Stay relaxed.
One way to keep the pressure off? Try to be yourself and show a bit of personality in your interviews. I challenge myself by trying (operative word here) to spice up a technical or dry interview with a little humor. Charm can get you far, although not everyone has the natural ability to be witty. But being relaxed during the interview can help draw more of your personality out, and will avoid those unsightly underarm perspiration stains, awkward handshakes, or nervous shifting that plague many an interviewee. Deep breaths or yoga before the interview, perhaps?
6. Make the first impression count.
I'd strive to make a good first impression, but this comes automatically when you project positive energy with a positive and confident demeanor. So look at your interviewer in the eye, and use a firm handshake. If he/she feels that they grasped a wet noodle, your chances of being hired could plummet. A little formality works (until you know your colleagues better) — I'd wait till the other is seated before taking a seat, and I'd avoid slouching.
A few more tips from the trenches: try to speak clearly and to put some emotion into your answers. Show how much you're interested in the job by displaying enthusiasm. Hopefully, you don't have to fake how excited you are about the position. But avoid being dramatic as well, as your body language can reveal more than your words to a trained interviewer; a lot of them can tell when you're pulling their leg. Smile when appropriate, but never use laughter, especially the guttural kind. And overall, be as passionate as you can about getting the job, without going overboard.
Burning (or Building) Bridges
If you're holding a job but feel that you're on the verge of getting laid off, then turn to Plan B. Send out some resumes making sure that your boss doesn't find out, unless he's already told you to be prepared.
If a company shows interest in your skills, the worst thing you can do is snub them when your present employer suddenly tells you that you're safe. You have just burned a bridge and word can get around among HR departments that you're a "tease"; more than once, I've encountered just how small the world truly is in my field of work. Our career actions and moves have their consequences.

Some other things you can do? Keep lines of communication open at all times, and make and stay friends with people in similar positions in your town. They might just help you with a new job when you most need it!

Contributing Writer: Jacques Sprenger
Copyright © 2009 The Digerati Life. All Rights Reserved.