This guest post is by Mrs. Accountability, who writes for the awesome site, Out of Debt Again. She talks about how you can find your dream job by employing a fresh approach.
We all have to start somewhere. Some of us are lucky to find perfect, lucrative jobs right away and without much effort, while some of us have to be more practical, patient and proactive about developing our careers. Some savvy job hunters have discovered that they could get their foot in the door at their employer of choice by first doing an internship. Others have been successful by volunteering. Today, I'll share my thoughts on how to get employed by becoming a volunteer first, and then I'll share two real life stories.
So do you have a dream job? Start out by thinking about what it is that makes you excited about getting up in the morning.
Are there companies out there that offer work or programs that could help you develop skills for your ideal job? If you know what you really want to do, are you willing to be proactive about seeking out such a job (even if it does not pay all that well or at all)?
Contact the person who oversees the department and ask if they could use a volunteer. One thing to keep in mind: Remember that this shouldn't specifically be a volunteer position. For example, non-profit companies are always looking for volunteers to help with their clients in various capacities. They are not normally looking to hire a person to do specific work.
Once you get the volunteer position, treat it exactly like a real job. Dress appropriately; be dependable; always be on time; work hard; keep your word; don't goof off.
After you have been there for a few weeks, inquire about the possibility of being hired.
If you are told they can never hire you, then it's time to start looking for a new place to volunteer. If you do feel it is time to move on, again, remember to treat it just like a job. Give a two week notice and continue to perform your job well.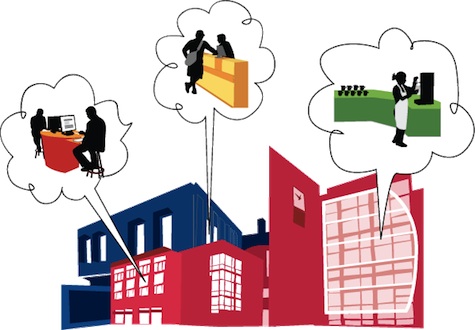 Image from The University of Arizona
Stories From Volunteers Who Found Jobs
And now here are the two real life stories I promised to share with you. Following are real life examples of the creative job hunt.
Story #1: I Did It, You Can Too!
I was once a volunteer for my current employer. This was how it transpired: one of my neighbors who had become a close friend and walking partner told me about a disability event being held at a local non-profit and asked if I would like to attend as it would give me the opportunity to learn more about her disability. While there, the communications director and I hit it off, and she asked me if I would consider volunteering.
My friend attended social recreation classes at the non-profit, and every week or so she would tell me the communications director had asked about me, wondering how I was doing, and if I'd given any more thought to volunteering.
What Prompted Me To Become A Volunteer
At that time, I was on welfare benefits. Some few months later, a new law would come to pass that would limit welfare benefits to a total of sixty months. Given this development, I discovered that I needed to find a job soon. It did not matter if those in this situation were disabled or were caring for a disabled child. Welfare recipients were slated to lose their benefits once they reached a total of sixty months.
Naturally, when I found out about the new law, I panicked. I was instructed to make an appointment with my vocational counselor, who would help me figure out what to do next. The goal here was to figure out what I needed to get myself prepared for employment. At my vocational appointment, I was given a voucher to buy clothing suitable for working in an office. I was in desperate need for clothing as I'd been living at poverty level for many years and had nothing at all to wear in an office.
Around the same time, I called the communications director at the non-profit agency to see if I could get my foot in the door. She was delighted to hear from me, and I agreed to begin volunteering in two weeks.
Treat The Volunteer Position As A Real Job
Once I started volunteering, I treated the position as if I were an employee. I didn't have a car at the time so I had to take the bus. I worked hard while I was there, exactly as if it were a paid position. Sometimes I even worked harder than the people who were being paid! I have always been very interested in computers, so I began to spend some of my time there helping the IT Manager. He realized what an asset to the company I would be, and began encouraging me to ask for a paid position.
It took me a while, but eventually, I worked up my nerve and asked for an appointment with the CEO. We sat in his office and he asked me what I'd like to be paid. I threw out a number, which was 33% higher than I expected because I thought he would want to negotiate. I was surprised and shocked when he hired me at the salary level I'd requested.
Perhaps my wanting to work only three days a week was a help, since that meant the company wouldn't have to pay for health insurance and I wouldn't receive any additional benefits.
I continued to be a great asset to my company and a few years ago, I began working four days a week which allowed me to have health insurance and benefits. As I've learned, when there's disaster, there can be opportunity.
Story #2: My Son's Experiences As A Volunteer
My second real life story involves my son, AJ. He recently got a job through volunteering, and his is another success story.
AJ was working part-time as a cook at a senior center. He liked the work, but his dream job was to work with computers. He inquired in the IT department at his job to see if they needed any help, but curiously they were not interested in volunteer help. I advised him to seek volunteer work elsewhere with hopes of getting his foot in the door. I asked my former IT manager if there were volunteering opportunities that may be suitable for my son, and AJ also began asking around (among friends and at church) if there were any open positions available.
Ultimately, there were three IT positions that opened up for my son. Eventually he chose one volunteer job while also keeping his 3 day a week job as a cook.
After volunteering for four weeks, putting his best foot forward, dressing professionally, showing up on time every single day, the company realized they wanted him on their team and he was hired. He gave his two week notice at his old job, and started working at his new job the next week. He is nearing his probationary period and he has high hopes that he will pass with flying colors.
As you can see, you might just get the job of your dreams by being persistent. At this time many people are unemployed; most people want to work, they don't want to sit around watching soap operas all day long. But job opportunities are scarce and how do you keep from being one more applicant? Volunteering is one way to prove yourself and get noticed, which will hopefully lead to your dream job.
Have you ever been hired by working a volunteer job?
Created August 23, 2010. Updated July 12, 2012. Copyright © 2012 The Digerati Life. All Rights Reserved.