Are you job hunting? These resume writing tips may help give you an edge.
When you look in the mirror, you usually check your appearance to make it as attractive as possible. So it must be for your resume; yet, thousands of applicants neglect to dedicate the time and the required professionalism into building an attractive resume. As a result, someone else gets the job that should be yours.
Common Sense Resume Writing Tips
Don't worry even if you lose your job. Equip yourself with a great resume and you'll be on your way to a new position. As a former HR manager, I'd love to share with you a few of my resume writing tips:
1. Get to the point. Focus on what's important.
The first thing you should take into account is that the HR person who reviews your resume is also looking at 50 or more similar applications for a job. In these trying times, a lot of companies are not only delivering pink slips; they are also looking for people who will help the bottom line. If you have experience as a great salesperson, that's the first thing a resume should say; they are not interested in knowing that you played soccer in high school. They want to know immediately whether you bring special qualifications for the position.
2. Watch your key words.
Sometimes, large companies will let a computer sort through the resumes by focusing on key words or phrases. Is your area using special technical words? Does the position require a particular set of skills, such as "Java software programmer"? Make sure these words are repeated a few times to catch the attention of the computer. It will help cull your resume from perhaps thousands of applicants.
3. Point out what's unique about you.
Once the human in HR has added your resume to a special stack of interesting candidates, how do you make sure that you will make the group of maybe 3 to 5 finalists? In a few words, uniqueness. Describe, briefly of course, what distinguishes you from the pack, what makes you unique. It may be superior writing, or organizational skills, or proven leadership qualities, or proof of your creativity (solution finder) in previous jobs. Did you increase sales, reduce losses, organize efficient teams, or achieve spectacular turnarounds? Whatever you have accomplished, make sure they find out immediately. Even if you are fresh out of college, you may have unique accomplishments as a student that the company is looking for.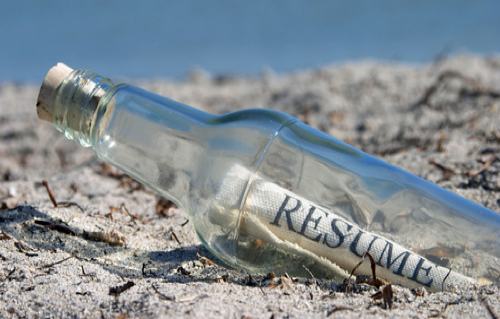 4. Be specific about what you write.
Here's an example of a typical clunker found on too many resumes these days: "seeking challenging role in a dynamic, growth-oriented company where I can demonstrate my excellent skills in []." (from Yahoo Hot Jobs). That favorite phrase in so many resumes makes HR managers yawn and dump it in file 13 (the waste basket). You are telling them what you want, not what you bring to the company. Elaborate on the "excellent skills" that have actually produced results in a previous job. A hiring manager has at the most 20 to 30 seconds to dedicate to your "reflection", so it better be eye catching from the get go.
5. Keep it short and sweet (KISS), if you can!
A good resume will answer the following questions in very concise statements:
What position you are applying for. You'd be surprised how many applicants pay little attention to the position requirements.
What you bring to the company specifically.
Why you are uniquely qualified for the job.
What you have achieved in the past that relates to the job at hand.
The next step, of course, is the coveted interview. As a former HR manager, I have seen everything from the ludicrous to the sublime. But that specific skill, the use of your charming personality to convince the hiring person that you deserve the job, requires a different kind of preparation, self-evaluation and reflection, and…. well, that discussion is for another post altogether! 🙂
 
Contributing Writer: Jacques Sprenger
Copyright © 2008 The Digerati Life. All Rights Reserved.