Can't we all lose weight and do what some determined people have done without having to stretch our budgets in the process? Sure we can.
Why am I harping so much about health? It's because health problems can spiral into huge financial nightmares quite easily. Leading causes of bankruptcy are the twin demons of poor health and chronic illness, and just like we need to maintain our homes, cars and other possessions, we also need to ensure we're doing what we can to keep ourselves in shape. Can you imagine how much money a long term sickness can suck out of your savings? The sum is usually pretty steep.
The fact is, our best investment is in ourselves and our health.
There are things you can do without having to spend too much on a sports club membership, personal trainers or expensive nutritionists. For instance, the people you see in the following images have done a wonderful job by losing the weight all on their own. I find photos like these very inspiring. This shows that no matter how heavy you feel you are, it can be done!
Weight Loss and Better Health: Before & After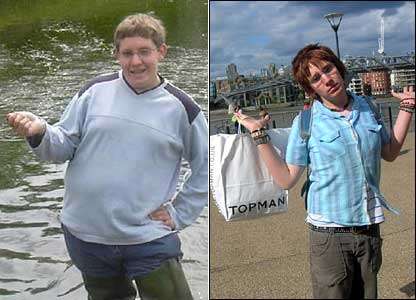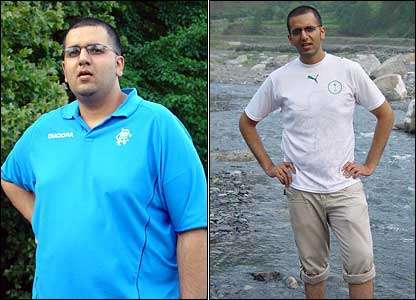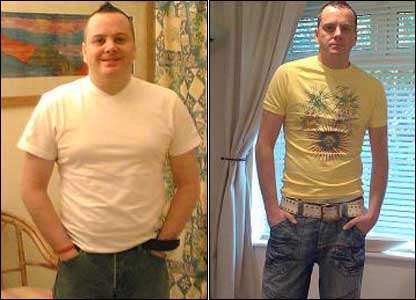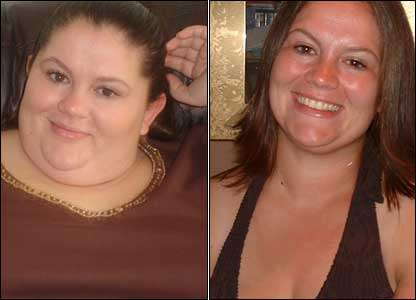 Image Credit: BBC News, In Pictures: Your Weight Loss

Here's what we can do to keep trim, stay healthy and preserve our money at the same time. Our focus here is on improving our eating habits:
How To Lose Weight On A Budget: Develop Healthy Eating Habits
I'm investing more on my health by turning to higher quality food. Some of the food my family consumes these days is arguably pricier than what we used to have in the past. This is in part because I've recently discovered that I am gluten sensitive. This means that most grains are now eliminated from my diet, causing me to have to shop at more health conscious (or gluten free) grocery stores. Such specialty stores generally tend to be more expensive. But I'm counteracting the expense by adopting these money saving tips that should also cut down on my calories!
#1 Don't buy diet pills or diet drinks.
Well, you can… but you shouldn't have to — they're but a quick and temporary solution. Here's a piece on why you shouldn't depend on them to lose the weight:
Diet pills can be pricey. Some of these pills that are advertised in infomercials can cost you $150 monthly. Even getting rid of a mere 20 pounds can cost you a steep $300 (assuming you lose 10 lbs a month) and that doesn't include shipping!
Diet pills yield short term, temporary results. Much like with anti-aging creams, the results are temporary and as soon as you quit taking them, you risk piling on the weight again.
Diet pills encourage dependence. They're a quick fix and may discourage people from developing good eating habits and more long-term weight management strategies. It's always better to rely on a good diet and regular exercise to keep the weight off.
#2 Don't buy what you won't eat.
Seems simple enough advice, but it's harder to follow than you think. Though food wastage is unavoidable to some degree, there is room here for improvement. How much improvement? Well check out the numbers reported in this MSNBC video.
We waste 96 billion pounds of food in a year, which comes to one pound of food everyday for every American.
Some tips to help manage our food budget:
Sometimes we buy much more food than we need, thinking that by buying in volume, we'll save money. But that's not always the case. You'll need to check the per unit value of what you're buying to ensure that you are saving money on a purchase.
Don't buy stuff just because it's on sale. Many foods are perishable and you may be tempted to buy items because they're discounted. Then you'll want to consume them to avoid the waste, but that could add inches to your midline!
Use a leftover calendar.
Check this site called Wasted Food for more tips on avoiding food waste.
#3 Eat your heaviest meal in the morning and your lightest at night.
I have a friend who does it backwards — eats his heaviest meals at night, even skipping meals during the day. And he doesn't look like the healthiest bloke on the block either. To improve your metabolism and keep the weight off, it's best to "front load" your meals by taking most of your calories earlier in the day.
#4 Eat smaller portions.
It's actually better for your body to consume smaller quantities of food, more frequently throughout the day. There may be some adjustments you'll go through in the beginning but it should get easier over time as your body gets used to the new schedule. It may also not be as practical to do this when you have a job that doesn't allow you this sort of flexibility. Still, you may be able to control your portions better if you select higher quality foods that are rich in fiber and if you balance each meal with all the major food groups represented. Doing so will aid your digestion and fill you up better.
#5 Chew slowly and carefully.
Slow chewing will allow you to stop eating sooner. Your body will get a chance to register the "full" signal as you're eating, and will do so on less bites if you slow down your eating. Less food eaten equates to less food needed, and perhaps a smaller bite out of your budget?
#6 Control your appetite with more physical activity.
Exercising gets your juices flowing and helps speed up your metabolism. Interestingly, studies suggest that exercise may increase your appetite at first since you are burning more calories. But over time, your body will respond to regular physical activity by decreasing your appetite for up to several hours after the activity.
#7 Dilute your fruit juices.
I've always found fruit juices to be overly sweet so I've gotten into the habit of diluting my drinks. Doing so has helped us cut down on juice purchases because we make them last longer. Plus we're doing ourselves a favor by ingesting less sugar! This could be a useful trick if you can't avoid the soda.
#8 Drink more water.
Many times, we think we're hungry when we're not. We're actually dehydrated. It's been said that we'd be able to curb our appetite by drinking more water. Although we're told to drink 8 full glasses of water daily, the amount we actually should be drinking depends on our specific circumstances.
You can get more accurate information on the recommended amount of water you need to consume daily by trying out this cool hydration calculator.
#9 Avoid or control the consumption of processed and junk food.
Trim the fat from your pantry and your food budget! I'm referring to those sources of empty calories that your body doesn't really need. This is actually tough advice for me to follow as I've always been a junk food addict. I've continually waged a war against my sweet tooth and my cravings for the munchies. I read somewhere that though this is partly genetic, it can also be a sign of imbalances in one's system, which should be remedied by — you guessed it — better diet and improved physical activity.
#10 Consider vitamin supplementation.
If you're not a good eater, you'll be on your way to depleting your body of required vitamins and minerals. Supplements — especially the important ones — are a necessity to help replenish your body's stores. Certain vitamins and minerals are important to prevent certain diseases from occurring and if you're not getting them from your diet, consider taking a boost from other nutritional sources. Check out your local health food store or reputable health food sites like Swanson Health Products or The Vitamin Shoppe for the items you need.
I've gotten into debates about this with colleagues who believe that you should get all you need from the food you eat, and that would be true if you eat a healthy diet. Unfortunately, too many people I know don't follow healthy diets, and probably have nutritional deficiencies. Supplements are there to hopefully help such people get back on track by addressing those gaps. The key here is moderation and appropriate treatment.
#11 Think twice about joining weight loss programs.
They could be a waste of time AND money. How do I know? Well because there are much cheaper alternatives. Not to say that such programs couldn't work for some people, especially if they've already tried everything. For those who truly need the extra help, sites like Medifast and eDiets may be helpful.
#12 Eat more vegetables, cut down on red meat, caffeine, sugar and salt.
Yeah, yeah, yeah….boring. You've heard this advice before I'm sure — maybe too often. And these are some of the hardest things to do, if I say so myself. But I am practicing what I'm preaching here. How many times have I heard that we should consume several servings of vegetables a day consistently? Yech. And reduce the amount of red meat we eat? Dang. What about my favorite foods: coffee, sweets, junk/processed food and french fries? Well, I have now reached middle age and I'm now seeing people in my life falling into the clutches of diabetes, high blood pressure and heart disease. Things are getting too close to home, so I'm changing my diet before I really pay for the junk I consume. You can expect it to be a gradual process but by staying disciplined, you should make strides. Don't forget too that by cutting out the junk, you're saving money.
#13 Never skip breakfast.
I used to be one of those breakfast skippers who would pile it on heavily in the evening. This is because I wasn't hungry in the morning but terribly so at night. I thought it was just the way some of us were, that it was a natural cycle for some people. But in reality, these are bad habits that your body has become accustomed to doing and that needs to be broken. For instance, imagine if you don't have breakfast but decide to eat non-stop when you get home from work and continue to snack all the way till bedtime. Let's just say this whacks out a body's rhythm and does a number on glucose levels. But you may be surprised to learn how actually easy it is to retrain yourself into breaking those bad eating habits, such that your eating cycles are better regulated resulting in less food consumed each day and overall improved health. You just have to start somewhere.
#14 Never eat an incomplete meal.
I've actually made an investment in my health by seeing a nutritionist on occasion to correct my lifelong wrongs when it came to food and diet. Among the simplest, yet most valuable information I picked up (which I'm sure you can learn from other sources) is this: never eat an incomplete meal. What does this mean? This means that each meal we take should always contain all three basic food groups: carbohydrates, healthy fats and protein, because your body needs all three food elements to absorb properly and most efficiently in your body. In fact, I've learned that you can eat anything you want and still lose weight — just as long as you eat less of the things you want (and therefore, ingest fewer calories).
#15 Don't let yourself go hungry.
It's weird but I also learned that if you can be proactive and anticipate when you'll be hungry, and actually eat something before you do, you'll eat less, and better. If you eat right after you find yourself starving, you'll end up devouring more than you need to. By the same token, if you eat slowly and chew your food well, you'll be able to control your food consumption better.
In Conclusion
Who wouldn't want to get healthier, lose the extra pounds and feel better? After all, our health is our most important asset and these days, health care costs are among those things that are rising faster than inflation. The secret to paying less for medical costs is to simply become healthier. Remember the adage: an ounce of prevention is worth a pound of cure!
For those who are interested in before and after images — here are a few more.
More Examples of People Who've Lost Weight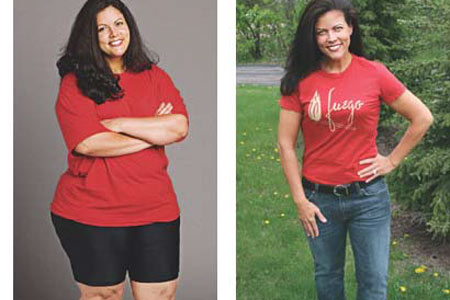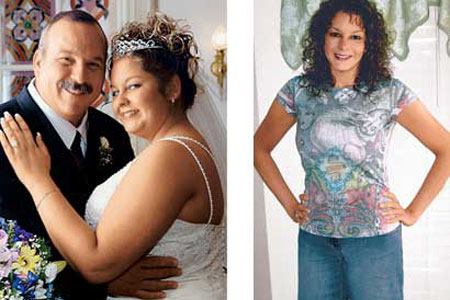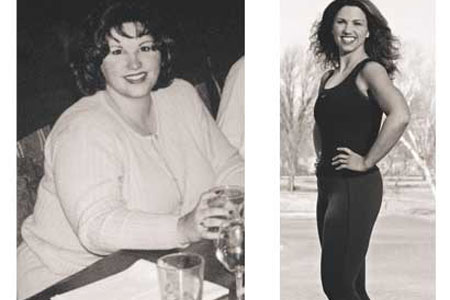 Created July 2, 2008. Updated March 30, 2012. Copyright © 2012 The Digerati Life. All Rights Reserved.