Sure, you want to stretch your food budget, especially when you're eating out. One way you can do it is with an all-you-can-eat buffet, which seems like a great deal. The thought that you'll be paying a flat rate for eating as much food as you can handle seems very, very appealing, particularly for a foodie. For a minimum of $3 (and all the way up to $10) for a buffet meal, you can heap your plate with food that could keep you full for days. However, whenever you say the phrase "all-you-can-eat buffet," why is it that your mother's admonition that " it's not really worth the money" starts ringing in your ears? Well, let's look at all-you-can-eat buffets from two perspectives.
The All You Can Eat Food Buffet: Worth Your Money?
Reasons why they are:
According to quite a few articles, like Eat Your Money's Worth At Any All-You-Can-Eat Buffet, a buffet meal is all about the strategy. If you know how you're going to approach this event and you prepare yourself for it, then it's going to be worth what you spend on it.
It's all about the value. Is the food both delicious and affordable? Paying $3 to $10 for a buffet meal would be quite reasonable, but only if the food doesn't taste like cardboard or isn't of low quality. Of course, everyone's price points and food requirements are different, so that should also be taken into consideration when you're gauging "worth".
You're after the convenience. Buffets are great because you don't have to wait around for a server to order anything. WYSIWYG!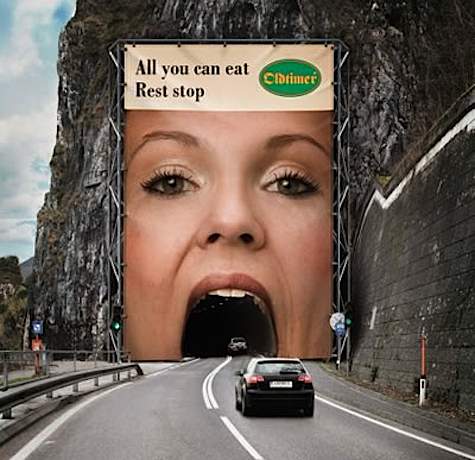 Image from 1000 Awesome Things
Reasons why they aren't:
Is the food actually good? In some places, you might as well be eating sandpaper. Food may not be as fresh if the buffet isn't well maintained.
In theory, a buffet offers a convenient set up, but it can also get crowded.
If you're thinking about trying the pricier restaurants because of their house specials, then the price points are higher. In such cases, would it be worth spending $15 or up (e.g. $60) for a single meal? But this is the case for any expensive restaurant anyway. On the other hand, this is a perfect opportunity to bring your trusty rewards credit card (or cash back card). These cards often favor dining as a spending category that you can earn rewards for.
More expensive buffets may put undue pressure on you to consume as much food as your stomach can hold so that you feel that you're getting your money's worth. You'll tend to overeat.
The bottom line is that this type of dining experience really depends on what you want to get out of it: are you looking to stuff yourself at an affordable price? Are you looking to consume a special meal at a nice, flat rate? Are you looking to spend quality time with friends and family over a meal without having to worry about the tab? Are you there because it's convenient and you just want to eat and run? I certainly feel that a buffet is great for certain set ups while a sit down arrangement is better for others. Do you have a preference?
All You Can Eat Dining: Some Advice
I am going to guess that buffets are more popular in certain parts of the world vs others. It may also be more of a hit with certain demographics, cultures or economic classes, right? In my case, I'd go to a buffet if I'm in the mood to really eat well and I know the menu. Think about it in terms of dollar per calorie: each calorie you consume will be much cheaper than you'll get elsewhere!
Just bear in mind that these things may happen at a buffet:
You'll consume more calories than usual in order to make the meal worth the price.
Should you overeat, you'll likely feel quite miserable afterwards.
There is probably a relatively higher food safety risk when dishes are exposed to more people and restaurant patrons.
All-you-can-eat buffets are a great way to enjoy a meal with a lot of people, provided that you choose a clean and reputable dining establishment and that you watch your food intake, despite the price. It's the bonding and the experience you're after, not just the food.
Some articles you may want to check out on the topic of eating well:
That said, if you've got a hankering for this, it would pay to know where the best buffets are, right? So here is a sampling of the best buffets around the world, from No Holiday No Life:
1. Copper Chimney in New York City for Indian food.
2. The Veranda at the Grand Hotel in Stockholm, Sweden serves local food.
3. Al Hadheerah at Bab Al Shams Desert Resort and Spa in Dubai serves local food.
4. The Lady and Sons in Savannah, Georgia for American Southern style food.
5. The Rice Table in Singapore for Indonesian food.
And here's an awesome guide on how to get the most from an all you can eat buffet style restaurant, from Top Cultured.
So have you had an all you can eat experience that you can never forget? Share your story with us and leave us a comment!

Contributing Writer: Lorie L.
Copyright © 2011 The Digerati Life. All Rights Reserved.