Family day trips are as much fun as a kid's birthday party!
One of our favorite affordable leisure activities is to take day trips with the entire family. We went on a family excursion a few weeks ago which was of the "back-to-nature" variety. It wasn't Walt Disney World, but it was equally fun (if not nicer), with two kids and three adults at the outing. It was a typical day trip for us, where we drive to a place, bring our own food and snacks and just enjoy the scenery and the simple activities they have on the premises. Price-wise, it beats any theme park package, running us around $75 total for parking and admission for five people.
Our kids were very excited about this trip because they were going to see Thomas the Tank Engine in action. The Roaring Camp Railroads over at Felton, CA (near Santa Cruz) around 50 miles away from where we lived, features a steam train that winds its way through the forests. For one extended weekend, the park turned the place into a Thomas the Tank Engine kid zone, where they'd disguise their existing steam engine with some kind of Thomas costume (okay, they converted one of the cars into the character's likeness), have their station speakers blare out the Thomas theme tunes, plant some kiddie diversions around the camp and set up a warehouse full of Thomas toys, merchandise and souvenirs. We were tempted to pick up a few puzzles, books and so forth but we resisted. We used the common parental tactic that involves diverting a child's attention elsewhere, and it worked beautifully — there were lots of other things to catch their eye!

Instead, we spent our time on the free activities and entertainment, and proceeded to look but not buy the souvenirs that were offered.
Free face painting.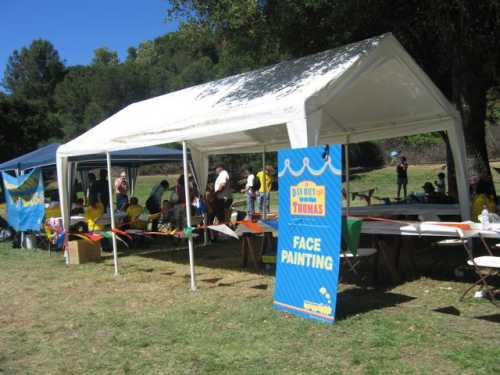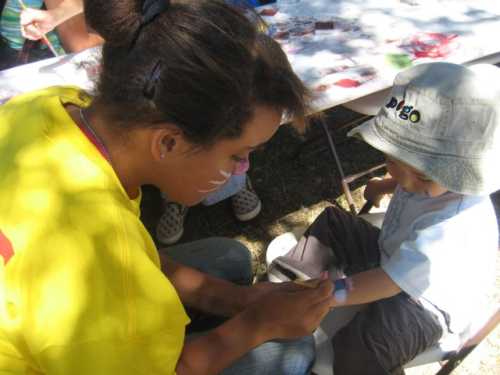 -ooOoo-
Meet Sir Topham Hat – the guy in that suit must've been boiling! It was a pretty warm day.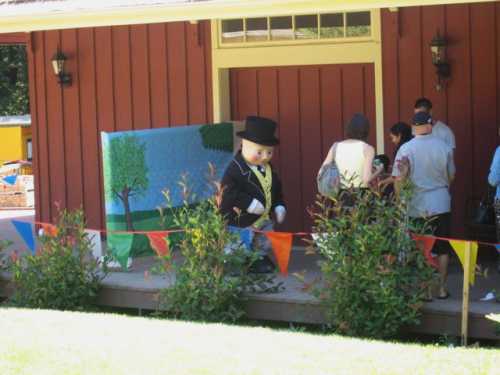 -ooOoo-
Marvel at the large train set.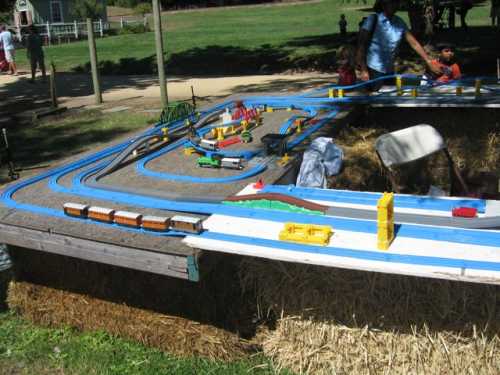 -ooOoo-
Cap it off with a fun train ride through the woods on a steam train disguised as Thomas, singing familiar theme melodies.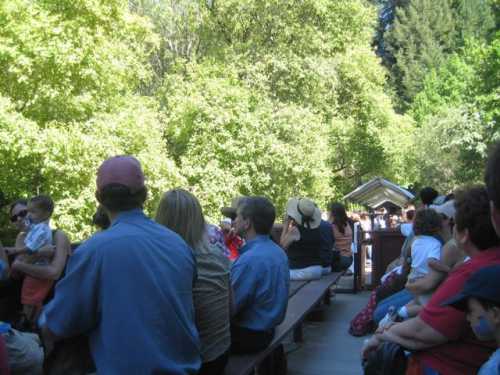 -ooOoo-
For $70 we got some ruddy complexions and a bunch of delightful photographs; what more could we ask. With the summer still in full swing, we're getting ready for the next expedition!
Copyright © 2007 The Digerati Life. All Rights Reserved.