From talking to a few people lately, it seems that holiday cheer may not be what a lot of us are feeling. No, it's not just because of the financial pressures we face during this time of year. Of course, there are the heightened expectations that you mix with reunions with people you may not normally get along with. There's the pressure and stress of dealing with consumerism and your Christmas list. There's the worry that your debt grows during these next few months. Even the disruption to your regular schedule and unexpected turns in your routine can get on your nerves or cause your nerves to frazzle. And then, after you function on adrenaline for some extended period of time, you get the crash.
It also doesn't help that your diet changes to accommodate extra treats this time of year, in the form of sugar, starch, fats and more sugar. And if you practice a lot of self-control to avoid these temptations, you may be proud of yourself but you could also be just a tad bit frustrated — because everyone else is enjoying the charming cakes, holiday cookies, candies, confections and eggnog but you! Plus, the days are colder and shorter, which makes us feel lazy; it's also the kind of weather that would find us sick and possibly even depressed.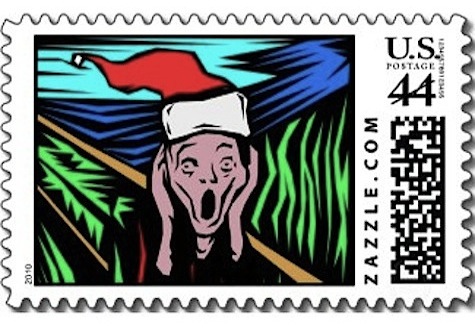 Image from Zazzle.com
How To Deal With Holiday Stress & Battle The Christmas Blues
So don't be too surprised if you're not in a good mood right now. Everything is rush, fret and worry. Well here are a few quick suggestions on how to manage the stresses of the season:
1. Learn to relax. Even if it's only for a short bit of time, it's important to take a moment to catch your breath. Take 30 minutes to sit and meditate, do a little yoga, or ride a bike. Maybe 30 minutes to walk around the block could help relax you. If you're like me, then this doesn't come naturally and you're feeling the need to program yourself to relax. It's a learned skill for some of us! Here are some yoga poses you may want to try: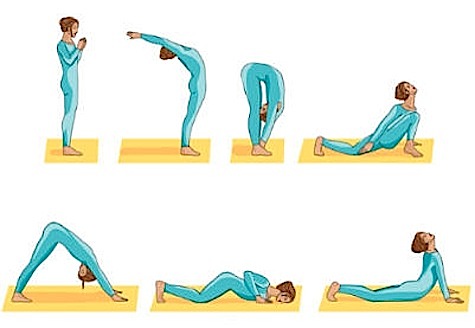 Image from Yo-Ga.Info
2. Can you say "No"? If too much is on your plate, are you able to say "No"? Don't feel too guilty if you've turned down that 3rd party invitation — your mind and body will thank you later! Try to accept the fact that you may have to cut back.
3. Stick to your guns. You made a plan a while ago to honor your Christmas budget and your holiday list. I would watch it for scope creep!
4. Manage expectations. This is not just your ability to say "no" (as in point #2). It's also about managing YOUR expectations and making sure you aren't too hard on yourself or anyone else during this hectic period. Are you secretly hoping you'll receive a pretty piece of jewelry from your beloved? Are you expecting a close friend to pick out the perfect geek gift for you? Too often, we think that whatever gifts we give away should be matched in value by the stuff we receive. But the reality here is that Christmas should mainly be about reflecting on the past year and hopefully enjoying the company of people we may not have seen in a while (and who knows… may not see again?).
5. Focus on things that won't make you miserable. Not everyone looks upon this time as positive. But the exercise of keeping the good stuff in focus as much as possible may possibly help alleviate the negative energy. Joining communities (church, local groups, clubs etc) during this time of year can keep cheer alive. If your moods are not on the mild side, then consider seeing a professional.
This month will entail a lot of money / time / relationship management, which all translates to added stress. But really, we're all in the same boat — maybe we should just be courageous enough to admit that there are limits to what we can do, spend and handle. In fact, it'll be over way too soon.
Copyright © 2010 The Digerati Life. All Rights Reserved.