How frugal are we? It's all about how we balance our efforts to spend and save money.
Spending On Stuff You Enjoy
I have weird spending habits. I am one of those people who will spend well for the stuff I *really* like and enjoy while refusing to pay a dime for things I feel that are not necessary, regardless of how cheap they are.
For example, I don't care about the kind of cars we own. I'm not particular about makes or models, so I'd buy a car that is affordable, functional, clean and with an accident-free history. But interestingly, when it comes to matters of the house, I'm much more finicky, and I find myself spending more of my money towards maintaining a home and environment that I am delighted with.
I'm Still Frugal, I Think
I believe that I'm frugal. I claim that I am because I purchase things based on their reasonable value, and because I feel that I've got good self control over my spending tendencies. I only buy the stuff that matters to me when I can afford it, even if it happens to be a bit more costly than average.
The point I'm making here is that frugality isn't entirely about how great you are about saving money, though a big part of it is certainly that. In my mind, frugality is also about your overall attitude towards money, and the balance between your saving and spending behaviors.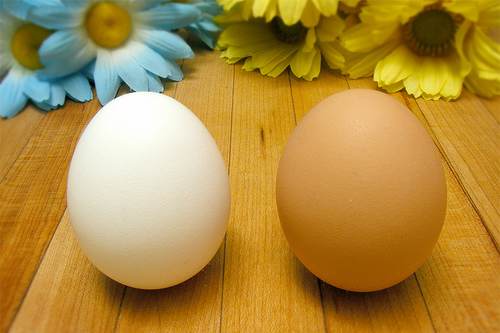 Balancing Eggs by James Jordan
Spot The Cheapskate: Frugality Profiles
Would you agree that even someone with expensive tastes may still be considered frugal? And can someone who makes cheaper choices still be a spendthrift? I say yes. I believe that how you conduct your spending activities defines whether you're frugal… or not.
A few examples may show you the difference.
The Big Bargain Hunter: Do you know a self-proclaimed big bargain hunter who enjoys visiting thrift shops, many times every week? Such a person is a packrat and prefers to buy in bulk. She's almost what you'd call a career shopper and one who believes that she needs to spend in over to save. When stuff goes on sale, she'll be first in line to claim her merchandise, albeit armed with coupons. The problem is, she'll buy stuff on sale she may never ever use. She buys stuff because they're a good deal and may prove useful to her one day.
The Occasional High End Spender: Now what about the fellow who, on the other hand, likes nice watches and decides he'd spend on a Rolex once he saves up enough for it. He waits a year to make that purchase, and makes sure that his watch is insured. He drives a used car and likes to pick up books from the library, while still deciding (after much thought) to surprise his girlfriend with a special gourmet dinner in a fancy restaurant on Valentine's Day.
The Miser: And finally there's the kind of person who skips birthdays and other family events so that she won't have to pay up for any presents. Very fixed in her ways, she only goes to certain discount stores for things she needs and will refuse to go to restaurants, theaters or distant travel locations all because it all costs money. This individual is, no doubt, the most successful and serious saver of all.
So out of all these profiles, who would you call a spendthrift here? A frugalist? A tightwad? Or are they none of that?
I'll make a call here and say that the bargain hunter is a spendthrift, the miser is a tightwad and well…. the one who occasionally splurges is the frugalist.
Would you agree?
What's In A Label?
Of course, these are all just terms and labels. But the point I'm making here is that when someone advances the characterization that you're frugal, it's actually a compliment (although many people may still use it to mean "cheap" and "stingy"). And conversely, someone may call you a spendthrift, when in fact, you may not be. Just because you decide to splurge on a gaming system this holiday season doesn't mean you're not frugal.
I discussed these very same ideas with an older post on the science of money behaviors. I may be splitting hairs at this point, but I hoped to clarify (or argue) that just because someone spends on the good stuff in life, doesn't mean they should automatically be thought of as a self-indulgent wastrel who deserves to be frowned upon.
Copyright © 2008 The Digerati Life. All Rights Reserved.