After covering some Mild and Wild Ways To Save, let's now dig into what's crazy — as offered by the general public.
So for your amusement, here are the zany ways to save which I've hunted down, compiled and republished from other online sources such as Bankrate and this site. Some of these you need to be careful about: they may not be for the faint of heart and may not be advisable. They're funny but take note of a number that may be hazardous to your health, well-being or your wallet in the long run! Once more, I would like to repeat that these tips should not be taken too seriously.
The Outrageous: Some Unusual Ways To Save
Pets
You can train your cats to use the potty! You could save a fortune on kitty litter this way!
Encourage mice in the house by leaving crumbs around – so your cat will have a free food supply.
Train your dog to beg for food from strangers, so you won't have to buy dog food. Or maybe just have him do this?
For mere pennies a day, you can feed yourself with dog food. Dry dog food is recommended as the canned varieties are not nearly as tasty. This demonstration comes with a warning: not for the squeamish.
Food
Put that beer down! Save what you'd normally spend on beer. By the time you retire you'll be able to afford all the beer you want. Same with smokes.
Don't throw away the plastic backing in the package of sliced bacon. Wash it well, and place it between servings of raw meat before freezing. This saves on plastic wrap and is reusable.
When eating out, save on the expense of a soda by ordering a glass of water with lemon. Spice it up with a packet or two of sweetener, and it will taste like lemonade. No charge, no tax and no tip on that.
Swipe the free ketchup, mustard, salt, pepper, napkins from fast food restaurants. Then transfer the contents of the ketchup packets into the ketchup bottle at home. Ditto for the other stuff.
Marriage
Reduce the cost of a wedding by getting some flower bouquets from cemeteries that are just lying around. Or listen to this bride-to-be shell out some tips.
Marry and stay married to a frugal spouse.
Marry a man who can fix things. It saves thousands each year!
Currency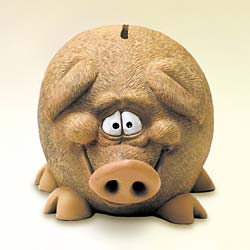 Pick up every penny or coin you see on the street. You will get richer!
Bring back rolls of coins from Canada, to use at the laundromat and in pop machines. This can save you 20% or more, depending on the exchange rate.
Paper Products and Supplies
Never buy sandwich bags or storage bags again. Use the liners from cereal boxes and newspaper wrappers.
Someone actually suggested: Instead of buying toilet paper, use yesterday's newspaper.
Make your local print shop your office. Use their supplies. The IRS takes a pretty dim view about people claiming home office space. Why get in trouble with a possible audit? Some print shops even have phones. Make your calls from there. Take your laptop there and use their electricity for free.
Cleanliness and Hygiene
Use the squeegee at the gas station to wash your car.
Rub pine needles under your arms instead of buying deodorant.
Miscellaneous
Tell nearly everyone that you are going out of town during Christmas and will not return until after New Year's Day. Then buy most of your gifts during the after-Christmas sales.
Learn speed-reading so you can read books for free while in the aisle at the book store.
Unplug clocks in your house while sleeping.
Next time you need an umbrella, go to your local public library and ask for the lost and found department. Tell them that you left your black umbrella at the library last month. They will show you a selection of several black umbrellas. Select the most expensive and it's yours. The bigger the library, the better the selection of umbrellas.
Given the lengths some folks take to spend minimally and live simply… frankly, it sure does put my own frugal habits to shame. But don't be foolish: it could cost you more in some cases if you apply some of these tips and things don't end up quite as you expect.

-ooOoo-
Other silly ways to save:
Extreme Savings 101
Tell Your Tale of Extreme Saving
And chuckles aside, here's a resource for those in crisis: AidPage.com.

Image Source: AnimalDen.com
Copyright © 2007 The Digerati Life. All Rights Reserved.