What's been your experience with pet care costs and pet products? Does your dog or cat cost more than child care?
I'm writing this as an ode to my cat. Sort of.
When it comes to owning a pet, it's all about the maintenance. Any dog owner can tell you that to make a dog happy, you'll need to treat them like family, while cats — they're happy when you give them their space. I love dogs — I grew up vastly preferring dogs over cats for most of my life. But then I got my Himalayan kitty and it all changed: I like both pets in equal heaps. But if you want the hard numbers, check out these tables for comparison's sake (the "My Cost" column below shows figures given by the person who originally compiled this data, from the site PetEducation.com):
Lifetime Costs of Owning A Dog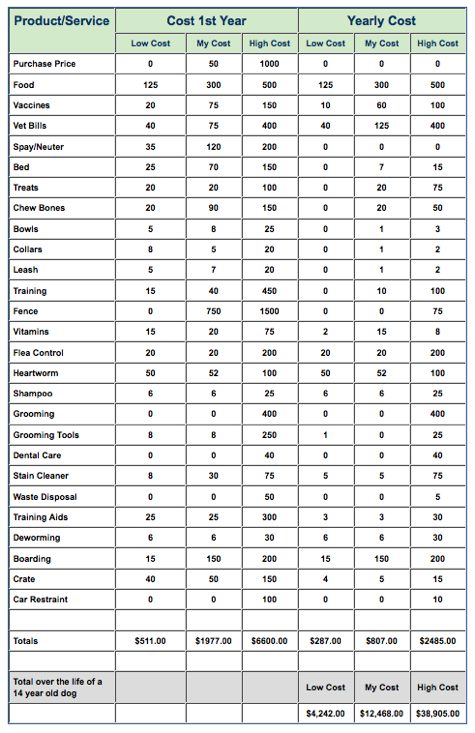 Image from PetEducation.com
Lifetime Costs of Owning A Cat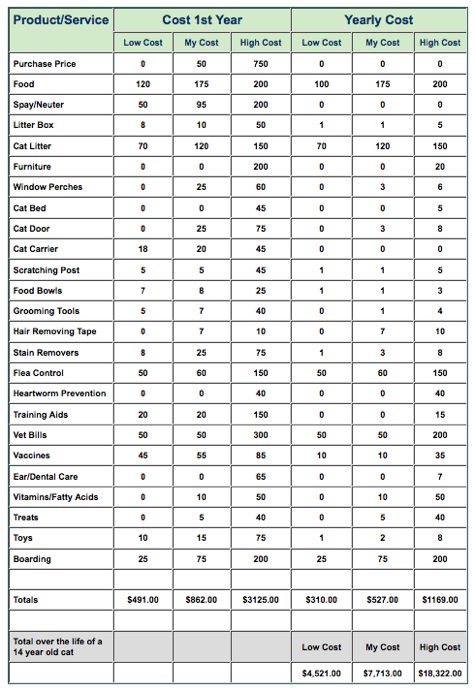 Image from PetEducation.com
Interesting that on the low side, dogs cost pretty much the same as cats, but on the high side, there's almost a 100% cost differential. Given all that spending, you must be ready to find out how we can own pets without forking out so much. Here are some ways to enjoy a pet without going broke:
Ways To Save As A Pet Owner
Get your pet from the local shelter.
Count this as among the noble things we can do to help out our beloved animals.
Get a simple, domesticated pet.
Don't get tempted into buying and owning exotic creatures. I'm afraid that by doing so we're just feeding into a market that could be damaging our environments and ecosystems.
Get a small pet.
The smaller they are, the easier and cheaper they are to maintain.
Don't pamper your pet.
They are animals who'd prefer not to be treated like wusses. They'll probably be as happy exerting their animal instincts as they would be being spoiled, if not more so. My cat lives outdoors, chases mice and leaves them by our doorstep. He fights the neighborhood cats and gets ripped up once in a while. I have no doubt he's happiest than he's ever been, being that he used to be an indoor cat.
Skip on pet insurance.
Pet insurance is a new invention and my family and I have owned pets throughout the years, surviving without needing insurance. I think it's overkill to get it. It's one of those few things we're "que sera sera" about.
How Much Does Your Pet Cost You?
Allow me to answer that question. Actually, my pet costs me hardly anything. After the usual vet bills in the beginning when we first got him, we haven't spent a dime beyond the bags of cat food from Costco. We also got him for free (through a friend) and ever since we picked him up at a year old, he's been free of problems, illnesses and all the other things that may put a weight on a pet owner's wallet. Knock on wood.
We have very good friends who own a couple of Siamese cats which were bought for a $1000 each. I'm quite impressed with those cats — pure bred, beautiful and totally screened of all ill behavior. They are no doubt a couple of the nicest cats in the universe (that I've seen). Knowing how much it costs to get such "perfect" pets, the more I feel like we truly lucked out on ours: an outdoor cat with claws he uses to fend for himself in the suburban wild where the possums and raccoons roam, yet who's nice enough to be on his best behavior when he's indoors. The best part is that he doesn't need much care really, being the independent creature that he is.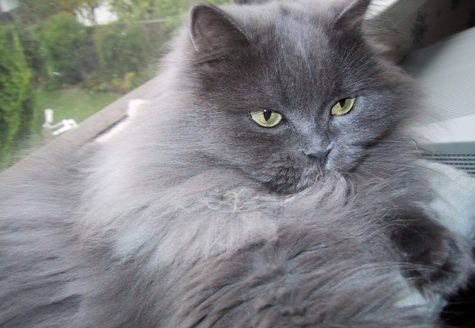 My kitty
Yes, I feel that we've been really lucky with this pet. No need for obedience school (dogs that we've owned have had to attend charm school), obligatory walks, chewed up slippers (or scratched furniture!), or pet insurance to worry about. Too often, cats that wander into your home for free may not have the characteristics or personality you're looking for. But the one that found his way into our hearts definitely does!
Update: My cat passed away on March 11, 2012. We will miss him very much.
Copyright © 2009 The Digerati Life. All Rights Reserved.