Do you know anyone who deserves the "Most Frugal Person" award? And if you do know someone who's crossed the line to becoming the "cheapest person ever" (read: one who saves money at everyone else's expense), then how do you deal with them? I'm glad I haven't yet found myself facing a situation wherein I have to coax a cheapskate to part with their money. Needless to say, if your cheapskate is a family member, I can imagine just how frustrating things can get.
In my mind, I only know of a few ways to handle a serious miser — especially one who won't fork out their share of the tab. You can either avoid involving them in a financial situation, or if there's no tip-toeing around the subject, you'd have to confront them about their behavior. Either way, it's awkward. Of course, you can always just accept things as they are and bail out a scrooge every now and then.

When CNN Money came out with a poll that tackled this very question, I found myself agreeing with the majority: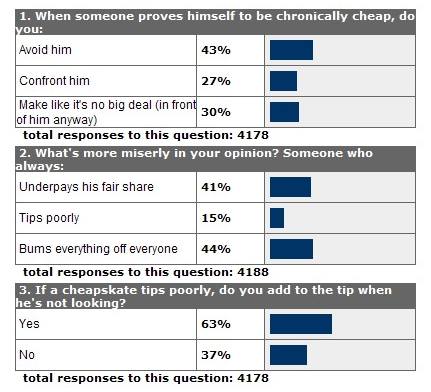 Just for fun, I thought I'd compile some examples of serious tightwad behavior from the web. Chances are, you've not seen anything as absurd as the following cases I've come across. But I could be wrong and you may just know someone who is resourceful, creative and stingy enough to do these things. If you have, then feel free to share your story with us!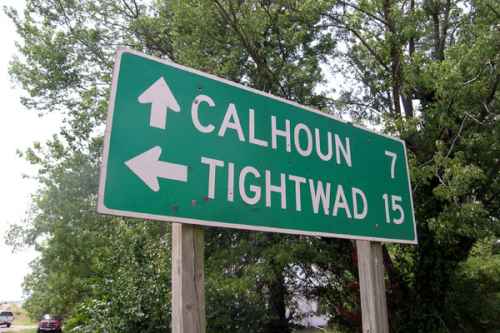 The Worst Case of Cheapness I've Ever Heard
The Cheapo Anniversary, Submitted by: MsBubbely
On their anniversary, both my parents visit the store and scour the racks for the perfect anniversary card for each other. They choose a card each, from which they read messages to each other. Afterwards, they simply put back the cards on the rack! Blogger's Note: Sounds like fun! I actually don't think this is a bad idea at all!
Water Cheapskate, Submitted by: GBSmgmt
We've got friends who have decided to designate their two toilets for different functions. One toilet is for No. 1 while the other one is for No. 2. They save bucks by flushing toilet No. 1 only once, which is at the end of the day. Toilet No. 2 is flushed only when necessary, and for the exclusive and pure purpose of removing waste — this means that any toilet paper used is introduced into a garbage bag to be disposed separately. They do this to avoid having to flush down toilet paper, which could take more flushes than needed. Blogger's Note: If we were experiencing a drought, I can imagine going through such extremes, but not so sure about doing this on a regular basis.
Kitty Horseshoes, Submitted by: Stantango
My brother is incredibly cheap. He's decided to hang on to "used" cat litter and recycles this by throwing it into his horseshoe pits. Blogger's Note: Caution, this is hazardous to your health! Don't let a pregnant woman get near those horseshoes or risk a possible fetal disease called toxoplasmosis!
Fridge Thief, Submitted by: Karenkburge
I had a roommate that wouldn't buy her own food. She would eat what I bought — I would even find her boyfriend in our kitchen cooking dinner for the two of them with the food that I bought. I decided to handle this problem by leaving food at work and eating my main meal there. The problem was that we worked together and she figured out what food was mine and ate it at work! Blogger's Note: Kick out your roommate! Find someone else who doesn't filch. Someone who has no shame about taking your food could feel the same about taking anything else you own.
Tooth Cap Tightwad, Submitted by: ELFbuying
One of my husband's co-workers is so cheap, after he accidentally swallowed a tooth cap and didn't want to pay a few hundred dollars to have a new one made, he actually fished it out of the toilet after it worked its way through his system and had the dentist re-use it. Blogger's Note: Even in desperation, I'd borrow money first.
Sleep Washing, Submitted by Dunnontn:
My brother-in-law sets his alarm clock for 2AM. He'll get up and do his laundry then because the night rates are cheaper than the day rates. Blogger's Note: Unfortunately for me, I'll have to be out a few bucks. I value my sleep at rates much higher than laundry rate savings.
Bar Nuts to Go, Submitted by Jerseygirl225:
My friend would go to a bar with a ziplock bag and would take cheez-its, pretzels and popcorn that are put onto the bar into her ziplock bag and bring them home to eat. Blogger's Note: I don't think this is too uncommon. I've known people who do this and actually stuff hors d'eouvres into their purses to eat later. Though they've admitted it's not to save a few dollars but more so because they're always hungry.
All for a Quarter, Submitted by Da3B:
We superglued a quarter to the floor so our cheap co-worker would try to get it up. Not to our surprise, he tried and tried and tried. Finally after about a week of this, he bought a $2.00 chisel to finally scrape this quarter up. Blogger's Note: This must be a joke, or else that chisel will be returned fairly soon.
Pilfering Papers, Submitted by Bijou02:
I know a person who goes through people's recycled newspapers and magazines to pick out the magazines and newspapers for the past week. That's how he stays up on his current events. Blogger's Note: He may not have a library in his town!
Tea Anyone? Submitted by AKingBuyAHouse:
My mother-in-law uses the same tea bag all week. Blogger's Note: I have some family who make broth out of eaten chicken bones and corn husks. I hope they don't read this.
Cheapy Pop, Submitted by Dhuntc70:
I know someone who is so cheap that when they go to the movie theater, they go to the garbage can to find a used jumbo popcorn bucket. He then goes to the counter to get new popcorn because you get free refills on the jumbo size. By the way, he makes a little over $100,000 a year. Blogger's Note: He must be rich by now.
The Paper Thief, Submitted by: CFree95589
The cheapest person I knew was a coworker who used to steal toilet paper from the company bathrooms. He also used to take pens, pencils and tape. Blogger's Note: Could this be why we're always out of supplies?
Bathtub Blues, Submitted by Justdyan37:
Our bathtub wall caved in, and my ex-husband fixed it with trash bags and duct tape. He left it that way until mushrooms grew behind the toilet. Blogger's Note: This actually happened to me at one point in my life but I swear it was because of procrastination, not miserliness!
Air Drying, Submitted by Nononoall3:
My ex would send me outdoors to hang clothes on a line instead of letting me use the dryer. He also would change the buttons on the dishwasher, which defeats the drying feature on it. Blogger's Note: If you're going to go this far, just sell all your appliances.
Vacuuming The Cheap Way, Submitted by Mfmichillin:
I hate to admit this, but instead of buying those costly vacuum bags, I would get some old socks and put a paper sack over the sock and attach them to the vacuum cleaner. Blogger's Note: Wow, good idea!
Reusable Rinsing Cups, Submitted by Kurtfan14:
After my fiancee's family are done brushing their teeth, they use a Dixie cup to rinse. That's not a big deal, except all four adults use the same cup for one week. Blogger's Note: I suppose they think the cup is sanitary because it's constantly filled with mouth wash or minty water?
Well that was a trip. What I gather from this is that there's nothing wrong in being so cheap — or being extremely frugal — just as long as you can keep safe and everyone can smile about it.
-ooOoo-
Interested in more crazy ways to save money? Then here are a few more posts I wrote about saving as an extreme sport:
Seriously Thrifty? Some Wild Ways To Save (Part 1)
22 Outrageous Ways To Save (Part 2)
Radical Ways To Save Money On Your Wedding
Copyright © 2007 The Digerati Life. All Rights Reserved.