This is a guest post by Mike from DoNotWait, a blog focused on retirement planning.
When you're in college, planning what you're going to do on a Saturday night can be challenging enough. Planning what you're going to wear on Saturday night may be even more challenging. So why would you create additional stress by planning for something like retirement, that will happen way down the road (e.g. 40 years from now)? Why bother with planning for retirement when you're in college?
I must confess that I opened an IRA account before I was even 18 years old. I had to have my Mom co-sign it for me just so I could open the account. Ever since I started making money, I kept in mind the idea of saving for my retirement. Why? Am I weird? Do I plan on retiring early?
Start Saving For Long Term Goals While Still In College
Below are the main reasons why I started planning for my retirement in college and why I think you should do so as well:
1. Retirement is a long term goal.
I believe in setting many small goals that all lead up to one major goal. Retirement is one such ultimate goal. Retirement is like that driving force that's far off in the distance pushing you to work harder as you go through the ups and downs of life. The idea of being able to retire in order to do what you want in life often helps you get through the dips.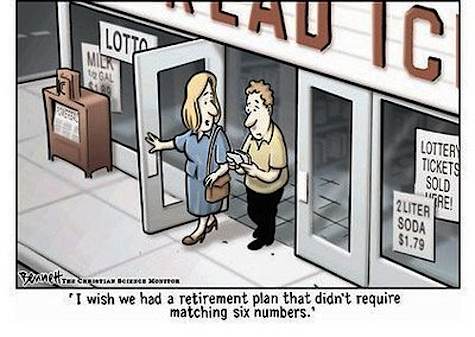 2. You can retire earlier than your friends!
If you start planning for your retirement around the age of 20, you'll have the power of compound interest working for you much longer than for your friend who decides to start at the age of 25. Do you want to be the person who continues to work late into their life while everyone else is enjoying their golden years? I didn't think so.
3. You can live comfortably.
From reading material and speaking with older folks (not from experience), I realized something: it seems that money is one of the biggest stress factors in a marriage and in life. Life can be stressful enough as you get older and have more on your plate to deal with. Don't let your retirement savings stress you out when you're in your 40s or 50s. Become proactive and start planning ASAP.
Live An Active Life During Retirement
Now that I told you why I started planning for my retirement in college, allow me to share how I view retirement in general: I don't plan on being idle.
I don't see myself being idle in my older years. I simply can't sit around. The money that I save for retirement should be enough to allow me to live comfortably. I also want to make this clear as well: I do NOT plan on retiring at age 40. I often hear my colleagues dropping this arbitrary number. But I just don't understand it. Why 40? What if you love your job? What are you going to do with your time? I just want to sleep at night knowing that I have money saved up as I grow older, but I have no intentions of becoming an idle human being.
How Am I Investing My Retirement Savings?
Here's another thing: I'm not aggressive with my retirement savings.
I set aside a small amount per paycheck for my retirement accounts. I'm not as aggressive as I should be because I plan on diversifying my retirement income. I realize that I can't rely on the government to support me in my older years. This is why I believe in diversifying your savings in general (high interest savings account, retirement accounts, real estate, stock market, etc.).
At the end of the day Do Not Wait is not another boring retirement blog on the internet. DNW is here to help people of all ages begin planning for retirement, whether you're a college student, in your 40s with your kids in college, a baby boomer, or a young couple. It's never too late and it's especially never too early to start planning for you retirement.
Looking for more retirement planning tips? This guest post is provided by Mike at DoNotWait! A retirement planning blog where you can find information about investing, saving, estate and retirement planning.
Copyright © 2010 The Digerati Life. All Rights Reserved.