As a frugalista, I subscribe to nearly every discount newsletter and sales flier out there. When all systems went down during a recent tropical storm, I realized that these updates were seriously clogging my inbox. After just a couple of days, I faced deleting hundreds of emails. I had daily deal fatigue and had to find a way out!
How To Survive Daily Deal Fatigue
Step 1: Try A Simple Organizational System
Let's try out a simple system to organize mail. I am starting to view emails much like snail mail. They build up quickly when you don't take immediate action or delete them. I remember being overwhelmed with piles of snail mail until I decided to "go green" and get most statements online. But now I find that my email box is overflowing with daily deals and other correspondence. Business Insider recently reported that the daily deals market was bullish, so we can expect these emails to continue to stack up.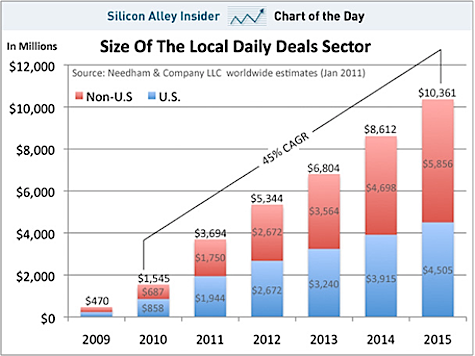 Silicon Alley Insider chart shows a bullish Daily Deals market.
Let's start with a personal, manual system for getting organized, then we'll move on to more interesting approaches.
Use a separate email address. The first step to getting organized is to set up a separate email address for your daily deals. I never use the same email address for those designated for personal bills, correspondence or business contacts. Trying to sort through a mixed batch of e-mails is even more confusing. It's easy to lose track or ignore email when you move them to various folders. Instead, one solution that works for me is to use a different email address for each aspect of my life. Of course, this works if you don't create a ton of addresses that you lose track of.
Schedule a fixed time to review your deals. Next, designate a time of day to review all your emails. Checking in every hour or two is a major waste of precious time. Before you know it, the day is over and you wonder how you spent it. Decide to spend only twenty or thirty minutes each day reading and handling email so you don't wind up neglecting work or home responsibilities.
Take immediate action. Finally, never read an email message twice. Take action right away or delete it. When I first began developing this habit, it was hard for me to throw away snail mail, as I feared I would lose out on something of value. Then I realized that nine times out of ten, I would never miss it. If I did, there was always a way to recover the information. The same holds true for email. I also found that if you don't take action right away, it's unlikely you will remember to do so tomorrow when hundreds of additional messages are cluttering your inbox. Lesson? You don't need to hoard your mail.
These tips can help you begin establishing some order in your inbox. Now what happens when it gets harder to prioritize the material you are receiving? Let's check out other solutions to Daily Deals clutter.
Step 2: Try Online Services to Help You Manage Your Daily Deal Clutter
If you're ready to go for more sophisticated methods for handling daily deals, then read on. I love organizational services to help me stay on top of everything I do. From hiring an accountant to finding online services to manage Daily Deal clutter, outsourcing certain jobs can make life easier.
I discovered several online services to help manage those Daily Deals that keep coming at you every hour. In some cases, they may not make things simpler, but they can make things easier or more efficient, or may even take your deal hunting to a whole new level. These sites keep your Daily Deals in one place so you don't have to open dozens of emails. Simply visit one site, peruse the deals and check out the ones you might want. This is also an excellent way to ensure you don't miss a great deal or an important deadline.
Yipit.com

Yipit is an email and online based service that recommends the best daily deals in your city that are based on your preferences. For example, if you are a woman looking for fabulous shoe deals, then you'll want to filter out info about sales on sneakers for men. This service helps you do just that. Yipit deals are aggregated and collected from 693 services such as Yelp, LivingSocial, Groupon and more. Supply your email address to begin receiving deals info (which is the case for all these sites). Yipit utilizes the feeds of various deal suppliers and does the content management process.

DealsGoRound.com

DealsGoRound makes it possible to score savings on deals from people who are trying to sell their vouchers before they expire. Did you ever buy a deal on impulse then realize you couldn't really use it before the expiration date? DealsGoRound makes it possible to buy or sell deal vouchers prior to their expiration dates. They also offer a Deal Wallet where you can keep all your deal certificates in one place so that you can easily check expiration dates and find applicable deals when you need them.

DealGator.com

DealGator lists deals from major group buying sites such as BuyWithMe, Living Social and Groupon, all in one place. They also list business reviews from Yelp to help you make better decisions about buying deals. You choose the types of deals you want to see and set up filters to completely customize your deal listings. DealGator sends email alerts based on your preferences, has setup reminders so you don't miss coupon expiration dates, and gives you the ability to manage coupons from any deal site. It has a bit more functionality in place, compared to the other sites on this list.

SocialDealMap.com

SocialDealMap visually projects local deals upon a map of your area. It is an excellent way to visualize where deals are happening around your neighborhood so that you can search for lower prices as you travel. SocialDealMap also sends emails to alert you about deals in your locality. While the idea is a good one, the design for the site can be improved as the content here seems to be a bit lacking.

CityPockets.com

After researching several online deal organizers, I found CityPockets to be the most comprehensive. It was free to join and it put a variety of useful resources right at my fingertips. I was able to import all my deal vouchers and sites into one place. They send custom reminders of impending expiration dates, as well as personalized deals based on what I buy. The ability to redeem vouchers on-the-go is invaluable (especially when I've inadvertently left them at home just when I actually need them). It also helps when you run out of printer toner!

One of the sweetest benefits was the ability to sell vouchers at the CityPockets marketplace. If I'm not able to use coupons before their expiration dates, I can get some or all of my investment back. The service also gives me an opportunity to search for past deals I might have missed.
Spotlight: CityPockets.com. Interview with Cheryl Yeoh of CityPockets
I spoke with Cheryl Yeoh, founder of CityPockets. She started the company in August 2010, after reviewing Groupon, Living Social and other savings sites. Much like the rest of us, she would utilize eight or more different shopping sites and wound up with way too many vouchers. Yeoh pointed out: "I had vouchers expire on me. They help you save money, but if you forget to use them, you're losing money." With that in mind, she figured out how to aggregate these deals and then started the refunding aspect of CityPockets in June 2011.
A determined entrepreneur, Yeoh quit her well-paid job as a management consultant and survived on a $35 budget each week while developing her business. She sacrificed her old life — including dining at fancy restaurants — to stay on a friend's futon, and survived on a "startup diet" of quinoa and kale. The sacrifice paid off when CityPockets took off, with the help of angel investors from StubHub and other leading deal sites.
Yeoh also revealed that CityPockets is "managing over 140,000 vouchers worth over 7 million dollars." According to Yeoh, the advantages of using CityPockets is that they are not an aggregate site in the general sense. Instead of showing deals to buy, the site should be considered as a utility to help manage deals.
How Does CityPockets Work?
At CityPockets, you enter your passwords and info for each deal site you belong to. The site also caters to people who buy vouchers on impulse and then can't use them. Yeoh stated, "Industry research shows that 20% to 30% of these vouchers don't get redeemed." Like DealsGoRound, which we mentioned in our list above, CityPockets offers users an opportunity to sell vouchers before they expire. This equates to major savings for those who buy the vouchers and who can put them to good use.
CityPockets – Your Personal Deal Wallet from Vimeo.
CityPockets also reminds you to use deals and vouchers before they expire, unlike many other sites that simply encourage you to buy them, but then leave you on your own. CityPockets recently launched an area called "Daily Deals" that works with e-coupons; this section helps you find the best savings opportunities in one place and lets you purchase deals of interest. They also feature vouchers in the marketplace from sellers who cannot use them, so there are a wide variety of deals to choose from. If you miss a deal, just look for a seller who has scored it previously and who has decided to sell it.
Yeoh points out that the core product is the management system. It's your little personal digital wallet. They also have a mobile app to help you manage vouchers on the go. Rather than printing paper vouchers, you can dial the application and have all your vouchers on your mobile phone. When you want to use it, you can just pull it up, show your voucher code and just redeem it off your phone.
I also learned from Yeoh that I was not the only one using vouchers for nearly everything I do. She said, "These vouchers are becoming a new form of currency. Some of our users are buying hundreds of these things… many are using them on an almost daily basis; it thus makes sense to have a wallet to keep track of your currency."
Keeping all your deals in one organized place makes sense. Instead of losing out on savings, you can make the most of these opportunities without jamming your inbox.
Copyright © 2011 The Digerati Life. All Rights Reserved.