Am I supposed to believe the fact that the median priced house in America today only costs 22% of the median income compared to 20 years ago when it supposedly cost over 30% of that income? Today you're expected to only spend 22% of your pretax pay on mortgage payments to buy the typical house, which I was quite surprised to read. Well that's according to the NY Times. It sure doesn't feel that way to me, living here in California.
But of course it's a different story in different parts of the nation. This splintered real estate market has been discussed time and again as lopsided across the board, but the hard facts bear repeating:
In the United States, there are 35 "affordable" markets and 28 "moderately unaffordable" markets. Seventeen (17) markets are "seriously unaffordable" and 27 markets are "severely unaffordable." However, these data tend to overstate the extent of the affordability crisis in the United States. Ten (10) of the US "severely unaffordable" and three (3) of the "seriously unaffordable" markets are within the larger New York, Los Angeles, Boston, San Francisco and Washington metropolitan areas.
Thanks to Demographia's 2007 Housing Affordability Survey we're getting the real story: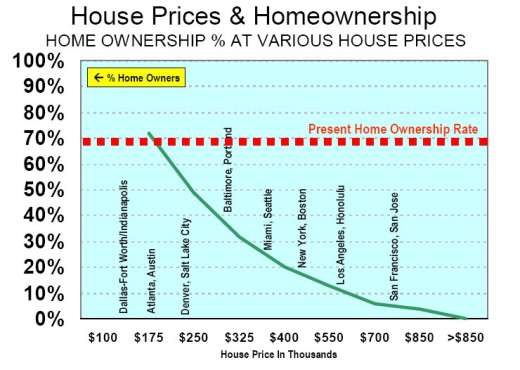 What this shows is that hardly anyone owns houses that are approaching $850,000 and beyond, yet that median price doesn't seem too far off in California's future.
Yes, yes, this is what we've already known all along when we scour the pages of the Homes And Land magazines and the MLS Listings looking for that promising piece of property we could claim as our very own domain. Could that sweet little cottage with the modest but lovely patch of lawn actually turn us into real millionaires one day?

Then I come across a story that REALLY proves the point, without a smidgen of a doubt, that we are indeed living in a surreal time for real estate, especially in the most expensive locations in the country. This story is about an assistant professor named Alphonso Newcomer, who joined the teaching staff of Stanford University in the late 1800's. Stanford needed to build its faculty for their most popular department, which was their English department. Now, this professor's reputation shined and his prominence rose as time went on, and he had a house built in 1896 on 1055 Forest Ave., Palo Alto. He was a fairly young guy, because he actually died at the early age of 49.
That first time homebuyer who was a respected professor by profession surely had a great house with all the amenities, which The Examiner describes to us further here:
"It had a deep entry porch, a reception hall, an office with multiple workstations, a sunroom, a very large dining room with adjoining music room, a master bedroom suite with a library in its own wing, an exercise room/dance studio, a wine cellar with a tasting bar, a swimming pool and a waterfall spa."

See, this great house is no longer a house by our standards, but a mansion, worth all of $17,000.000.

Where: Palo Alto
Asking price: $17 million
Property tax: $221,000*
What: 7 bedrooms, 4.5 baths, 7,523 square feet per tax records
Amenities: Asymmetrical facade, gables, classical columns, painted wood gutters, enclosed front porch, wood sash windows, fireplace, French doors
Contact: Sherry Bucolo, Alain Pinel Realtors, (650) 207-9909
*Estimate based on 1.3 percent of asking price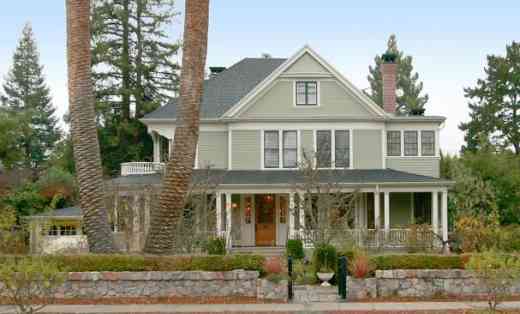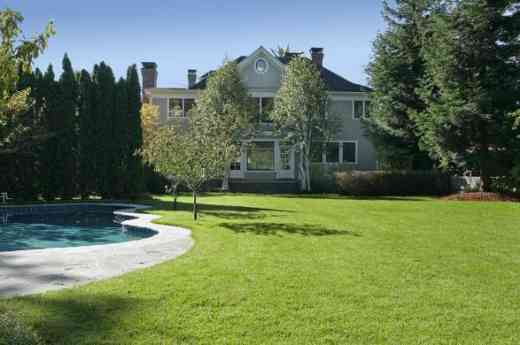 So THAT, my friends, is what your college educator's salary bought him in the last century, here in Northern California. Does this mean that in the past, anyone could've afforded a house like this? I'll say that long ago, the job market and the economy were at a point that certain professions could've been rewarded more so than others. The haves and have nots existed but not in the way you'd expect today. A home like this is now beyond the dreams of any typical individual and is primarily reserved for the decamillionaires of today. Then again, this house is located in the most expensive city in one of the most expensive parts of the nation. So is this phenomenon about the market or is it about location?
Here's the craziness of it all. These days, I've seen professors and other hard working wage earners fight over a place in line for this kind of prime real estate. I'm still shaking my head over this one!
Copyright © 2007 The Digerati Life. All Rights Reserved.