Would you pay for prime real estate? What do you think of these cramped quarters and small spaces with a price tag of $1,000 per square foot?
Even with the real estate market slowdown, real estate prices don't appear to have budged much in San Francisco. Although I have relatives in this city who claim that properties over there aren't selling well at all, it sure doesn't seem to be the case, when you see some of the insane prices being quoted for the tiniest of homes: $279,000 to $330,000 each for some condominium units, with homeowners' association dues hovering at $270 per month.
The real estate market is supposed to suck right now; still, it hasn't stopped some Bay Area developers from turning around and selling the smallest properties for as much as they can still get for it.
But I forget that some of these latest quotes I'm seeing are for brand new condos in an urban area, where space is scarce. Still, I've never figured out what's so attractive about living in the city (spoken like a true country gal), even if you happen to work in the heart of it.
What Housing Market Crisis? Prime Real Estate In San Francisco
Just to give you some idea what $279,000 to $330,000 is going to buy you in San Francisco today, take a look at these snapshots of the aforementioned condo units sized up to be around 250 to 350 square feet. They are located at the Cubix Yerba Buena building in the SoMa area in SF.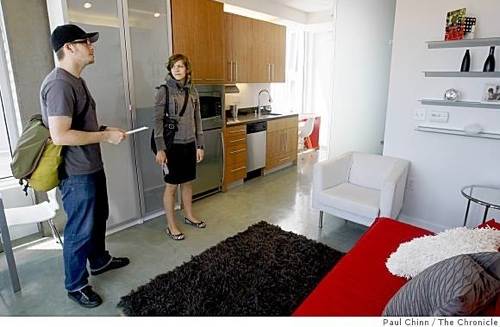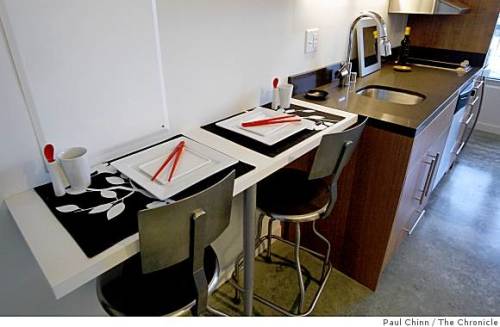 Architect George Hauser is the first to say the studios are too small for many people, families in particular. He and local planning groups, however, believe the so-called micro units represent one means of providing more first-time home-buying opportunities in a city where most prices outstrip most incomes.

"It's not the last place a person might own, but a great place to spend three to five years as a young single … to build equity and move up," said Hauser, principal of Hauser Architects in San Francisco. "You're in a small space with great amenities and the resources of the city."

For more on what the public thinks about this development, check out the comments provided in the original story.
Feeling like a sardine yet? Take note that I've got nothing against small houses — something which I've written about in the past. There are indeed, many benefits to owning small homes; I'm just not that crazy about those of the small and expensive variety.
Of course, many people argue that the prices for these city condo units are just right. Since they are seemingly cheap, what with the median price of Silicon Valley homes at $749,000, we're told that these units are a great way to get in on the ground floor of Bay Area real estate. The argument for buying into such a market is that you'll be able to build up equity which can help you upsize into larger, pricier homes down the road.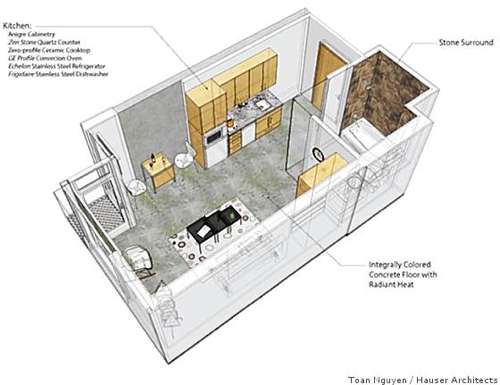 Price Per Square Foot Formula
But let's look for a moment at how these places are really valued. There are a couple of ways to value property, including checking out comparable sales in the surrounding neighborhood and the price per square foot formula that many use to get a ballpark valuation for a property.
Using the price per square foot calculation, these homes are going for $1,000 a square foot. Is that "normal" by city standards? Am I being naive or simplistic in thinking that such pricing is extravagant? All I know is that there's no way I'd ever think of forking out money on this kind of real estate, especially these days! I checked MLS listings around the Bay Area and home prices appear to linger in a relatively lower range between $300 to $400 a square foot. In the thick of the real estate downtrend, would anyone really be thinking of spending over $1,000 a square foot anywhere? I'm sure the answer will surprise me.
Unfortunately, rents around here have also gone up and are no longer so affordable either. There isn't much respite in being a tenant around the Bay Area: everywhere you turn, space remains in high demand and even with the pain of foreclosures escalating, certain parts of our neighborhood remain clearly unaffordable.
More Prime Real Estate: Parking Spaces In New York
But really, who are we to complain about living quarters the size of a shoebox selling for $279,000 when elsewhere in this nation (or the world), real estate prices are even more ridiculously out of reach. What about those parking spots that are actually selling for a similar six figure amount ($225,000) at our nation's other coast — in New York? The New York Times reports that people are snapping up car parking spots for $165,000 and above, along with $50 monthly maintenance contracts on these spaces. What I find stunning about this is that there are waiting lists and people regretting the missed opportunity to buy at these market prices. I guess if you buy under $200,000, it's a bargain?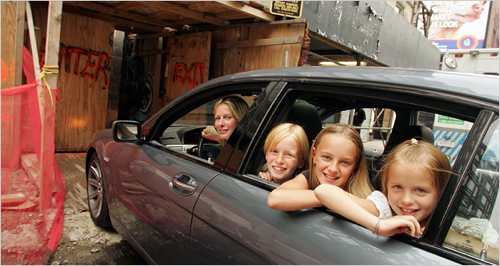 For developers in New York, parking is the highest and best use for below-grade space and fetches about the same price per square foot as actual living space, which costs much more to develop. According to Miller Samuel, the average parking space costs $165,019, or $1,100 per square foot, close to the average apartment price of $1,107 per square foot. Those are averages, of course. A $200,000 parking space is about $1,333 per square foot.
For the record, when people buy these parking spots, many of them look upon these as investments — as they rent out the spaces or flip them just like any other piece of property. Question is: are these values sustainable?
I honestly wonder why we place such a high price on living in denser areas. Whatever happened to simple living in the suburbs, where one can appreciate ample space, fresh air, a spacious garage and a yard. Is it really that much of a pain to commute to the city? And if you've decided to live in the city, why the heck would you need a parking space for? I would think that owning a car in the city defeats the purpose of living there in the first place.
At any rate, it all boils down to how we value our space; how we value our lifestyles and where we live. To me, I can see myself finding better uses for a quarter of a million dollars 😉 .
Copyright © 2008 The Digerati Life. All Rights Reserved.