Last weekend, we got a chance to catch up with some family friends (Mr. and Mrs. B.) during a nice sit down dinner with our family. We got to swapping stories on real estate and business for a little bit, and it was as invigorating as we always expect it to be. The conversation, however ventured onto some awkward territory when we inquired about our friends' latest real estate investment, which was their second home — a dream home at that, sitting right at the edge of the California coast. It was one of those houses that you always dreamed of having: no matter what age you are, you can't help but feel the romantic danger of being in, much more owning a house that is perched perilously on the top of a majestic sea cliff.
When Investing In Your Dream House Turns Dangerous
The homeowner is an expert physicist who makes a good living studying ocean currents. He knows just enough about nature's tomfoolery to convince himself that there is nothing remotely insane about buying a house squeezed in between Highway 1 and the Pacific Ocean. He thinks the prize is well worth the risk. To claim ownership over a home that lives with the constant crash of thunderous waves right against its foundation must be nothing short of spectacular and thrilling, so I can sort of understand the decisions that went behind the home's purchase. Must have been a largely emotional decision, sprinkled with a bit of expert rocket scientist's logic. 😉
The family consensus here, along with the opinions and reports of various property inspectors, pointed to the presumption that the house on the cliff had a limited shelf life, but long enough to survive the current generation's lifetime. That was apparently good enough for Mr. and Mrs. B, who then forked over a million dollars to own this piece of paradise.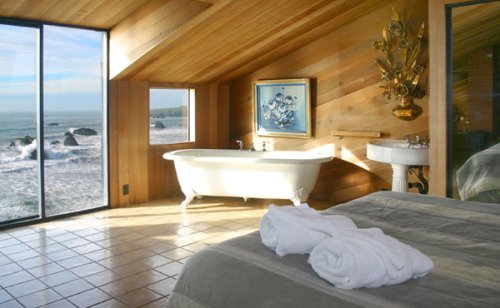 Mind you, this is a second home. And we're talking about homeowners who aren't people with money to throw around — just regular hard-working business people smack in their retirement years still working for the fun of it. They bought a house as an investment (a house on a sea cliff is highly valuable) and as something they clearly imagined enjoying for a while. It's apparently tons of fun in the midst of bad weather. 😉 It affords an adventure like no other when you're sitting in a living room facing the ocean in the clutches of a raging storm. So who cares that the next door neighbor's house caved in some time ago? The neighbor's house was red-tagged for sometime before it became a casualty, and there were a lot of signs that pointed to its inescapable demise. But this house — the one Mr. and Mrs. B was eyeing — was in the clear… so far.
Fast forward to today. Unfortunately, no more than a few — a little more than a couple? — of years later, the inevitable has become reality. Last year alone, our family friends had ended up spending 6 figures to shore up the sea wall on one side. This year though, more bad news has come through; they've discovered more evidence of erosion right under the land their house is built upon.
Save My House, Please!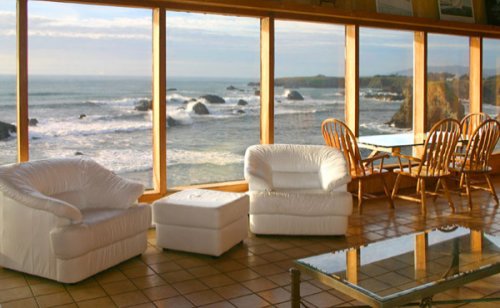 Sure, a few home-saving solutions were bandied around including doing more for the sea wall and moving the house physically to another location. But given that this house is tightly sandwiched between the highway and the sheer drop onto the sea, the possibility of moving it elsewhere is pretty much zilch. So really, options are running thin. In addition to the out of pocket expenses they'd already applied last year to their slowly sinking investment, Mr. and Mrs. B have decided to put in another $150,000 (estimated) to stabilize the property further. And forget insurance. Nothing covers this predicament.
Learning this, I've wondered: Is it worth it to keep this property around for an unknown length of time and whose fate is completely unguaranteed? Is this a case of throwing good money after bad? How would you handle high-risk properties? In my case, the answer is clear: I'd steer as far away from them as possible. Amazingly though, when it comes to high-risk business and investments, there are TONS of people who have and will continue to bite. There's always a market for this sort of thing for the right price. When does the promise of opportunity turn into a demonstration of foolishness? In hindsight of course.
Back to our story. Looking upon this home as an investment, Mr. and Mrs. B are trying to recoup some costs by renting out the house to vacationers. You can rent this and many other similarly wonderful homes at a rate of $300 to $900 a night. But even with these rates, I'd posit that it would take way over 3,000 paid nights to make up for the million dollars sunk into the home — that is, of course, not counting straight up appreciation you'd expect from California beach property.
Nevertheless, when this house was newly purchased, the buzz around my family settled on a resounding question: WHY? Why shell out a million for what seemed like a high-risk property? One so conveniently situated in the middle of a disaster zone? To anyone considering such a purchase, you'd think it was a no-brainer.
But who knows… different people have different motives. Mr. B knows a lot more about the weather and the ocean than any one of us, and that's for certain. Maybe he has faith that nature will indeed keep its claws away from his house a little while longer. Long enough so that he can enjoy his home and the exciting inclement weather for a little while longer before the sea and nature claims what it will.
I just don't think I'd risk a million dollars for a bit of beach front property. Ever. I'm much more willing to spend $500 a night for that same privilege of staring out of a picture window into a sun-kissed water-blessed horizon. I'd enjoy that more since I won't be worrying about masterminding the remedial intervention of my dream home. I'd rather not have the ugly reality of finances mar the fun of enjoying the fantasy experience of staying in such an esoteric home on occasion.
On another note, I can only marvel at how fortuitous it's been for the previous homeowners of the house on the sea cliff. How lucky were they? They got their million bucks in the nick of time…
Copyright © 2008 The Digerati Life. All Rights Reserved.