Some considerations before you decide to buy a foreclosure.
Are You Getting A Bargain? Not All Undervalued Homes Are Good Buys
A bargain is synonymous to a "great deal" — something that has value and has an ROI. The truth is, not all cheap houses are great deals; in fact, some are considered liabilities. But let's not forget that liabilities can be found anywhere as well: for instance, I once discussed how some friends made a bad investment and lost a million dollars on a vacation rental they owned.
These days, cheap homes are everywhere, especially in certain residential communities that have fallen into foreclosure. I still can't seem to wrap my head around how Detroit houses can be purchased for a third of the money you'd need to spend for a new car. That's also because that same $7,000 house in Detroit would probably fetch several hundred thousand dollars if it were located here in San Francisco: I can't find any homes here that will go for less than $100,000.

With these fire sale prices around the nation, people are flocking to buy foreclosures and hoping to pluck some distressed properties off the market. Before you indulge your dream of finally becoming an absentee landlord, check out these lessons on real estate investing that I picked up from CNN Money:
Lesson 1: Forget about flipping. The days of fast appreciation in home prices are now over. So if you're going to invest in real estate, you'll want to make money the way it's traditionally done: through rental income and cash flow.
Lesson 2: Realize that the property's purchase cost is just the start. With any piece of property bought, there's always going to be ongoing upkeep, along with taxes (depending on where you live). But the crappier the house you buy, the more money you should expect to spend on fixing it up to be ready for use. So just keep in mind that even with a super cheap house, your costs can balloon after all is said and done.
Lesson 3: You'll need cash. With the tough credit environment, it's much harder to get the financing you'll need from banks to bankroll your real estate investment plans. Those with cash will have an advantage in this market.
Lesson 4: Know the neighborhood. While it used to be just "buy, flip and profit" some years ago, these days it's all about finding the diamond in the rough. With so many cheap houses vying for your attention now (who knew that a buyer's market could be such a hassle!), you'll need to do some due diligence. You can't buy blindly like real estate investors of years past were wont to do — or you'd risk making an erroneous investment decision.
Lesson 5: Know and screen your tenants. With the economy in the tank, you can bet that it's probably going to be more of a challenge to find good, reliable tenants. Aspiring landlords will be facing more work and spending more time screening for the right people to rent out to.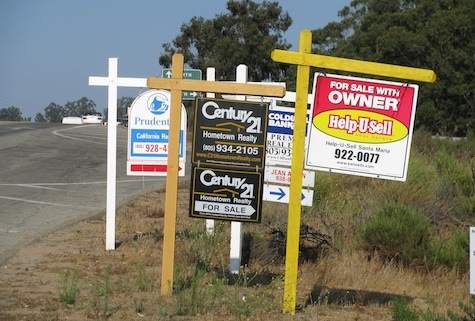 Image from The Truth About
Thoughts On Real Estate Investing
I'll admit that when the real estate market was soaring, I too, fell under the spell of wanting to be a landlady one day. I had this interest ("dream" is too strong a word) to try out rentals as an investment. Now that the market has crumbled, I'm no longer as interested in this endeavor, and have discovered that this is really not my "thing". You see, if you are truly a landlord at heart, you'd stick to your calling through thick and thin. When you evaluate the things you'd like to spend your time doing, you'll know that something is "in your blood" if you're willing to do it even with much less money involved.
On that note, I've decided that real estate investing for me will be relegated to REIT investing. And for cash flow, I've instead decided to stick to investing in "virtual" real estate, or web properties, if you will. I think I've established that this is how far I'm willing to stretch beyond my comfort zone.
Copyright © 2009 The Digerati Life. All Rights Reserved.