Real estate depends on location. But even a nice location can have a problem.
Sometimes, when driving around suburbia on our way to visit friends or family, we take the Bay Area back roads. At times, we find ourselves lost in the elegant settings of some of the ritziest neighborhoods in Silicon Valley, those which harbor some of the more affluent postal codes in the nation. We go this route to admire and enjoy the scenery and the residences. During our meanderings, we've noticed that not everybody with a tony address and a big house may be in as good a shape as you would expect.

So what do you do when there's a creepy old house located next to you or even down your street? Nobody is immune to such a blight. It looks like no matter where you live, you're susceptible to some things that could be out of your control.
When I see places like these, I curiously think about its history and try to imagine what's happened. It becomes particularly mysterious when a place on majestic grounds suddenly takes on an intimidating appearance. Why would such a place become abandoned? Maybe the people who live there are in financial trouble or embroiled in legal problems. Maybe they're too old to maintain their surroundings or too old to care. They could be in foreclosure or liquidating because of a divorce. Maybe it's a home stuck in limbo while its owners fight bureaucracy over how to rework or attend to the property.
In some parts of the SF Bay Area, this is what you'll see. This is what an abandoned house in Atherton, California looks like:
Whereas this is what's usually the norm for problem houses anywhere else (Image Credit: Elephant Rocks):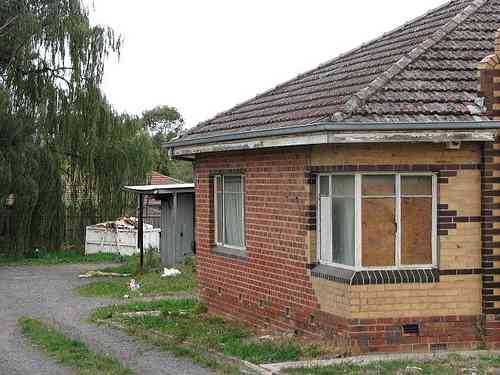 If I ever see a house like this around where I live, I'll be asking tough questions like:
#1 Why don't these people sell their property?

#2 Who wants to have a neighbor who can be harboring vagrants? Or criminals?

#3 Can we make sure this doesn't become a fire hazard or a health concern?

#4 Will this bring down the price of my real estate?
What practical things can we do to avoid having to live beside a "problematic" house? It may not just be about old empty structures. It could also be about a house that doesn't follow zoning standards (and may seemingly be getting away with it) and which sticks out like a sore thumb.
10 Tips To A Nuisance Free Zone
#1 Do a careful review of your neighborhood.
You won't have any problems next door if you don't put yourself in that position in the first place! Many of these issues can be avoided altogether if you check out the vicinity of your home prior to committing to it. Before you buy or move into a new neighborhood, diligently check out your surroundings. Don't rush into that contract or long term lease. I remember how our real estate agent warned us that a pretty house on a lovely block with a decent zip code shouldn't be the only thing to consider when making such a life altering purchase involving your permanent place of residence. See if you can find out something about the neighbors you'll have. Are these people nice or do they have loud pets or even louder motorbikes, tools or other equipment that go off in the middle of the night?
#2 Live in a community that provides its own services for a fee.
This may not be something many people would prefer, as you'd be subject to a monthly outlay this way. But if you want to make sure you live in a well maintained community, go for one with a Homeowner's Association (HOA) that enforces rules and standards over its homes, at least from the outside.
#3 Live in a neighborhood with stringent regulations about how homes should be maintained.
As in the case of HOA communities, by choosing to live in a planned community or one with stricter zoning laws surrounding the maintenance of the homes in it, you may protect yourself from some issues that would plague others in more unregulated locations.
#4 If you've got a problem, find out information about the property in question.
Say it's too late and you've already moved into your dream home only to realize there's something amiss nearby. What then? You can either live with it, or understand what's going on. Find out a bit about the property, especially if it's abandoned and growing weeds. It may pay to know who's behind the eyesore: it's a first step to addressing this issue. A service such as the once highly hyped but now defunct RottenNeighbor.com could be helpful.
#5 Communicate with your neighbor.
If your neighbor's actually on the site and appears harmless, then striking up a conversation with them may reveal facts that can either appease you or aggravate you further. Again, it could be the first step to action. Unfortunately, it could also be dicey to ask them to get their act together in so many words. If you're going to try, you could at least be as diplomatic as possible as I found that a pleasant approach gets much more traction than a negative or threatening one.
#6 Get other neighbors involved.
This can be handled several ways: attend town hall meetings, village or neighborhood get togethers that allow the airing of this type of problem. Zoning issues and other conflicts are typically brought up in forums like this. On the other hand, you could hold a friendly neighborhood barbecue and pick the minds of everyone who attends. Someone may have the inside scoop on the problem.
#7 Form and join a neighborhood watch group.
I know this could be merely a band-aid to address deeper issues but it allows for an organized group to keep an eye on their community and especially on certain locations that may be vulnerable to unwanted visitors. It could help with preventing drifters or worse — criminals — from loitering around areas of concern.
#8 File a formal complaint to the zoning board or inspections department of the community, county or city you live in. As one of your final options, you can declare a problem house a public nuisance. I've seen this work pretty well in the past, with a fair measure of success. Be patient, since it does take some time for investigations to be handled.
#9 Contact your fire marshall, board of health or other authorities who may be able to assist your case. If there is a potential health hazard around your area, this could trigger quicker resolutions once it is reported. Capture the evidence and bring it up to the appropriate personnel.
#10 Move.
As your true last resort, consider selling your house and moving elsewhere. However, depending on the size of your quandary or how near you are to the property (or properties) of contempt, your home's value can be sorely affected. So taking this step is a big one with potential financial consequences. I'd consider this a desperate measure. Now if you're renting, life will be so much easier for you as moving will be the easiest way out!
-ooOoo-
If you do happen to have this kind of house up your street, what would you do? As a kid, I'd be conjuring scary stories about it with my friends while watching more adventurous types gingerly explore its perimeter. As an adult, I'd be thinking about the bottom line and what this is doing to real estate property values. That and praying that the empty house gets sold really quickly!
Update: Well, some prayers must've been answered. That old house in Atherton, CA that stood empty for at least a year is no longer "abandoned". It has been razed to the ground and is now for sale as an empty lot. Their neighbors may now rejoice.
Created June 14, 2007. Updated September 7, 2011. Copyright © 2011 The Digerati Life. All Rights Reserved.