Recession proof your job and career!
I'm planning a series that lists out some of the best choices you can make during this recession. I'll start off with what you can do for your job and career during tough times like we're experiencing now.
With unemployment numbers aggravating the markets last week, we're seeing a quadruple whammy of bad economic news (sez The New York Times) permeating through the financial atmosphere with no respite in sight:
The labor market is continuing to deteriorate, eroding the size of paychecks, just as gasoline and food prices surge, and as the declining value of real estate erodes the wealth and credit of many households.
It appears that the real estate downturn is winding its way into other sectors in this manner:
The details of the report fleshed out how economic troubles that began with the fall of real estate prices and then spread to the construction industry have continued to ripple out to other areas of the economy. Many homeowners who are no longer able to borrow against the values of their houses have been cutting their spending, shrinking sales at shopping malls, grocery stores and home improvement outlets. That has prompted to businesses to cut payrolls, taking more purchasing power out of the economy.
Our earlier prognostications about the badness of the subprime and credit debacle appear to be happening — whatever troubles we have today are at least partially caused by the housing slowdown. But as a community, we're now extending our worries beyond foreclosures, eroding property values and tight credit; these days we're also much more concerned about job security and our livelihood.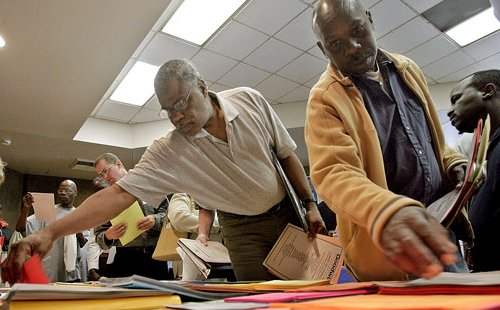 But there are things we can do to counteract those concerns.
12 Tips To Help You Manage Your Job and Career During A Recession
I compiled some recession survival strategies that will hopefully help you anticipate tougher financial times ahead. Some of these ideas encourage you to be more proactive and to allow you to be one step ahead of events, in case the unexpected happens. By being prepared, you'll be in better shape to respond to a job loss.
#1 Position yourself well before a recession hits. The best time to act is before, not during a downturn. If you're just starting out or looking for a line of work to get into, consider a recession proof career.
#2 Focus on the job you have. Are you already employed? Then one of the best things to do during a recession is to concentrate on your current job and do your best to shine.
#3 Raise your opportunity cost as high as you are able, at your company. Make it tough for your boss to carry on without you.
#4 Keep your eye on your company. Watch your boss. Understand how your company is operating to get a feel for its health. If they start cutting hours at your job, get ready for other changes.
#5 Create a game plan with priorities and contingencies. Have you thought of what you would do in case you get laid off?
#6 Cut costs and control your budget now. Be frugal! Enough said.
#7 Make sure you have an emergency fund that amounts to at least 6 months worth of living expenses.
#8 Understand the consequences of a layoff. Be aware of unemployment benefits in your state; tally up your employee-sponsored accounts and benefits; look to your HR department for next steps.
#9 Know your strengths, skills and talents. Look at more than one type of work that you can do based on those skills.
#10 Consider employment options beyond what's typical for you. You may be wired to think that you should only be doing one type of job. I was that way for a while until I realized I could be creative in ways beyond just writing software applications. See if there are possibly other jobs you can enjoy doing and explore those possibilities.
#11 Tap your support network for advice and job leads. Network!
#12 Widen your options and keep them open. If you think that where you live is not cutting it and that you may not be making progress financially due to a lack of prospects in your neighborhood, then it may be time for you to make a huge change, such as moving to an entirely new place where you may find greener pastures (you'll need to be careful here, because not all pastures are green elsewhere….).
~ooOoo~
Times are hard, but keep your chin up! People are expecting things to improve by next year, at least according to this opinion poll:
A poll, conducted by CNN/Opinion Research showed that 78% of respondents believe the current state of the nation's economy is poor or very poor. Only 19% think the economy is somewhat good, and a mere 3% say it is very good.

However, the outlook for the near future is brighter. When asked what economic conditions will be like a year from now, 46% of respondents expect conditions to be somewhat good, while 6% expect very good conditions.
Let's hope!
Copyright © 2008 The Digerati Life. All Rights Reserved.