Here he is again, one of my favorite guest posters, Kosmo, paying me a visit and sharing his thoughts on magazine advertising. Kosmo is an aspiring novelist, vehement opponent of the designated hitter, student of true crime, and plays the keyboard for The Casual Observer — an eclectic, team-written web magazine.
Kosmo would like to give readers of The Digerati Life a discount at his store. During the next month, use the coupon code DIGLIFE25 to get a 25% discount on all items (excluding writers' tip jars).
Magazine Ads Led Me To Cancel My Subscription
I currently subscribe to four periodicals –- Mac World, Sports Weekly, Archaeology, and Popular Science (I'm also a non-subscribing recipient of The Sporting News, since they managed to mess up my cancellation). From the perspective of literary content, I am very happy with all of them, with the exception of The Sporting News (I attempted to cancel this because of the substandard writing and analysis).

However, when two of these reach the end of the current subscription period, I am going to let them lapse. Those two magazines are Archaeology and Popular Science. Why am I allowing these to lapse? To save money? Because I don't have the time to read them? While both of those would be solid reasons, they aren't the main reason.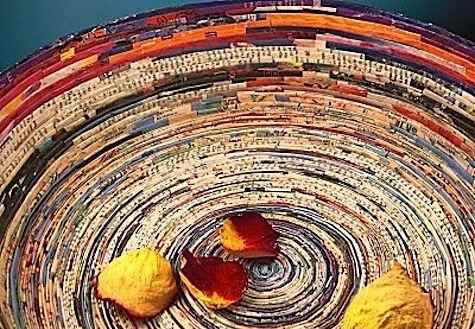 Magazine Bowl image from Chez What?
My decision boils down to those magazines' choice of advertisers. I have no problem with advertising, per se. I realize that revenue from advertisers allows publishers to sell the magazines at a somewhat reasonable price. Heck, one of my degrees is in marketing.
What I take issue with are the actual advertisers. It started several months ago when I noticed advertisements in Archaeology selling "gold" coins. I ranted about this at some length. The gist of my argument was that these advertisements were deceptive in nature and were selling these coins at an inflated price with the false hope that they would become collector's items.
Later, similar ads began appearing in Popular Science. I get angry enough when I see companies trying to levy the "stupid tax" on people who can't see through the BS of these ads. However, I was even more upset at the brazen approach of placing these ads in science-themed magazines. My hope is that readers of science magazine would be, by nature of their interest in the scientific method, more skeptical of the claims made by these companies. Furthermore, it upsets me that the staff at these magazines apparently had no problem publishing deceptive advertisements — implicitly vouching for the advertisers.
The final straw was when I saw an ad for a set of golf balls in Popular Science. Featured on the balls were the faces of a dozen of Tiger Woods' mistresses. Although it's not my type of humor, I can understand why some people might be amused by it. However, I remind you, this is a science-themed magazine — not a magazine with a celebrity or sports focus.
My message to magazine publishers is this: be more selective in the advertising you accept. It reflects on you as an organization. Many of the people who are offended by the advertising aren't going to write an article to tell you about it — they're just going to let the subscription lapse.
P.S. I know what you're going to say. "But Kosmo, I saw an ad on The Casual Observer for product X. This is clearly a scam."
The world of blog advertising is a bit different. Many people use Adsense (by Google) to handle advertising. This effectively allows these (very) small business to outsource this department. Adsense auctions off ad spots in the time it takes to load the page in your browser — the blog writer doesn't explicitly approve an ad and never knows for sure what ad will appear.
However, I'm not letting this take me off the hook. Adsense DOES allow site owners to actively block specific sites. If you see an ad on The Casual Observer that offends you, let me know (sending me an email with a screen shot works the best). I'm happy to review any ads and block them if appropriate. This is a bit of a game of cat and mouse (ironically, the linked gold article being the worst offender), but I'm happy to chase away a few mice for my readers.
Copyright © 2010 The Digerati Life. All Rights Reserved.