First, before I am accused of being a Scrooge, I'd like to point out that I do tip. I nearly always tip 15%, and often tip more if I really like the service or restaurant.
In theory, though, I am opposed to the practice of tipping for a couple of reasons.
If it's expected, it's no longer a gratuity. It seems like the societal expectation is to tip 15% unless the service is just dreadful (they pour a drink on your head — on purpose). Thus a custom that once helped customers by giving an incentive to employees to provide a high level of service doesn't really provide that value any more. You'll still get the great servers who chase the 20%+ tips (or simply have great pride in their work), but there are quite a few servers who seem to just cruise along doing the minimum, confident that they'll get 15% anyway.
I even fall into this trap. I almost always tip 15%. The last time I tipped less was about a year ago at the local IHOP. We were incorrectly charged for omelet ingredients. I pointed this out to the waitress, who insisted I was wrong. Since I often eat the exact same omelet, I was sure that I was not wrong. I politely requested that she bring a menu to the table so that we could resolve the issue. For a reason that eludes logic, she refused to do this. At this point, I said "Fine. I know that we are being overcharged, so I'll just deduct the excess from your tip, since you're refusing to verify the price." Even this didn't compel her to make an effort to satisfy the customer. I have no doubt that this woman is still overcharging people — most of whom are tipping her 15% for her service.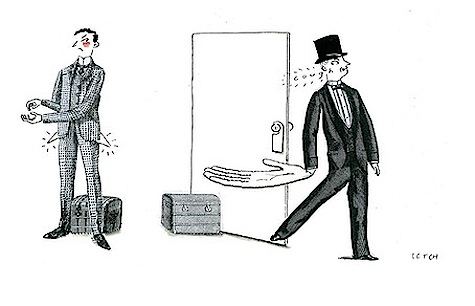 Image from The Image Builders

It's deceptive, and pretty random. I certainly know why restaurant owners like tipping. They can list a meal at $14.95 when it will realistically cost the customer $17.25. Granted, you know what you're getting into when you walk into a restaurant, but I still see it as a bit of a mind trick, particularly when it comes to advertising.
A larger problem I have is the randomness of the tipping system. I'm supposed to tip the server at Applebees, but not the guy at Goodyear, who points out potential problems with my car and always makes an effort to make my 2 year old daughter feel important by talking to her? Or maybe I AM supposed to tip the Goodyear guy? I'm supposed to tip the person cutting my hair, unless they happen to be the owner, in which case I shouldn't tip? (What if I don't know who the owner is? I'm glad I cut my own hair.)
Even within the restaurant industry, there doesn't seem to be a strong correlation between the size of the tip and the value provided. At one of the steakhouses in town, the server is going to get a tip of about $7 each time my wife and I go there ($3.50 per person).
On the flip side, when I travel to my corporate headquarters on business and eat at my all time favorite restaurant (Monical's), the bill comes to $8.82. 15% of that would be $1.33 – 40% of my share of the steakhouse tip. Obviously, I leave more than $1.33, but there's a clear imbalance. If I leave the $3.50 that the steakhouse server receives as a tip on my half of the bill, its becomes a 40% tip on the Monicals bill — and the waitress will think I'm trying to hit on her.
Ah, but the steakhouse server deserves more because they provide more service, right? Actually, no. They take the order, bring me a drink, and deliver the entrée to my table. The salads are dreadful at this place, so they're spared that work.
On the flip side, at Monical's, they do more work because they do bring me a salad. Not only that, but they bring me the salad to my specifications (just lettuce and cheese — no tomatoes or carrots). They're also much more friendly than the steakhouse servers (not that the steakhouse servers are dour; they're just not quite as chipper).
So, then, remind me why society strongly suggests tipping the steakhouse person nearly three times as much?
What's my solution? How would I propose to fix the situation? Pay servers (and other tip-based employees) a far wage (rather than the $2/hr that is allowed in some states) and make tipping an option intended to reward service above and beyond the expected level, rather than the meat and potatoes of their compensation. It seems only fair to put the majority of the cost of employment on the actual employer — the person who receives the most benefit from the employee.

SVB: I'm honored to have Kosmo as my guest writer for today. His post compels me to ask: where's that tip jar again? Kosmo is an aspiring novelist, vehement opponent of the designated hitter, student of true crime, and plays the keyboard for The Casual Observer — an eclectic, team-written web magazine.
Copyright © 2010 The Digerati Life. All Rights Reserved.