Earning or using rewards while you shop is no longer a novel idea. There are online cash back shopping sites that give you rewards when you go shopping through their portal. For instance, Ebates often holds double cash back events on special occasions. Go anywhere right about now and you'll be inundated with holiday specials.
Well, even card companies are getting in on the action. Whether you're dealing with debit cards or credit cards, you'll see rewards and savings as being part and parcel of their feature list. Aside from the popular credit card rewards programs from Chase, Citibank, Discover, AmEx and so on, there are other card programs I've come across recently, including one from the MasterCard network called the MasterCard MarketPlace. But it's a lot simpler than any card program since it boils down to receiving discounts when you use your MasterCard to buy online.
Shop MasterCard MarketPlace For 20% to 50% Discounts
The point here of course is that ultimately, you're saving money. It's rare to pay retail prices these days if you are smart about your shopping. The MasterCard MarketPlace is a discount shopping program that allows you to access the merchandise of 25,000 participating merchants in 19 categories. The categories range from computer, electronics and fashion to travel, entertainment and more.

If you carry a MasterCard, you're eligible to join. You can do so in a couple of ways:
1. Basic-Level Program
Sign up by using your card and you'll get registered in the site. Once enrolled, you'll find items on sale and tailored discounts that will be available to you, based on your zip code, web site activity and store selections. Discounts average from 5% to 20%. There may be additional benefits available. This program is free to all MasterCard customers.
2. Premium-Level Program
With an upgrade, you'll get much deeper discounts that average from 20% to 50%. You'll come across special in-store events and limited time offers as well. The catch? You will need to pay $29.95 per year to upgrade from the Basic to Premium Level but if you happen to be a World MasterCard cardholder, that fee is currently waived.
Here's a sampling of some of the things you'll find on the site. If you find this interesting, click on our banner above to sign up.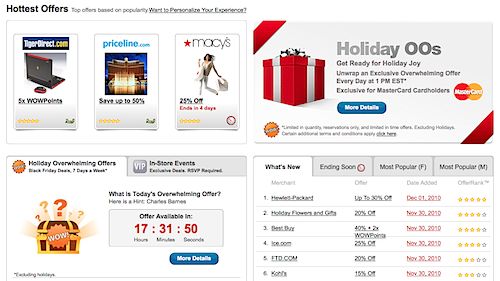 This program is brought to you by MasterCard.com.
 
For those wondering if they are carrying a World MasterCard that would qualify for free Premium-Level membership, check for the word "WORLD" on your card. Here is a sampling of such cards (this is not a comprehensive list):
Ameriprise World MasterCard
Bank of America UPromise World MasterCard
China Airlines World MasterCard
Amtrak Guest Rewards World MasterCard from Chase
Bank of America World MasterCard with World Points Rewards
Citi Platinum Select / AAdvantage World MasterCard
Citi PremierPass/Expedia.com World MasterCard
Continental Airlines World MasterCard from Chase
Midwest Airlines World MasterCard
US Airways Dividend Miles Premier World MasterCard
If you'd like to check out other credit cards, you can take a look at our credit card channel.
Copyright © 2010 The Digerati Life. All Rights Reserved.