Have you seen what Bernie Madoff has been up to lately? Apparently on the wrong end of a bull! Got this from the BBC News where it describes this photo as follows: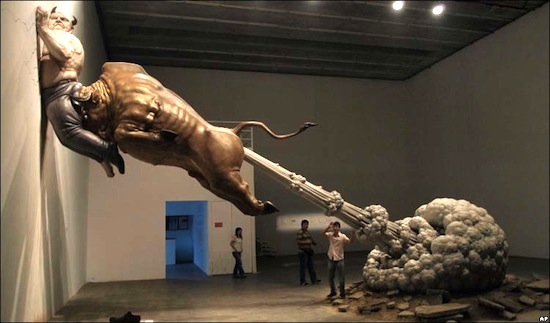 Chinese artist Chen Wenling critiques the global financial crisis in What You See Might Not Be Real, on display at a Beijing gallery. The bull is said to represent Wall Street, while the man pinned to the wall represents jailed financier Bernard Madoff.
Is it bad to feel strangely gratified by this scene? Well, if you've been on the wrong end of a Ponzi scheme before, who can blame you?
Now let's shift gears: I'm going out of town this week so I figured to put together my reading list a little earlier than usual. I'm also a bit distracted given what's been going on with my family elsewhere, so I'll leave you with this week's financial roundup for now. Here's what I've been reading lately!
Recent Carnivals
Best of Money Carnival: Made it to Pinyo's list this week with my post entitled Your Kid's Allowance! Awesome! Thanks for a great carnival Mr. Moolanomy!
Copyright © 2009 The Digerati Life. All Rights Reserved.