When it comes to determining the best investment strategies for your money, the first thing to consider is why you are investing to begin with. The majority of individuals are investing the money they make now in order to secure their golden years — when they finally decide to give up the rat race and do the things they've always wanted to do.
The idea of retirement differs from person to person. Some people want to simply sit back and enjoy the fruits of their labor, others want to jet set and see the world, and some of us want to start businesses of our own. Whatever constitutes your ideal retirement, you need to plan now in order to see it happen. We've heard it said time and again that investing the money you make now in a way that will maximize your return when you're ready for retirement is one of the best ways to realize your goal.
How Much Retirement Income?
So how much retirement income will you need? That too will vary for everyone. However, before you start dumping your money into blue chip stocks, you should begin considering what your needs will be when you enter into retirement. I would start out by answering these questions:

1. When do you plan to retire? When are you "retiring"? How many years will you need to cover basic living expenses? Again, I use quotes when I reference retirement because it means different things to different folks, and may therefore mean variable amount levels depending on the individual.
2. What lifestyle do you want to live? What level of income will be required to support the lifestyle you want to live?
3. Can you become debt free faster? How much of your available income in your golden years will be devoted to paying off old debts? Ideally, you won't have any more debt upon retirement, but this isn't the case for everyone.
4. Can you lower your health care costs? Rarely do people plan for the health issues they will face after retirement.
The idea behind planning for retirement is to ensure that you at least maintain the level of income you are currently earning in order to support the lifestyle you want. Of course, you need to think of this income in terms of tomorrow's money due to inflation. One dollar today certainly won't buy as much, twenty years down the road.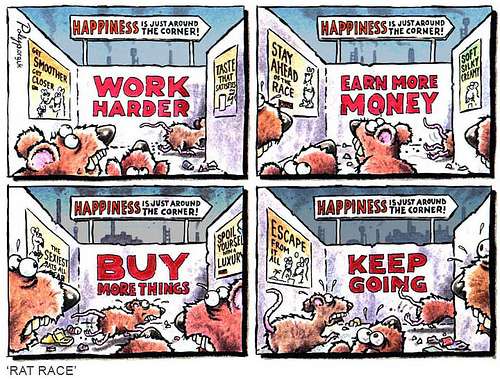 Image by Ethan Bloch @ Flickr
What's Your Retirement Income Strategy?
Beyond social security income, what other income are you thinking of relying on in your later years? For many, these would be their retirement savings and investments. One of the most important concepts to consider when devising your investment strategy is the concept of diversification. Remember the adage about resisting the urge to put all your eggs in one basket. True diversification allows you to spread your money over several different types of investment products such as foreign vs domestic equities, bonds, real estate, precious metals (gold ETF investing anyone?) and cash.
The Traditional, Long-Term Investment Route
For your long term portfolio, it is important to think about periodically rebalancing it to take into account the success or failure of certain asset classes. The idea behind this is to keep your retirement account growing steadily over time. Periodic downswings should be expected in any stock or mutual fund, but consistent loss of value may require you to rethink a particular investment's role in your portfolio.
Never forget to take advantage of your employer's 401(k) plan (or other employee sponsored retirement plan). The nice thing about company-sponsored 401(k)s is that in addition to your regular contributions, your employer will usually drop some dollars into your retirement bucket as well. This is free money. Not only is this tax efficient investing, but it's also a gift from your company, meaning that you don't have to do anything to get it other than to participate in the plan. Your 401(k) plan will automatically invest your contributions in common stock or mutual funds (based on your selections), and you are free to reallocate your contributions into any of the available funds in your plan.
Out of The Box Options For Your Retirement
So there needs to be a balance between aggressive investments (risky, with the potential for big returns) and conservative investments (low to no risk, with lower return). We are taught that balance will allow your money to grow well over the long-term and protect your portfolio against huge losses when the market enters into a slump. But is this enough?
Because of the uncertainties we've been experiencing over the past decade, when the financial crisis pretty much decimated all manner of investments, particularly those buy and hold investment accounts we all thought were "safe" (think: 401(k)s and IRAs), people have been seriously rethinking their situation. I'll have to admit that even I had to shift the way I thought about the future when the financial crisis hit and when I realized just how unpredictable things can get. Even the best laid, well diversified plans can get derailed.
The truth is, I really haven't covered all the bases. True, using asset allocation, diversification and rebalancing are great strategies to approach retirement but there are never any guarantees. Realizing this, I decided to look into other possible ways to address my retirement needs. Here are some alternative ideas I've considered (and have started executing):
1. Small Business – Look into establishing an income channel by investigating entrepreneurial projects. How about investing in your own business ideas?
2. Active Investing / Trading – This shouldn't be the lynch pin of your investment plan, but for a small portion of your portfolio, you may decide to become a little more adventurous. Who knows, you may find that with experience, you may develop some skills in this area that may allow you to grow your portfolio profits in a larger way. You could decide to allocate a small portion of your portfolio towards higher returns with higher risk.
3. Freelancing – You may think about something you enjoy doing and seeing if it's something you can monetize.
4. Landlording / Real Estate Investing – How about investing in rental properties, especially now that the property market is in decline? There could be opportunities here that could potentially cover your income needs in the future, if you decide to pursue them now!
5. Angel Investing – This may seem far-fetched to some people, but it's becoming more and more of a reality for those who are interested in investing in small businesses and startups. Sites like LendingClub.com and MicroVentures.com help facilitate this kind of investing. Check out our Lending Club investment discussion here and our MicroVentures.com review here for additional information.
What's great about these activities is that you can claim them as your own and they can be done on a flexible schedule so that you can easily incorporate them into your retirement plan!
A Real Life Case Study: Here's one case study straight out of my own experience. I have some family friends who have established a business running a couple of assisted living facilities. After they retired from their careers, they figured that as empty nesters, they could turn their home into a retirement home. Nowadays, they're enjoying their golden years with a healthy cash flow and helping other older folks to boot.
So what type of retirement are you envisioning for yourself?
Copyright © 2010 The Digerati Life. All Rights Reserved.