When Investing, Everyone Thinks They're Right!
If you watch any of the financial news channels or talk to any of those people who are considered the best in the financial world, one of the first things you will find is that everybody has an opinion and everybody feels that their way is the best way.
I believe that the reality is much different. While you will find a lot of people who are clearly not doing well, you will also find a lot of investors who are doing it right but who are using various approaches. While there are a lot of opinions, I can think of at least one truth that has no controversy: Use any legal investment strategy you would like but the object of the game is to make money and that is how you determine success. What works for you may not necessarily work for others but in the end what counts is that you actually grow your money using your approach. In the world of investing, how much profit you make is what matters (just as long as the means to your success is legitimate).
Boiling Down My Stock Investing Strategies Into 2 Rules
I'd like to share with you how I do my own investing; my strategies are pretty much rooted on the basic principles of long term investing that many (if not most) investors espouse:
Rule #1: Invest with your financial goals in mind.
First let me say that I have a full time job outside of the financial world, so I'm one of countless stock investing hobbyists who enjoys participating in the stock market on the side. My primary goal for investing is to build my retirement portfolio. I'm not looking to buy a private jet or a yacht in a few years nor am I looking to one day become a full time investor (at least, not anytime soon). My strategies revolve around who I am and what my goals are. Among the many stock investing tips that are out there, apply this one first: know who you are and why you're investing. This doesn't seem like it would be important but I assure you that it is. It will change the way you invest.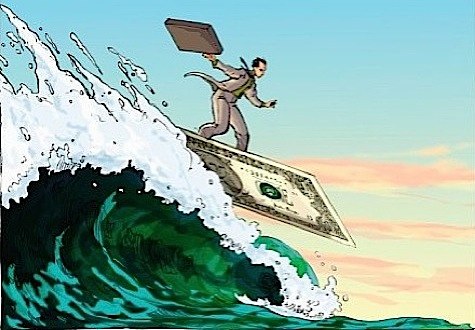 Image from ehow.com
Rule #2: Diversification rules!
If you could see how I invest, you may actually think that I'm overly conservative with my portfolio, and you would be partially correct with that assumption. The first thing I do is split up my money. For the sake of easy numbers, let's assume that my portfolio has $10,000. (Don't you get tired of reading those articles that give you all the best stock trading tips and investment advice for managing your $10 million dollars?) Often, when I help somebody set up a new portfolio, we start with a piece of paper upon which I draw 5 circles. This is where my "island theory" comes from.
My $10,000 has to be split into pieces. Pardon the analogy but I'm going to describe this as such: think of the pieces as 5 different islands (or buckets) that are far away from each other but in the same ocean. If a hurricane comes through and damages one island, the other islands are fine. Of course, because they are in the same ocean, they will all affect each other at least a little bit. So these are just basically different stock sectors or asset classes depending on how you decide to diversify. Each island (or diversification bucket) has to be different from the others.
My island theory is simply an analogy for stock diversification in the investing world. We should all diversify because it's essential to managing our investment risk. This is the most important investing strategy that I follow. Don't subscribe to information that says that you don't need to diversify since it's essential for protecting your assets.
So let's take our $10,000 and split it into five parts. Each of our islands is going to have $2,000. We don't have to be exact with our numbers but we have to be close: within $100 is my general rule. You can't take from one island to help another.

Next, each island has to look different. One island can't be made up of computer stocks and another island made up of telecom stocks. These are all technology stocks and only one island can be based around tech.

To get started, set up your islands and pick some of the best stocks that fit into these sets. So which stocks should you put in which groups? To work this out, you'll need to read and learn about stock market technical analysis vs fundamental analysis, and don't be afraid to use somebody else's advice as a way to back up what you're thinking. But don't follow someone blindly either — you need to know why you own a stock.
Now allow me to go into specifics and discuss how I construct my "islands" (or buckets), and to talk about what else is involved when putting together an investment portfolio that is suited for the part time investor.
DIY Diversified Portfolio Example Using Individual Stocks
As mentioned, we'll utilize $10,000 to purchase single stocks representing various sectors. How should we divvy up the $10,000 across the different investment "islands"? Following is my concrete example which shows the basic idea behind my individual stock portfolio — one that I've built with a good amount of thought, care and research. The following illustration shows how $10,000 is divided into five $2,000 portions:
Island 1 — The Financial Stocks: With only $2,000 to use, you'll only have enough funds to purchase one or two stocks in this sector. Some examples to consider are JP Morgan Chase, Bank of America or Goldman Sachs (remember to review each stock's underlying value).
Island 2 — The Tech Stocks: Check out Apple, Google, Hewlett Packard.
Island 3 — The Health Care Stocks: Look at Abbott Labs, Johnson and Johnson, Gilead.
Island 4 — The Energy Stocks: Some examples are Chevron, BP.
Island 5 — The Higher Risk Stocks: It may be a good idea to incorporate the stock of a small, up and coming company in your portfolio.
So basically, that's the kind of diversification I do, in a nutshell. Many people achieve great results by simply investing in index funds or a target date mutual fund. But I prefer to diversify this way, by fully controlling my portfolio and picking my own stocks. Note that this is just a hypothetical set up. To be honest, this example is quite simplistic because the true benefits of diversification are best met through investments that are as uncorrelated as possible. So while it's a good idea to diversify among stock sectors, you can easily achieve this type of diversification by purchasing an index fund or general mutual fund. But for better diversification, you should actually buy mutual funds that represent various asset classes (e.g. a domestic stock fund vs a foreign stock fund vs a bond fund and some cash).
Created August 27, 2009. Updated April 12, 2012. Copyright © 2012 The Digerati Life. All Rights Reserved.