When did you start saving for retirement? Think you've missed the boat because you didn't get a chance to invest early?
Reality Check For Those Nearing or Approaching Retirement Age
For many of us who are 65 years or older, we live by our social security checks. In fact, this is literally the situation for a third of seniors who've reached retirement age, according to government reports. A good number of people rely completely on social security and wouldn't survive without this help. We can thank the New Deal of Franklin D. Roosevelt for its creation in 1935: this was really a huge step after the catastrophic crash of the stock market in 1929.
Whenever Wall Street goes through some volatility, we wonder about what happens to those who've invested most of their savings into stocks, mutual funds or any other risky financial instrument. The most appropriate answer I can think of? They are going through hell, and if they are over the age of 50, they may well panic and sell for a significant loss. This is all the more reason why many seniors rely so much on their fixed income stipend from the government.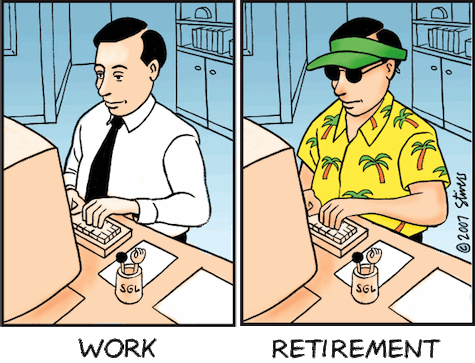 Awesome image by Mark Stivers

Our social security payments depend on how much we've earned before retiring. It ranges from 28.9% for the high salaries all the way to 55.9% for those making an average of $16,739 a year. A wife who has not worked outside the house will receive about 50% of her husband's entitlement. Social security income doesn't really seem like much, given the conventional wisdom that we would typically require between 80% to 90% of our pre-retirement income to live on once we do retire. Therefore, it would certainly help if we had a secondary source of income, such as a pension plan and /or personal investments.
Retirement Investing Advice For Late Start Investors
But what if you are one of those investors who is worried about not having enough when you finally hit your retirement years, say because you started investing later in life? AARP's site offers some valuable advice to those between 50 and 65 who have to scramble to find other sources of income:
1. Look Into A Reverse Mortgage. If you have equity or if you have finished paying for your house, you can obtain a reverse mortgage, a financial instrument advertised by a well known actor, Robert Wagner. You get money for your home and you don't have to pay it back for as long as you live there. Please check the AARP site for details, and weigh all the pros and cons before reaching a decision.
2. Go Back To Work (or Never Quit Working). "Working past retirement" doesn't necessarily mean that you are going to say hello to incoming customers at Wal-Mart, although any job is an option. If you have accumulated skills and knowledge that many companies value highly and if your health permits it, don't be afraid to apply for a job you know you can do well. Or see if you can find an income-generating activity that you'll be able to enjoy no matter what age you are. For instance, you can consider checking out the online universe for opportunities: you may not realize it, but there are a lot of online work options that abound. I'm actually a freelancer, and I'm a grandfather of 4, still hitting the keyboard (and having fun)!
3. Be Frugal. By learning to cut unnecessary costs from your budget, you may find that you can get by with less of your pre-retirement income than you normally thought. By learning to conserve and by developing frugal habits, you may realize that instead of 80% to 90% of your previous annual salary (or income) to live on, you'll only require 60% to 70% (or less!) of this income for your living expenses.
4. Avoid Risky Investments. For people over 50, risky investments are an absolute NO-NO. Take a good look at what happened to the stock market this year. Millions of people have lost a lot of money. Even mutual funds, with their diversification, have taken a hit. Ask your financial adviser or do your own extensive research to seek out safe and productive investments.
5. Believe That It's Never Too Late. Maybe you're a fifty-something, and you still have another 10 to 15 years of hard work and saving opportunities ahead of you. But you need to find out how much you'll need (and how long you'll live) during your later years: well you can check out this page (from CNN Money) for some helpful resources and to see if you are saving and investing enough for your retirement. There are calculators there that will let you know how much you'll need to save and how much your assets will need to grow to support your lifestyle.
It's never too early or too late to develop a retirement plan. Unless you are on Bill Gates' last will and testament, you should do what you can to prepare for the future, no matter where you are in life right now. Something is always better than nothing.
Copyright © 2009 The Digerati Life. All Rights Reserved.