My "digerati spouse" left his job 7 months ago to do his own thing. Now with the job loss, we lost the best company benefits we've ever had, including long term and short term disability insurance and a fairly generous accidental life insurance package. Because of my spouse's startup business plans, we're foreseeing 1 or 2 years of covering ourselves on our own dime now, though it helps somewhat that I work and therefore have some benefits to cover the family.
Following are some basic tips on purchasing insurance that I've followed.
We had no life nor disability insurance before having kids, as we had no dependents. We figured that if anyone of us didn't work, the other could cover for the household. These days, that won't fly. If a breadwinner passes away or gets disabled at an opportune time, then we'll need an income stream from somewhere. Two kids who we want to see in college one day, and hopefully to good universities will require coverage. Not to mention that right now, we feel the pain of one of us not bringing in an income. In fact, while our income has diminished, our outgo has increased, primarily because of funding the business we're trying to develop.
We're winging it on one salary presently, and it's tough; but it's temporary and we're giving it a maximum of a couple of years. But the experience has given us some idea of what it's like to live on only one income stream for a household that actually requires two incomes to run. I doubt any of us can survive indefinitely at our current level of spending unless we had another source of income in case one of us becomes compromised.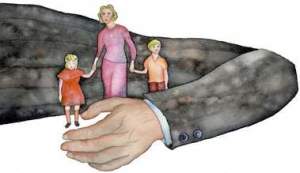 So enter: life insurance. We have term life insurance, which is the cheapest you can get anywhere. We have never considered variable or permanent life insurance because we prefer to avoid combo type accounts that try to kill two birds with one stone by offering you death benefits plus an investment account to boot. We've followed conventional advice here, and in this sense, you can call us purists. We prefer to have our premiums as low as possible and rather than build up money in our insurance accounts, we'd rather use the savings we get from the lower term life premiums to invest elsewhere ourselves. This scheme gives us the most flexibility and control over our own assets.
We know that this works since for example, we know others who have the more complicated types of life insurance which they end up paying much more for. They end up getting woefully less insurance than they should simply because of the steepness of the premiums. Because we have term, we can purchase policies with high death benefits, which makes us feel confident that we've adequately taken care of our family.
So herewith is what we have.
Our Insurance Policies
Two 30 year TERM life insurance policies that are $1 million each
One short term disability for myself from work, covering 60% of my salary
One long term disability policy for myself from work, covering 60% of my salary
What is our gap? We're feeling like we need to beef up these policies further. Our plan is to purchase more life insurance on our main breadwinner, my spouse, as well as get him a long term disability policy.
How much we should get can be technically calculated through tests and formulas. Here's a cool table reprinted from The Motley Fool showing what your replacement income needs are. This can help give you some idea about how much coverage to consider:
Replacement Income Table
Current
Annual
Income
Years Until You Retire
10
15
20
25
30
40
60
$10,000
$92,000
$132,000
$168,000
$201,000
$231,000
$283,000
$361,000
$20,000
$184,000
$263,000
$336,000
$402,000
$461,000
$565,000
$722,000
$30,000
$276,000
$395,000
$504,000
$602,000
$692,000
$848,000
$1,083,000
$40,000
$368,000
$527,000
$672,000
$803,000
$923,000
$1,130,000
$1,444,000
$50,000
$460,000
$659,000
$840,000
$1,004,000
$1,154,000
$1,413,000
$1,805,000
$60,000
$552,000
$790,000
$1,007,000
$1,205,000
$1,384,000
$1,696,000
$2,166,000
$70,000
$643,000
$922,000
$1,175,000
$1,406,000
$1,615,000
$1,978,000
$2,527,000
$80,000
$735,000
$1,054,000
$1,343,000
$1,606,000
$1,846,000
$2,261,000
$2,888,000
$90,000
$827,000
$1,185,000
$1,511,000
$1,807,000
$2,076,000
$2,544,000
$3,249,000
$100,000
$919,000
$1,317,000
$1,679,000
$2,008,000
$2,307,000
$2,826,000
$3,610,000
$110,000
$1,011,000
$1,449,000
$1,847,000
$2,209,000
$2,538,000
$3,109,000
$3,971,000
$120,000
$1,103,000
$1,581,000
$2,015,000
$2,410,000
$2,768,000
$3,391,000
$4,332,000
$130,000
$1,195,000
$1,712,000
$2,183,000
$2,610,000
$2,999,000
$3,674,000
$4,693,000
$140,000
$1,287,000
$1,844,000
$2,351,000
$2,811,000
$3,230,000
$3,957,000
$5,054,000
$150,000
$1,379,000
$1,976,000
$2,519,000
$3,012,000
$3,461,000
$4,239,000
$5,415,000
First Column: Annual income to be replaced. Top Row: Years of replacement income required. Table Body: Lump sum life insurance required. Assumptions: Annual inflation rate assumed to be 4.0%; Annual investment return assumed to be 6.0%.
What this is telling us is something I can't believe: that we'll require total combined life insurance coverage worth $5 million for 30 years for two income earners! That's hefty. We'll need to reconsider that amount. Perhaps we can adjust this value to reflect coverage for less than 100% replacement income, for example. And it helps that we're also learning from what other people are doing. We just heard how a close friend upped their life insurance to $3 million per parent after they heard of some tragic story befalling one of their acquaintances. To afford the premiums for this (for term, it's $1,000 annually, per $1 million policy), we're thinking of laddering the purchases: picking up a 20 year policy today, or a 10 year policy after every 5 years until we reach our desired coverage. We may not have the money budgeted today to buy the full amounts, but we may afford it later.
So for now, we'd like to hike our insurance levels to:
an additional $1 million for my spouse for 20-25 years (possibly laddered)
a long term disability policy which will give coverage equivalent to 80% of his previous salary
All these goals are still subject to further evaluation on our part, so things may change from here once we really get going on this.
In summary, if you're in the market for some policies, check out these tips.
Things To Note When Considering Insurance
#1 Buy insurance when you need it.
I keep receiving these advertisements in the mail for getting life insurance for babies or children. The companies claim that by picking up such insurance today, you are helping your children by getting them "lifetime" policies, especially if you sign up for those with cash value accounts. Stop, keep your money! Conventional financial wisdom doesn't recommend us using insurance policies as savings or investment vehicles. If you want to save for your kids, use a 529 account or an educational trust; life insurance is for people who have dependents to take care of.
#2 Shop around for term life insurance, short and long term disability insurance.
Firstly, get term life insurance so you don't have to worry about issues that surround fancier types of insurance such as this. Term life is just much simpler and more straightforward to work with. Obtain coverage from work and/or independent coverage. It's common for people to supplement their employer-sponsored coverage with insurance policies they get on their own. Based on your needs analysis, you may realize you need more than what your job benefits offer you. Or you may decide you have enough of one kind of insurance, such as short term disability benefits that some states provide.
#3 Get it from a solid outfit.
When I initially shopped for insurance, I checked the quality of the insurance company behind it as well as the costs. From these, we made our policy choices. You want a solid company backing your contracts so that they can really pay out without hassle, once it's time for you to claim the bucks.
#4 Get life insurance for at least the length of time required to cover your dependents.
If you're expecting your kids to be out and on their own at the age of 18, then you may consider your policy to cover at least as long as that time period. I'm going to be a bit more conservative and go for coverage till my kids are in their late 20's. But there are other reasons than this for us to keep such longer term policies, such as our need for liquidity and cash availability.
#5 Get life insurance if you need cash or liquidity to cover your family when you depart, regardless of your age. There are costs associated with someone's passing and it would be helpful to a family if they have the cash to cover such obligations. Estate tax may also enter the picture for some, so this is how life insurance can be put to good use.
#6 Do you need more insurance the more kids you have?
It all depends on how much your expenditures would increase when you have more dependents to care for. Having one more extra child does not automatically mean you need to double your insurance. You'll need to determine the incremental change in your expenses that a new child brings to the family. But it's always a good idea to reevaluate your insurance needs after such a life change.
#7 Don't wait to long to beef up your coverage since the cost of premiums depends on your age and status of your health. Another thing about insurance is that it's one of those things that is best priced when everything is hunky dory. You end up paying more if you wait a bit too long. So in reality, I think the best time to buy insurance is when you really need it but when you're young and healthy enough to command well priced, affordable premiums.
#8 Carefully think about who should own your life insurance policies.
Within our family, we own each other's policies as it works that way the best for our estate plan. There are different ramifications (tax specific and otherwise) depending on who you give ownership to, such as if you have your children own the policies on your lives, so mull this over well.
#9 Look into your state's disability insurance and what they offer.
A few states — including California, Hawaii, Rhode Island, New Jersey and New York — offer disability insurance benefits programs. California has its own state disability coverage so if you're out for a short period of time such as 6 weeks, the state covers a percentage of your income. I've been disabled several times (mostly due to pregnancy) and I was happy to have had coverage from both my company and the state. But it's long term disability you need to beef up on since many companies won't give it to you for free. Mine has fantastic group insurance rates, so I've signed up for that. For my spouse, we'll need to get it independently but I fear it will be out of reach and too expensive based on previous quotes I've received years ago.
#10 Insurance is variable and depends on many factors including your sex, age, health, activities, and in the case of disability insurance, profession. Because of this variability, the cost of premiums can be all over the map. Don't be surprised if you end up having to pay more than your older sister does, for the same insurance. Like creating an estate plan, this is one of those things that you don't want to procrastinate too long about.
-ooOoo-
If you are keen on getting insurance, make sure you read up on the details before getting quotes. Then you'll be prepared to ask the right questions when you face a representative. The more you know, the less daunted you will be with making the right selections for you and your family.
Copyright © 2007 The Digerati Life. All Rights Reserved.