It's not uncommon for people to use their retirement plans and only their retirement plans through work as savings vehicles over the course of their careers. For a lot of people, that's all they can manage and, frankly, it is really the most convenient. But as someone who works in the financial field, what I often see that occurs is that the bulk of people's retirement money and ultimately their estate is in tax-deferred accounts (Traditional IRA, SEP IRA, 401(k), etc.) While the tax-deferred status of these accounts may allow these assets to grow more rapidly than other funds you might own and you get a deduction upfront, it can actually become problematic.
What Happens When Your IRA Accounts Are The Bulk Of Your Estate?
One of the biggest problems is that all that money you have tirelessly socked away in online brokerages and mutual funds for so many years will be treated as taxable income when you spend it. This means that what you draw from your accounts, after-taxes, will become less. Can you believe that contrary to what conventional wisdom tells us, many retirees are in a higher tax bracket compared to when they were working? Because of this possibility — in addition to the fact that you may not be be too sure about what tax bracket you'll fall into in the future — your lifestyle could be in jeopardy. You may think your nest egg will last your entire life, but what if you investments do not perform up to par and your tax liabilities are higher than you think? Where will that leave you?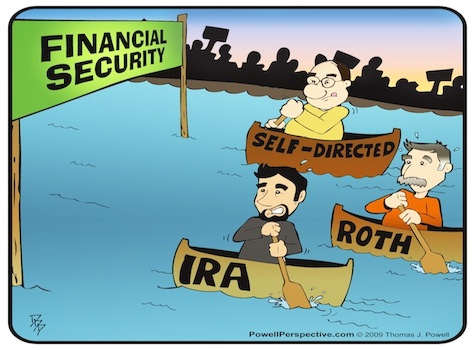 This can also cause a big problem for non-spouse beneficiaries who may have to use a large portion of the accounts to pay taxes. Everything that you own is included in your taxable estate. Hence if you die and your estate exceeds a certain amount, a federal estate tax must be paid on the excess. Then to make matters worse, your heirs will have to pay income tax on the inherited accounts based on their tax bracket. So what you thought you were leaving to your children and/or grandchildren oftentimes becomes a lot less. That's why it makes sense to try to balance your nest egg between pre-tax savings (later taxable) and after-tax accounts (regular savings/investment accounts, Roth IRAs, etc).
Need to open an IRA? Here are a few investment sites that offer IRA options:
Roth IRA Rules & Tips: 2010 and Beyond
When you start living off your savings, having spending flexibility can be key to maintaining your lifestyle and making your money last over what could easily be 20 or even 30 years. Drawing from your taxable accounts and Roth IRAs first can keep your taxes down and allows you to withdraw less than had you taken pre-tax dollars out.
Some Roth IRA Details
All Roth IRA withdrawals are tax free if you meet certain conditions, given that you contribute to the account with your after-tax dollars.
There are no mandatory minimum distributions at age 70 and a half, as in the case of a traditional IRA plan. This feature allows passing on more savings to your beneficiaries.
You can withdraw money from your Roth IRA at any time up to the amount of your contributions, without paying taxes.
There is no age limit on contributions.
When beneficiaries other than your spouse inherit your non-Roth IRA, they will have to withdraw the funds based on your life expectancy (faster pace than if it were their life expectancy). And the distributions will be considered taxable income to the recipients. However, with a Roth IRA, the original account holder's age is not a factor when determining the payout schedule since the Required Minimum Distribution Rule (RMD) does not apply. Rather it is based on your heir's life expectancy. Therefore, your beneficiaries have the opportunity to leave more money in the Roth and for a longer period of time than they could with a non-Roth IRA.
For example, suppose you left your Roth IRA to your 30-year old granddaughter. She would have the option to take withdrawals over the next 53 years instead of over your shorter life expectancy. As long as the assets have been in a Roth IRA for at least five years, money coming out of the account is income tax free, no matter who takes it out. Nor does it matter how much they withdraw. But the more money that can stay in the account, the more it can accumulate tax free. This tax-free compounding can possibly mean greater growth when compared to taking the non-Roth inherited funds over a shorter period of time then investing in a taxable account.
In my opinion, almost everyone (young and old) should consider a Roth. But, what if you already have a Traditional IRA or 401k account? Depending on your situation, converting now might make a lot of sense.
No one particularly likes to pay income taxes. And, when you convert your IRA to a Roth, you will have to pay on the total transferred. But look at it this way: You're paying today to help you and your heirs build a tax-free nest egg for the future. What you pay in taxes today is most likely smaller than what you would pay later upon withdrawals after years of growth. The same goes for your heirs. But, there have been income limits on who can contribute and convert to a Roth IRA, so this may not always be possible for you.
Save Tax Dollars With A Roth IRA. What's Unique to 2010
Roth IRA Conversions. Beginning on January 1, 2010, anyone can convert their pre-tax retirement account to a Roth IRA, regardless of income. The previous $100,000 Modified Adjusted Gross Income (MAGI) limit will no longer apply to anyone wishing to convert. The good news is that this new rule will now apply on and after the year 2010. Note, however, that if you convert your IRA in 2010, taxes may be reported and paid in the following two years (2011 and 2012). This may help dilute the tax impact somewhat, as it your tax obligation is spread across a couple of years. Be aware though, that applying your tax over two years may not be the wise approach, depending on certain scenarios. Find out more about this matter here. This accommodation only exists for 2010 conversions though, as any conversions made later will apply in the year they are made.
Roth IRA Contribution Rules. I find it interesting that if you wish to make a normal contribution to a Roth IRA after January 1, 2010, you still must meet certain MAGI requirements. In 2010, if you are married, your MAGI must be below $167,000 to make a full contribution to a Roth. If you're single, it must be below $105,000 to qualify for a full contribution.
Using the Roth IRA Conversion as a Contribution Loophole
But, what is to stop someone who doesn't qualify for a contribution from making a contribution to a Traditional IRA and then immediately converting to a Roth IRA? It would seem that nothing would. I have not heard of them closing this loophole as of yet.
The same would apply to a number of other tax-deferred retirement plans with much higher contribution limits, such as the SEP IRA, SIMPLE IRA or 401(k).
A Roth IRA makes more sense now for virtually anyone -– whether you're younger and starting out or older and want to convert. Either way, you and your heirs will be much happier with tax-free withdrawals. So why wait?
Copyright © 2010 The Digerati Life. All Rights Reserved.