Does fear of debt hold you back from handling health problems or continuing your education? Are you so afraid of your current debts that you don't even know what you owe? If you're afraid of debt and feel you can't make any progress on your financial situation, you're not alone. Fear, as an emotion, can end up paralyzing us from doing anything productive! Fear of debt can be crippling and can prevent us from moving forward financially and in other aspects of our lives.
Let's see what we can do to try to break through some of these negative emotions. I'd like to take a look at each debt situation and see what positive steps we can take towards dealing with each type of debt.
Tips For Dealing With Debt & Conquering Your Debt Fears
#1 Fear of Student Loans
High school graduates are often eager to get their lives started. Often they wind up taking out loans to pay for higher education then find themselves financially strapped after college. Should you go to work for a while instead of heading to college? Not necessarily. Here are a few ways to afford college costs:
Attend community college for the first two years instead of investing in a four-year school right away. Community college gives you an opportunity to experience higher education firsthand while you choose your major. You can save thousands of dollars by attending community college. If you maintain stellar grades and participate in college activities, you have an excellent chance of being accepted at the university of your choice.
Apply for scholarships and grants. There are countless scholarships and grants for all types of students. You don't have to be a Rhodes scholar to qualify for educational assistance. Grants and scholarships are free money you don't have to pay back. That sure beats taking out student loans!
Consider the starting salary for the job you want prior to taking out a student loan. Do your research. Find out what beginning employees in your field earn. Will you be able to pay back a student loan on that salary? If not, consider attending school part-time while you work full-time to pay for tuition.
Some students are able to work full time while attending college. It may seem like a tough thing to do, but it has been done. It's something to consider.
Be particularly careful about using student credit cards when you've got student loans to worry about. You don't want to get saddled with so much debt this early in life.
As unemployment rises, it is a wise decision to pursue higher education. Make wise choices so you don't wind up owing more than you make when you graduate.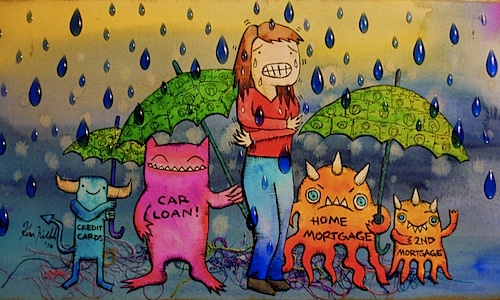 #2 Fear of Health Expenses
The Washington Post reported that 62 percent of bankruptcies filed in 2007 were linked to medical expenses. As America still strives to improve health care regulations, millions of people remain uninsured or underinsured. Does this mean you should suffer in silence? Absolutely not. You need good health to accomplish everything else in life. Consider these ways to lower health care costs.
Explore Federal programs such as Medicare and Medicaid and find out if you qualify for coverage. If not, there are state programs for individuals and businesses. For instance, in New York, there is Child Health Plus and Healthy NY to help handle health care costs. For a minimal monthly premium, New Yorkers can buy the coverage they need. Similar programs exist in states across the country.
Consider supplemental insurance if your co-payments are high. Organizations such as AARP offer supplemental insurance solutions.
Visit your local low-cost health clinic. Almost every county has a low cost/free health clinic offering basic services such as examinations and emergency checkups.
Check your local library for community services such as traveling mammogram vans and flu shot clinics to get low cost health care when it is available.
Consider grants such as Avon Cancer Cares to cover the costs of treatment and testing you might not have coverage to pay for.
Lower health care costs by living a healthy lifestyle with well-balanced meals, regular exercise, plenty of sleep and reduced stress.
Check tax advantaged accounts like Flexible Spending Accounts and Health Savings Accounts, in case they can work for your situation.
Unfortunately, a lot of people without health insurance are foregoing medical treatment because of financial issues. But failure to address health issues only makes existing problems worse! As your health declines, the cost of recovery increases, so don't wait!
#3 Fear of Financial Ruin
If you're already drowning in debt, you may fear judgments and bankruptcy. But if you are already facing judgments and liens, bankruptcy might be your best option! Even though bankruptcy has a negative impact on your credit, your credit score is probably suffering already.
Of course, check and know your options before you enter into foreclosure or bankruptcy. A free resource such as Fannie Mae's KnowYourOptions.com can be very helpful to help you assess your situation before you make any radical decisions. But if it turns out that bankruptcy is your only resort (or your preferred solution), then here are some things to be aware of:
Bankruptcy gives you an opportunity to make a fresh start in the right direction. With Chapter 7, most consumer debts are eliminated. If you claim Chapter 13, a repayment schedule for your debts is given to you by the court. But note that certain debts — yes, you guessed it: student loans and health care costs — are not eliminated through bankruptcy.
There are some great FREE financial and debt management resources that are available to those who want to control their finances better:
When It's Time To Seek A Debt Professional
If you aren't in hot water yet, it's time to take stock of your bills and face reality. If you're finding it hard to work things out on your own, then contact a debt consolidation agency, accountant or attorney to find out your best course of action. It may be worth hiring a professional to help you resolve your debts. A pro will help you successfully develop a financial plan of attack based on your current income and obligations.
The fear of debt can be crippling and overwhelming. But this is something you can overcome.
Disclosure: We have affiliate relationships with some of the companies whose services we feature on our site.
Copyright © 2011 The Digerati Life. All Rights Reserved.