Update: This giveaway is now closed. But please see below for updates on the winner and what we'll have next!
Do you belong to Gen Y? Then you may want to hear about this venture by American Express called "The Quarterlife Project", which is aimed to bring more focus and attention on the needs of those of you who are in your 20's. A lot of people at this stage in their lives are still learning the financial ropes. So I'm glad that a lot of companies in the financial space — yes, even credit card companies — are wanting to get into the action of educating folks about finance.
Enter this new initiative by ZYNC from American Express. For a bit of a background: ZYNC from AmEx is a new charge card from this card company, which is created with the Gen Y cardmember in mind. Why is this a good choice for younger people (if you've decided to enter the world of plastic)? It's a charge card (more such cards here), first of all, which means you don't accumulate debt since you've got to pay off your card in full and you can't keep a balance. Plus, it offers rewards geared towards those things that Gen Y cares about (you know, such as fashion, music, food and travel).
ZYNC from American Express: The QuarterLife Project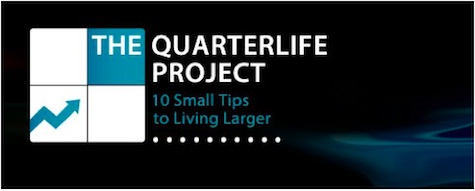 But with regards to the actual project, there's good reason that AmEx decided to bring more awareness about finance to the "quarterlifers". They've conducted a survey that shows some interesting findings for those of you in this generation:
96% of people in their twenties care about finance. Money is one of their top concerns.
Eight in ten people or around 79% are overwhelmed by their finances.
57% of twenty somethings are not independent, and are still looking for monetary support.
54% think that financial services focus much more on older clients. Not a surprise, given this could be where the money is?
67% would love to improve their knowledge about finance and around the same number would love to learn more about managing their money.
So given these identifiable gaps, the AmEx ZYNC QuarterLife Project, together with money coach Christine Hassler would like to bring education and information to the forefront. I was actually invited to be a partner in this initiative as well, because I've got some great readers who are in the Gen Y demographic.
How To Join AmEx ZYNC's QuarterLife Project
(And Maybe Win A $500 Gift Card)
So all of you twenty somethings, this is for you! Christine and ZYNC from American Express are developing a video around the topic of "Getting Fiscally Fit". And we'd all love to get your input. If you've got some questions on the matter of fiscal fitness that you'd like to ask Christine, send them over in our comments. Just leave a comment with your question below. I am hoping we can get some interesting questions that are relevant to you!
Now as an incentive, AmEx is offering ONE $500 gift card to the person who offers the best question — the idea is to get one or more questions featured in this video. Topic areas of great interest would be on how to get a job or on determining your career path.
Then I'll follow up later with the actual video from Christine! If you'd like to know more about this project, you can check out their press release, where you'll get a lot more details about this. Here's their facebook page too, where you can get more info about Christine.
Hope to get your questions up!
Update: Thanks once more for these comments and entries! The winner of the giveaway is Lindsay, who asked:

"Bill" is going to graduate this May. The job market is still tough and there is a lot of pressure on the first job because the salary of the first job will affect future earnings and future job offers. What can Bill do to stand out besides internships and good grades?

We will have Christine's response for you shortly in a post I'll publish soon (next week or so).

Thanks to all! I hope to get more responses to your great questions as well via commentary, even if Christine won't be able to personally respond to each inquiry in the video.
Copyright © 2011 The Digerati Life. All Rights Reserved.