I am a Starbucks addict. I will openly admit it. Starbucks is an indulgence for me, on days when I am having difficulties at work, a relationship crisis, or when I just feel like procrastinating. If you are like me, and you are attempting to stick to a budget every month and trying to be diligent about paying down your debt, then Starbucks does not fit into that equation very well. Especially, when your habit turns into a twice a week or every other day experience!
So, I decided there had to be a way for me to enjoy a gratifying, extra sugary coffee treat without paying $4.65 for it. I always get the Grande and pretty much have the prices memorized. The medium cup sizes work well if you're under stress. The Venti is for those days when you feel like you are going to have a nervous breakdown, and the Tall is for those days when you fall for the temptation of the impulse buy: when your subconscious mind makes you head for a Starbucks in the middle of a busy day. In my efforts to curb my $15 a week habit (let's be honest here) as my money management software encourages me to do, I've decided to search the web for coffee recipes. I am not a barista and have never played one on TV, but I can sure come close: how? Well let me tell you that Google is a wonderful thing!

So how can you have your cake and eat it too? You don't have to spend money on that $4 latte if you're fine with the DIY approach. I realized that I wanted to save money but still continue to enjoy my Starbucks fix. So here's what I did.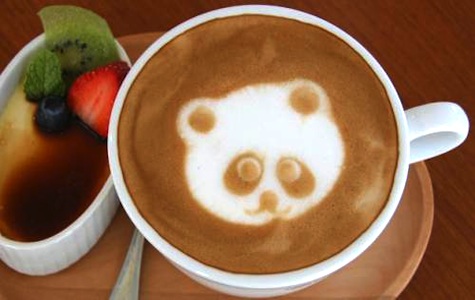 Image from WomansDay
Try Gourmet Coffee Recipes: Make Your Own Starbucks Coffee Drink!
I did a search on Google.com and typed in my favorite Starbucks coffee drink, Cinnamon Dolce Latte. To my delight, I found recipe after recipe of my favorite drink. There are even baristas that work for Starbucks that are posting recipes. I found one that I liked (from bfeedme):
Make a Cinnamon Dolce Latte!
Ingredients:

1/2 cup strong coffee
1/4 teaspoon ground cinnamon
1 1/2 teaspoons sugar
1 1/3 cups 1% low-fat milk

What's Next:

In a large pan, mix the cinnamon and sugar with a bit of milk.
Add the rest of the milk and bring to a boil.
Just as the mixture comes to a boil, take it off the heat.
Pour your coffee into your favorite mug.
Pour in the milk and serve immediately.
Earnestly, I ran to my kitchen and began heating milk on the stove and brewing an EXTRA strong, half cup of coffee. After the milk heated, I added in the cinnamon and sugar amounts that were suggested on my recipe. Then, I mixed the milk with the half cup of brewed coffee. Wow! It tastes just like Starbucks minus the cute cup and the smiling barista that hands it to me.
So, why am I paying $4.65 for a cup of this, when I can make 20 cups or more for $10? I don't know! However, since I have made this discovery, I can tell you that when my subconscious mind prompts me to go to Starbucks, I stop myself. I look at my food budget envelope (working on a cash system here using an envelope budgeting system), and say, I think I can make this here today. I brew my cup of coffee and enjoy it just as I would at Starbucks.
Tip:
Other ways to save money on coffee other than making it yourself? If you're a coffee lover, then here are a few other ideas: check for savings at coffee sites like Coffee For Less where you can get discounts (
try coupon code CFL
) or pick up a debit card that specifically offers perks for coffee drinkers (e.g. get $50 and coffee perks when you sign up for a
PerkStreet Financial checking account
).
The point I am making is that often, in order to get out of debt, we have to find ways to appease our impulses and control the desire to get instant gratification. We need to prioritize our finances and maintain control of our money. In many ways, this can be achieved by doing the simple things ourselves rather than seeking the convenience of buying those things we want elsewhere, for a premium price. Remember that service has a cost! I have determined that if I do my own gourmet coffee drinks, I will save $4.65 a pop and I can potentially save $725 in the coming year — quite a good amount to add to my high interest savings account.
Do you have a habit that costs money and that isn't something you need but rather, something you want — which is triggered by an impulse? Why not try to find a suitable substitute that costs substantially less? I encourage you to evaluate where you are spending your money. Weigh the rewards and the consequences of your spending. Is this cup of coffee worth staying in debt for a while longer? No, certainly not for me, and I would think your answer would be the same. Now, I did not completely cut out my Starbucks visits. I still like to meet friends there for a cup of coffee. However, my new strategy now allows me to save a substantial amount of money (over time) and to maintain the pleasure of the experience as well.
 
Contributing Writer: Selena
Copyright © 2010 The Digerati Life. All Rights Reserved.