When it comes to gift cards, I'm usually happy to receive them.  However, I've also let cards languish because I wasn't thrilled about the store or because the store wasn't local to me.  But then I discovered a few gift card exchange sites such as Plastic Jungle, which can help me swap the card I have for one I'd be happier to use. 

So if you're stuck with some unused gift cards, all is not lost. You have a few options: for instance, you can choose to list them with a site like Plastic Jungle in the hopes of being able to sell your card to someone else or trade them for another card you prefer. Once your card is listed, the site will notify you when you have an interested buyer.


Another possibility is to sell your gift cards to the site for up to 92% of their balance amounts. Note that these cards need to have a minimum balance of $25 to be eligible.  You'll need to sign up for a free account and provide your debit or credit card information before you can sell your first card.

 Plastic Jungle may collect a commission for each sale, so don't forget to check the underlying terms and factor that expense in when you offer your cards up for sale.  When you buy or sell a card, the shipping is always free.
Are You Buying A Gift Card?
If you're scrambling for a last minute gift idea, a gift card could come to the rescue. If you decide to visit PlasticJungle.com to buy a discount gift card, you won't have to worry about getting stuck with a brand you haven't heard of before.  You can find cards from popular places and top merchants such as Best Buy, Macy's, and Saks Fifth Avenue.  I also saw cards offered for sale from iTunes, Starbucks, and various restaurants.  Categories include clothing, electronics, and jewelry, among others.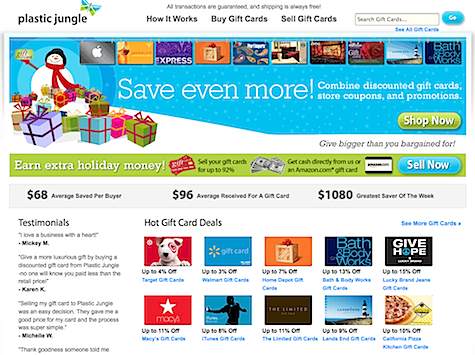 You can search for cards by merchant, card value, or card discount.  The discounts offered on these "used" cards run up to 30%, which can be a bargain compared to obtaining the cards new.  For instance, a Bath & Body Works card valued at $91.77 was discounted 15% to $78, while a $25 Godiva card was discounted to $17.50, a savings of 30%.
Plastic Jungle has been adding new gift card brands to their site — but you'll just have to check if the card of your choice is available. 
If you want to browse through a broad variety of cards, you might also want to check other marketplaces like eBay. I say this because some popular cards such as Amazon or Toys "R" Us were not available when I shopped around (although you can receive purchasing power at Amazon via an exchange).

 Luckily, there's a Wish List feature and a way to set up notifications by email when the card you're looking for shows up on your Wish List.  This list is also a great tool that allows you to receive alerts when a specific price range or discount on your desired gift card is fulfilled. 


So here's a common question: how do I know if I'm getting a good card when I buy it?  That's where the Plastic Jungle guarantee helps.  For buyers, the site guarantees that they'll receive their gift card within 15 days of purchase; that the card will match or exceed the listed value at the time of purchase; and that the card's valid and authentic.  If you have a problem with a gift card you purchased, you'll need to contact Plastic Jungle and possibly fill out a claim form.
Are You Thinking of Selling Your Gift Card?
Now if you're a gift card seller, you may wonder about a few things. Shipping the cards you want to sell won't take a lot of effort. Sellers no longer pay a shipping fee. When you've made your sale, Plastic Jungle will send you a prepaid USPS mailing label. You can then print out the label and use this to send off your card. Plastic Jungle will pay you by check once the package is confirmed as delivered.



For sellers, the Plastic Jungle guarantee says that you'll receive payment in a timely manner, for all sales that you've confirmed and fulfilled. You can adjust the price of your gift cards at any time, and the buyers or prospective buyers aren't allowed to contact you directly.  If you happen to have a problem, you can contact customer service via the phone or email.
 
Users who need more help can check out the Learning Center to find out more about buying, selling, managing their account, and getting paid.
 

The bottom line here is that the gift cards you're hiding in your desk or wallet can be recycled if you've decided not to use them anymore.  By trying out Plastic Jungle, you have a chance to get a gift card that you'll enjoy a lot more.

Tip: A good number of credit cards give away gift cards as rewards. Check out the AmEx gold card as an example. You can also check out these Citibank card promotions for more of these types of rewards cards.
Copyright © 2010 The Digerati Life. All Rights Reserved.