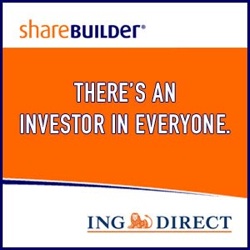 Here's where we broadcast any current promotions from ING Direct, a favorite well-known online bank (especially among personal finance bloggers), and its affiliated brokerage, Sharebuilder. There are actually quite a number of great promotions in place right now! We've noticed an uptick on new offers (extra cash incentives mostly) from banking institutions that are interested in bringing their savings and checking products to your attention. So let's go through ING's promos:
Active ING Direct & Sharebuilder Promotions
1. Get $50 by opening an ING Electric Orange Checking Account.
This checking account has a rate that ranges from .20% to 1.10% APY based on the size of your account balance. You can earn a $50 cash bonus by signing up for an account and making at least three debit card OR "Person2Person" payments. The 3 payments can be a mix of either type of transaction (debit or person2person). These requirements need to be upheld within the first 45 days of opening your account. If all is well, you'll receive $50 in your account after 50 days.
2. Get a free gift worth $125 by opening an ING Orange Savings Account.
What you'll like most about this savings account is that it has very low costs and is easily accessible through the web or via your smartphone. It has a higher than average interest rate at .90% APY although that may not be saying much in today's rate environment. But you'll receive a free gift bundle that's worth $125 when you apply for an Orange Savings Account before November 16, 2011. This "Gift of Stock" is actually an invitation to start investing through Sharebuilder because it affords you:
$50 as a cash bonus that will be applied towards a new Sharebuilder account.
5 Automatic Plan credits. There's a small cost to participating in Sharebuilder's automatic investment program, which will be waived to some degree.
a free video series from Motley Fool.
The fact that ShareBuilder is affiliated with ING Direct is assuring, given that ING Direct is a solid online bank that's got a great reputation. If you are serious about getting started with saving and investing automatically, this would be a good way to get going!
3. Get a $50 match by applying for a Sharebuilder investment account.
As mentioned earlier, ShareBuilder is a popular online stock broker and the investment arm for ING Direct. If you are seeking to open a regular investment account, we would recommend this broker, as it promotes long term investing via their automatic contribution programs (where dollar cost averaging is implemented). Sharebuilder is offering a $50 incentive to new investors who would like to open a Sharebuilder account. Fund the account with a minimum of $2,000 and receive a $50 cash bonus.
While there are other online stock trading promotions available, this is most likely more suitable for small investors who are interested in mutual fund investing and automatic investment programs. ShareBuilder is one of those brokers that makes the investing process easy.
Here are more details on this promotion:
ShareBuilder accounts don't require a minimum balance and have no hidden fees.
Once you've registered with them, opened a new account and deposited at least $2,000 in it, you'll be eligible for the $50 cash bonus.
The $50 bonus will be deposited into your account within 4 to 6 weeks of your first deposit.
The offer applies to all types of accounts (Individual, Joint and Custodial) except for retirement accounts (ESAs or IRAs).
Once received, you won't be able to withdraw the cash bonus until after 90 days of receipt.
The offer is available for a limited time and expires on June 30, 2012.
Why ShareBuilder?
Here are a few more reasons to check out ShareBuilder:
They have great support for new investors who want to build long term stock portfolios; for instance, they offer educational materials, resources and tools geared for the retail investor and also have great, affordable pricing plans for their automated investment programs. These pricing plans benefit mutual fund investors and those who subscribe to dollar cost averaging as an investment strategy, with a fee of just $4 a transaction (other plans may be more economical based on your needs). Also, they charge $0 for online trades involving certain no-load, no-transaction fee mutual funds. You'll have to review their Pricing & Rates page more closely to check their fees (regular stock trades are $9.95 a trade).
Final Thoughts
There's more to ING Direct than just these extras. You can find out more about them in our reviews of both ING Direct's bank accounts as well as Sharebuilder's investment accounts, and suffice it to say, this bank and brokerage have always had a focus on strong customer service that make them stand out in their industry. We invite you to check them out further.
Created December 17, 2009. Updated November 2, 2011. Copyright © 2011 The Digerati Life. All Rights Reserved.