We take another peek at national unemployment statistics.
While I'd like to take a break from our collective gripes about the jobless recovery, massive consumer debt problems and undeserved excesses of big business (which continue to do creative things with their bailout money and our taxpayer dollars), it's hard to do so when we live under the constant threat of recessionary forces.
But then again, I have this soft spot for pretty visuals such as what you'll see below. I discovered the following graphic which shows U.S. (national) unemployment rates in a colorful map from 2007 to the present. The map shows the state of joblessness in the U.S. each month during a period of economic decline, with lighter shades in the map signifying lower unemployment. The darker colors on the map indicate higher unemployment numbers.

Here is a video version of the slideshow called The Decline: The Geography of A Recession.
U.S. Unemployment Rates (2007 – 2011), Short History of Recession
To run the graphic, please visit this link.
It's quite interesting to see how the worst hit areas are the Western and Eastern parts of the U.S. (well, along with Alaska and Hawaii). What's going on in the central states that make them less vulnerable to job losses? And it's quite concerning to see the large swathes of dark gray areas in the Western part of the U.S.; so it's no surprise that we're seeing so many homeowners fall into foreclosure and personal bankruptcy around here.
California Unemployment Rate History
What is the job situation where you are? I've wondered what made California's situation less favorable, with our economy here still in the doldrums. Beyond the California budget crisis to worry about, we've also got the fourth highest unemployment rate with almost 12% (11.9% to be exact) of workers marked as unemployed. Some of my colleagues are still looking around for jobs or are in between projects. Where I live, the job situation just doesn't look too comforting. I actually found another colorful map that illustrates our plight: any region that's green (0 to 10% unemployment) is in relatively better shape than areas in pink, red and purple (21% to 30% unemployment). Check it out!
Click on this link or the image below to play with the map (the slider on the graphic below won't work, just click the pic to try out the tool):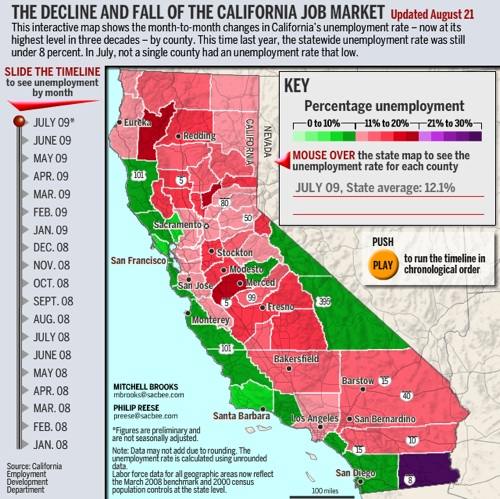 So how is it in your neck of the woods?
Copyright © 2009 The Digerati Life. All Rights Reserved.